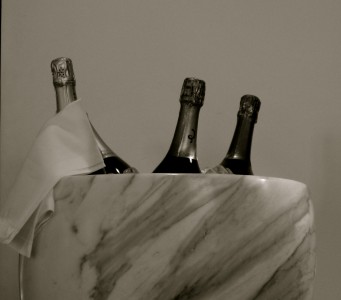 a Kir or a Kir royal: that is the question
End of the school year burn out. Everyone has it. Now that the children are out of school and camp plans have been made, it is time to take a moment and relax: summer is here. Enjoying an evening apéritif with friends and family is a nice way to do just that. While there are an array of fresh new cocktails using mint, pomegranates and even cucumbers, one of my absolute favorite apéritifs is a Kir or a Kir royal. This standby classic is one I often suggest to my clients and it is always a crowd pleaser.

Kir and Kir royals are apéritifs made with crème de cassis, a black currant liqueur. They are enjoyed throughout France but very popular in the Burgundy region of France where the majority of black currants are grown. A Kir is made with a dry white wine (originally with Aligoté wine) and a Kir royal is made with Champagne (although you could use sparkling wine or prosecco). The Kir got its name from Felix Kir, a former Mayor of Dijon and a hero in the French resistance, who insisted that a Kir royal was the only drink served at official receptions. There is also a Kir made with red wine, a Kir Communard.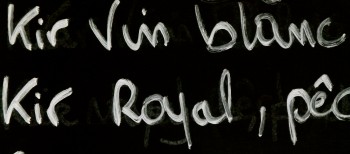 The French have a fondness for currants in general. Harvested in late June/early July, red and black currants can be found in every French market and grocery store.  Fresh currants are used in fruit tarts, cakes, salads, and in sauces but usually not as the primarily ingredient because they are tart (although the bigger ones are more watery). Currant leaves are dried and used in cooking and in infusions.  Dried currants (which look like small raisins) and are a wonderful addition to baked goods, salads, and rice.
If you want to enjoy the apéritif in France, order the Kir (which will cost you about 5 dollars) unless you want to pay well over twenty dollars for a Kir royal. At home, make an ordinary day a special occasion and try a Kir royal. When choosing a champagne, I suggest something dry without a lot of sugar added after the second fermentation (i.e. Brut Natural, Extra Brut or Brut) because the cassis liqueur is sweet enough.
Kirs and Kir royals are a classic that could be updated but why? they are simply delicious just the way they are.
Santé !
LM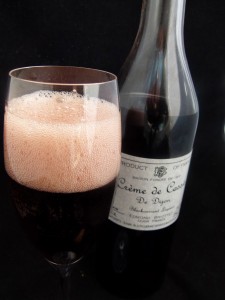 Kir royal
stats:
Yield: 6 Kir royals
Serves 6 (approximately 170 calories each)
what you need:
1  bottle very cold champagne
6 ounces crème de cassis
how to:
Add C

rème de Cassis

.  Pour 1 ounce of

crème de cassis

into each champagne flute or wine glass.
Add Champagne.

Add 4- 4 1/2 ounces of champagne in each glass.  Mix gently.
Santé

.  Enjoy with a something a little salty.