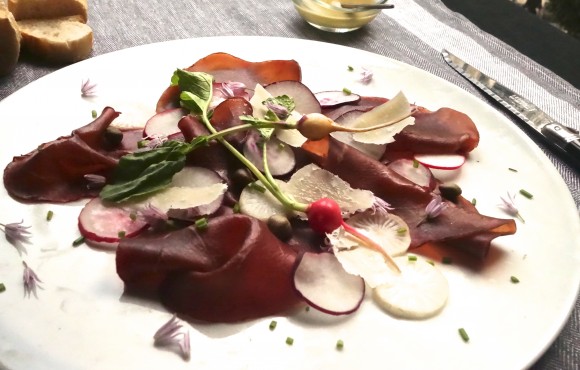 déjeuner and dash
bresaola and radish summer salad
My local market. One of my favorite vegetable growers and only minutes for lunch inspired this simple pleasure: bresaola and radish summer salad.
I left for Paris on the last day of school. It was a half day. After dropping the girls at school that gave me time for a quick run, feed the farm (you know, chickens, rabbits, etc.), pack my bag for the summer, and then return to school to collect my children only to deliver them to their after school parties on my way to the airport. There is every delay imaginable and I would have missed my plane had it not been late. I made it. My suitcase with my recipes and chef jackets was not so lucky.
Despite the crazed departure, I arrive in Paris to a gorgeous day.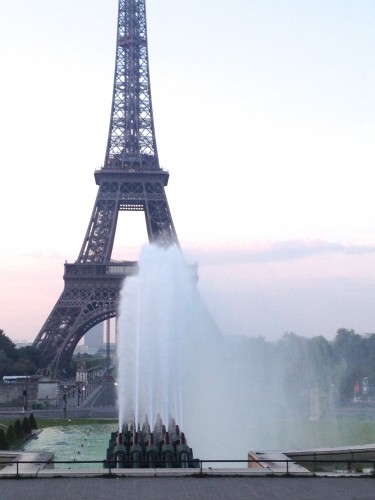 I instinctually head to my local market. Joël Thiébault is there.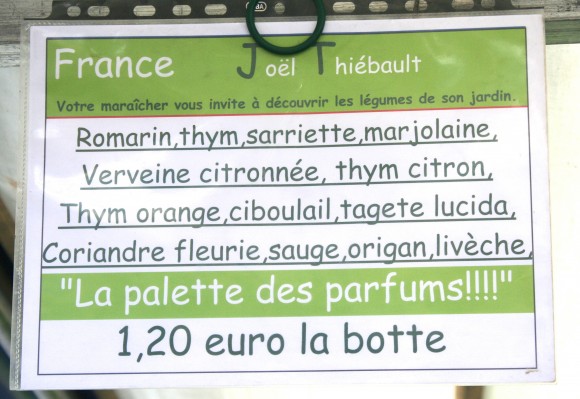 Thiébault is a vegetable rockstar. Rockstar! He searches for and cultivates rare and forgotten vegetable and herb varieties from all over the world. He is on a first-name basis with many chefs and supplies culinary treasures to the top restaurants in Paris. He always has some vegetable of a different shape, color, or taste. Consistently popular with the locals, the news of Thiébault and his rare veggies got out about three years ago and his stand has been mobbed with visitors taking photographs ever since. If you do not arrive early you will wait in a line the length of his stand (which is quite long).
On this day he had two varieties of zucchini blossoms, baby fennel, rhubarb, varieties of carrots and beets, flowering herbs, and many varieties of greens. I got a little of everything but it was the radishes that for some reason caught my eye. Red, Easter, golden, white, baby white radishes that look like carrots. Yum!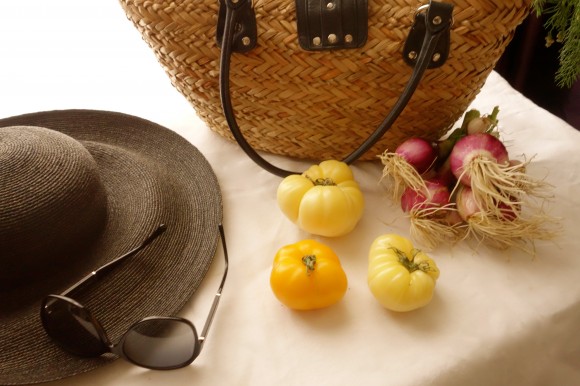 I returned home with little time for lunch (dejeuner) before heading across the city.
I unpack my goodies and make lunch.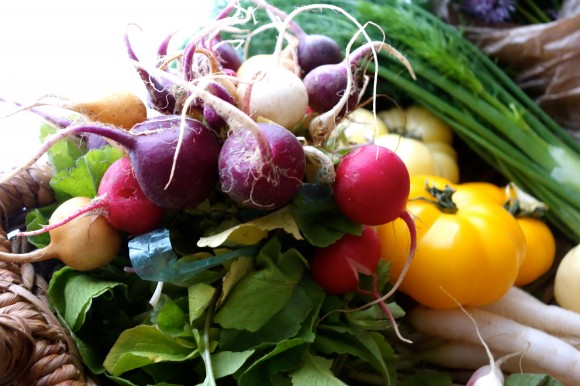 One thing you will always find in my refrigerator is a cured meat or two. Prosciutto, lomo, bresaola, coppa, salami, or jambon Iberico. Air-dried and cured with salt, these thinly sliced meats are easy hand to mouth happiness.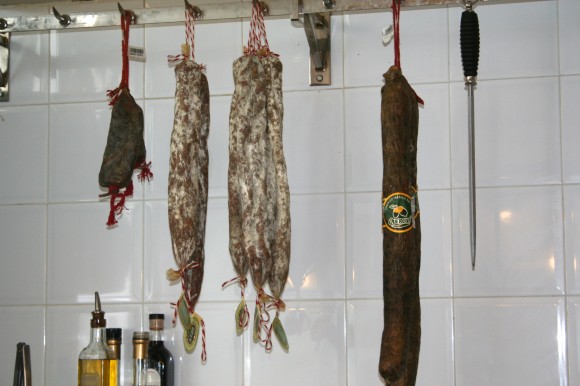 Cured meats are often served on a charcuterie plate with or without a selection of cheeses. However, these meats can be much more than a charcuterie plate. In many restaurants and wine bars in Paris, one cured selection is served with your appéritif. The meat is so delicious it needs nothing else. At Drouant (2e) they serve thinly sliced prosciutto. La Quincave (6e) serves salami to enjoy with the wine.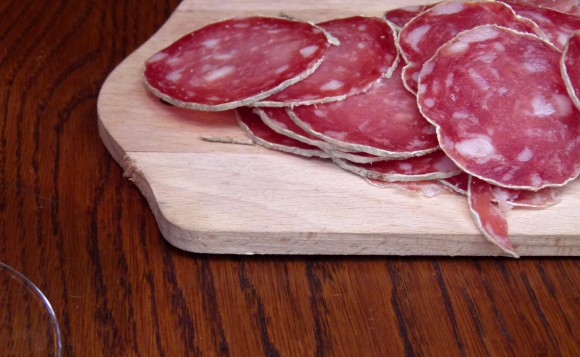 By pairing cured meats with fruits or vegetables you have an appetizer or even a meal (melon and prosciutto is a classic starter).
Today I have bresaola in my refrigerator. Bresaola, which originated from northern Italy, is made from lean cuts of beef. Salted, cleaned, air-dried and then cured, the result is tender and a little sweet.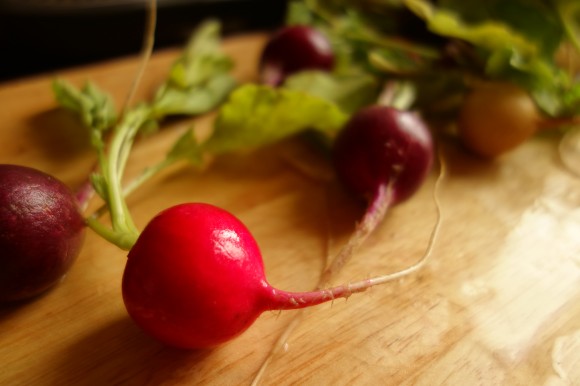 Thiébault's radishes and flowering chives call to me. I add them to a plate of bresaola. I add a little shaved parmesan and a few capers and drizzle a creamy, tangy mustard dressing on top. Lunch.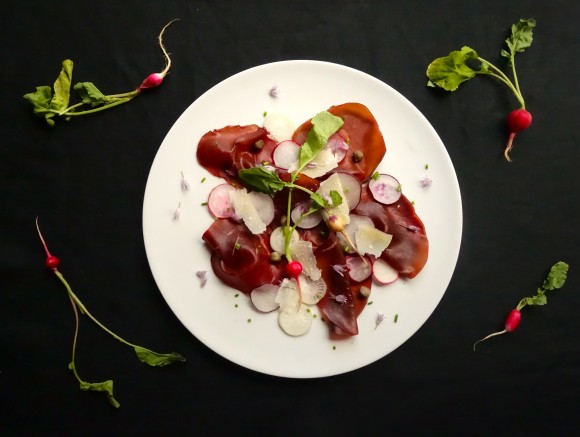 If you do not have bresaola, you can substitute another cured meat such as coppa. If you prefer to enjoy a sandwich rather than a salad, use the dressing as a spread, and add the rest of the ingredients on top.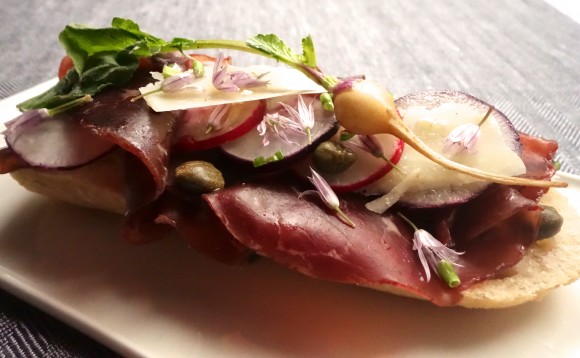 Lunch can be that simple.
mangez bien, vivez bien, et bon appétit !
LM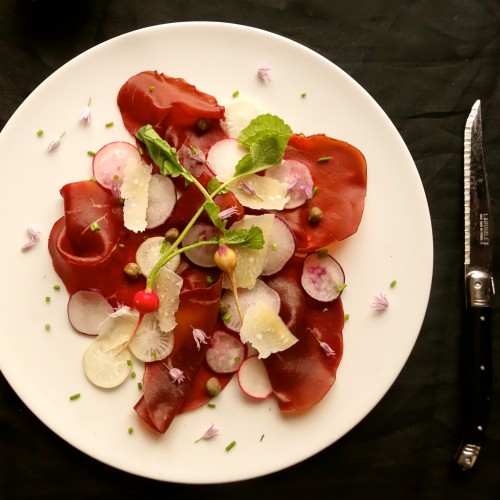 bresaola and radish summer salad
serves 4
you need:
20-24 slices bresaola (or another cured meat such as coppa)
1 dozen radishes (various colors), thinly sliced
3 tablespoons capers, rinsed and drained
shaved aged parmesan cheese (as needed)
fresh chives, minced (as needed)
fresh chive flowers (optional)
4 tablespoons olive oil
2 teaspoons red wine vinegar
2 teaspoons Dijon mustard
1½ tablespoons heavy cream
pinch of sel de Guérande (or sea salt)
how to:
Make Dressing

. Mix mustard and vinegar in a small bowl. Whisk in the oil and cream. Add a pinch of salt. Whisk until you achieve a smooth and creamy dressing. Set aside.
Make Salad.

Thinly slice radishes. Place 4-5 slices of bresaola on a plate. Add 2-3 sliced radishes. Add capers and chives. Add shavings of parmesan cheese to your liking.
Serve.

Serve immediately with the dressing on the side.
bon appétit !