march 18, 2012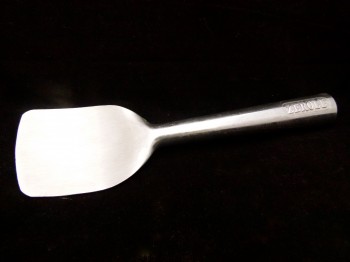 Zeroll Gelato paddle with heat-conductive liquid in the handle that utilizes the natural warmth of your hand to facilitate smooth scooping and easy release. Made of corrosion-resistant aluminum alloy. Available at Williams Sonoma for 24.95.
march 4, 2012
I love this ! Porcelain soy sauce holders in a variety of sea creatures (fish, crab, squid). Made in Japan by fantasuteki. You can find these at Merci
(111 Boulevard Beaumarchais ) in Paris or on the internet through fantasuteki.
february 25, 2012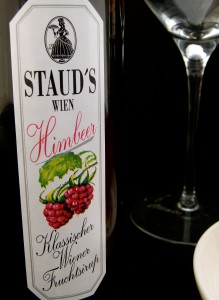 Staud's Wien Himbeer raspberry syrup used to make this week's blood orangetini. This raspberry syrup is delicious and can be used in cocktails, non-alcoholic beverages as well as dressings. Syrup can be purchased at Surfas/Culinary District – www.culinarydistrist.com, located at 8777 West Washington Boulevard, Culver City, CA 90232.
february 10, 2012
The mobile foodie survival kit. Organic spices to go for the traveling foodie. Someone gave me this as a gift. What a great idea. Made by PLANTbrooklyn.com
january 9, 2012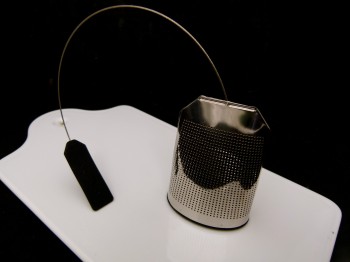 This reuseable stainless tea bag is as stylish as it is practical. Dish0-washer safe. Made by EVASOLO. You can find this at The American Tea Room, 401 North Canon Drive, Beverly Hills. (310) 271- 7922. www.theemericantearoom.com
december 30, 2011
Of the pink champagnes, the Laurent-Perrier pink champages are some of my favorites. One of the rare rose champagnes made using the maceration technique which gives the champagne its beautiful pink color and depth of flavor. The cuvée rosé (above), with a wine spectator score of 89, you can find in many liquor and grocery stores.The brut rosé (92 wine spectator score) can be found at The Wine House. located at 2311 Cotner Avenue, Los Angeles.
december 22, 2011
This artist's serving tray made by Lunares is perfect for the painter on your shopping list. Made of alloy, the metal does not chip or tarnish, and the polished finish makes a nice presentation (especially for cheese). Available at Tweak, 8384 Beverly Boulevard, LA. www.tweakamerica.com
december 16, 2011
Nevarrè
This is another new cheese Nobert just got in. A blend of ewe and cow's milk, this semi-hard cheese is creamy (like ewe's milk cheeses) with a little more structure. It is rolled in herbes de provence which give a lovely seasoning to this cheese which is mild therefore an easy crowd pleaser. You can find this cheese at The Cheese Store of Beverly Hills.located at 419 North Beverly Drive, Beverly Hills.
december 13, 2011
Tradition Pezzetta
Just in from Italy. This is a semi-hard cow's milk cheese, rolled in hay, with a flavorful fresh taste. Mild enough for all. Perfect on its own but also great with light red wine and/or a green salad. The cheese is different and a must try. You can find it at The Cheese Store of Beverly Hills.located at 419 North Beverly Drive, Beverly Hills.
december 10, 2011
This Pinot Noir is from Napa Valley but tastes like a French wine. Given 86 points by Robert Parker, the Wine House currently has it in house for 17.99 which makes it a great bargain. Medium bodied with flavors of red currants. This wine is perfect for the holidays because it can pair with many different foods and is excellent with poultry, meats, and cheese. Available at The Wine House. located at 2311 Cotner Avenue, Los Angeles.
december 6, 2011
Designed by artist Tony Wurman, founder of Wunderwurks, these bowls are made of non-toxic adhesive (think rubber cement) but look like (and shine) like Murano glass. All unused material is made of recyclable materials. The bowls come in three sizes and three beautiful color schemes. They are resilent works of art that your toddler cannot break. Love that!
Available at Tweak, 8384 Beverly Boulevard, LA. www.tweakamerica.com