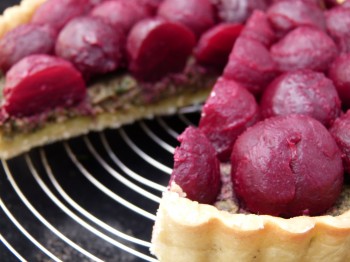 are you sure this is not dessert ?
savory beet tart with pecan and beet greens pesto and burrata
Children are not the only ones who like to play with food and this week's simple pleasure is just that: a healthy play on a dessert. Although it resembles a fruit tart with ice cream, we eliminate the sweet pastry dough, the pastry crème, fruit, and ice cream and replace them with a no-sugar crust, pesto filling (made with pecans and the fresh beet greens), roasted beets, and a side of cheese. Trop Miam ! (so yummy).  This unique savory tart can be made in advance and assembled the day you want to serve it.  It can be a starter or served with a salad as meal. If you do not want to make a tart, I also tell you how to make tartine (sandwich) out of the ingredients. Unique, healthy, and versatile and that is why this savory beet tart is this week's simple pleasure.