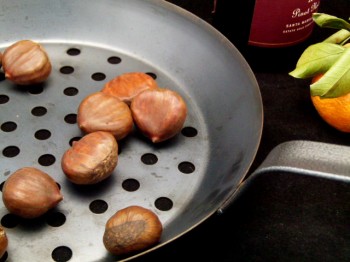 les marrons chauds et le vin chaud
(roasted chestnuts and mulled wine)
The holiday season in Paris is magical: children with their faces pressed against the windows of Galeries Lafayette and Printemps watching the marionettes; l'avenue des Champs-Élysées flanked with lights; people lined up out the door at G. Detou to buy marrons glacés; the skating and winter activities at  L'Hôtel de Ville; the festive holiday teas at Dalloyou and Ladurée; the spice cakes at Mariage Frères.  The list goes on.  The entire city is tastefully decorated and the spirit of the season spills out of the pâtisseries and speciality shops into the streets where the smell of les marrons chauds (roasted chestnuts) and le vin chaud (hot wine or "mulled wine") permeate the air.  The smell of the two instantly transport me to Paris.   This year you can bring these holiday traditions into your own home, without the security checkpoints and the (unusual and early) Parisian snow.
Roasted chestnuts and mulled wine are wonderful, simple treats you will want to make year after year.   The chestnuts take only about 15-20 minutes to roast in the oven and the wine simmers stovetop for about 45 minutes.   If you do not want to use wine, you can use cider instead.  Below are a few notes about purchasing, storing, and preparing chestnuts.  The mulled wine recipe and notes are in a companion post under "recipes".
Chestnuts can be found in your local grocery store or ordered online.  There are several varieties of chestnuts, but the ones you see most often are the marrons (the round chestnuts used for marrons glacés (sugar-iced chestnuts)  and the chatanges (chestnuts which are flat on one side).   In the States, you rarely see the fresh marrons.
When buying fresh chestnuts, choose chestnuts with shiny brown shells and without blemishes (which indicate that they have been stored too long or improperly).   Chestnuts should be sold in the refrigerated produce aisle, and if they are not, be cautious about your purchase because they perish easily.   Chose chestnuts that are firm but give slightly when you score them.  If the chestnut gives too much, that means that it may have begun to spoil (sometimes they smell a little musty indicating they have gone bad).  Similarly, do not purchase chestnuts if they rattle indicating that they are really old and dehydrated.  Store chestnuts in the refrigerator where they will last a few weeks.
When roasting chestnuts you must always score the shell or the chestnut will explode due to the steam created under the shell.  I find that a modest incision is best as it traps more steam inside the shell and makes the skin easier to remove (if the nut is dehydrated either due to age or over-roasting, the skin will be very hard to remove).  You can tell if a chestnut is dehydrated if the creases in the nut have collapsed and the nut looks withered.  You do not need to add any oil to the nuts before roasting them in the oven.  However, once peeled, I like to garnish the chestnuts by adding a touch of nut oil and a couple granules of fleur de sel.  Olive oil is too strong so I avoid finishing with it.  Serve the chestnuts while they are warm.
A couple of equipment notes, chestnut knifes are great because the short, pronounced blade makes it easier to score the shells. However, a paring knife works fine.  There is a pan made for roasting chestnuts made by de Buyer (poêle à marrons) which you can purchase online or at kitchen supply stores such as Sur La Table.  However, while the pan is great (and preferable for grilling the chestnuts), chestnuts roast just fine in a normal oven-proof pan or on a baking tray.
Lastly, if you do not roast all of the chestnuts,  there are many ways to use them.  They can be sautéed, braised, boiled, puréed, grilled, and steamed.  They are wonderful additions to soups, stuffings, sauces, and accompaniments to all kinds of game as well as veal, beef,  bacon, and poultry.   Chestnuts are substantial enough to serve on their own as a side-dish and historically have been used as a vegetable due to their  meaty texture and high starch content.   Chestnuts pair well with other Fall and Winter flavors:  sage, thyme, winter squashes, mushrooms, onions, brussels sprouts, kale and swiss chard, grapes, raisins, oranges, and apples (to name a few).   Naturally sweet, chestnuts are wonderful in a variety of desserts and baked goods. Chestnut honey is divine.
Je vous souhaite un bon appétit !
LM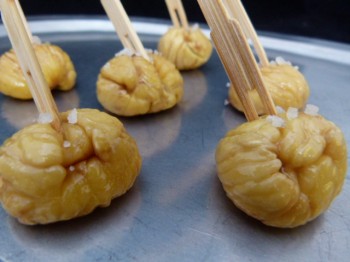 marrons chauds
(roasted chestnuts)
stats:
Serves: 12-14
1 pound of chestnuts is about 26 chestnuts
(60 calories per ounce)
what you need:
1 pound fresh chestnuts
1 tablespoon nut oil (hazelnut or walnut)
fleur de sel (as needed)
how to:
Score Chestnuts

.  Using a chestnut knife or a paring knife, make an incision in the shell of the chestnut around the top.  If the chestnuts are flat on one side, make the "X" on the flat side.
Roast

.  Place the nuts on a perforated chestnut pan, a baking sheet, or in an oven-proof pan.  Roast in an oven preheated

400 degrees Fahrenheit

.  Roast the chestnuts for about

15 to 20 minutes

(they usually take 15 minutes with a perforated pan).  Chestnuts are done when you smell them and the shell is separating at the incisions.   Do not over-roast them or the outside of the nut will be hard.  If you are unsure if they are done test one by placing a chestnut in a clean kitchen cloth and squeezing it.  If the shell is crunchy and comes off easily with the skin, then it is done.  If you peeled them prematurely and the insides are still hard, brush the chestnuts with a little oil and return them to the oven for a few minutes.
Peel

.  Place the nuts in a clean kitchen cloth, squeeze the sides, and peel off the shell and the skin.  Do not let the chestnuts cool or you will  not be able to remove the skin.
Garnish.

Garnish each chestnut with a couple drops of nut oil and a few sprinkles of  fleur de sel.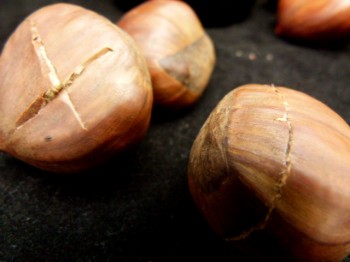 plan b
If the chestnuts cool before you have an opportunity to serve them you can warm them in a sauté pan with a touch of nut oil.  However, this will only heat the exterior and you do not want to sauté them too long because they will dry out.  If the chestnuts have gotten cold, heat a sauté pan, add a touch of water, and then add the chestnuts.  Cover the pan with a lid and steam them for 1-2 minutes.   There should only be enough water in the pan to create steam, not to partially poach or even braise the chestnuts because it will change their texture.
food for thought
"The Christmas Song" which begins
"chestnuts roasting on an open fire"
was actually written
during the heat of the summer . . .
Tags: hazelnut oil, les marrons chauds, marrons chauds, roasted chestnuts