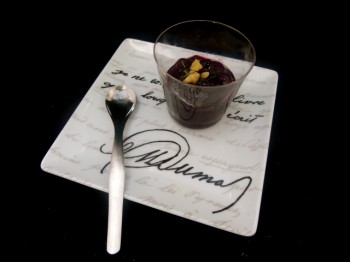 cranberry compote
Cranberries are tart, borderline bitter.  Although they need something sweet to eliminate the bitterness, no one needs to eat cranberries diluted with water and simmered in cups of granulated processed sugar.
This compote recipe keeps the cranberry flavor while eliminating the bitterness.  The cranberries are first sautéed with a dash of Cassis and then simmered in pomegranate juice (very good for you) and agave syrup (a natural syrup from the agave cactus with a mild taste and is not processed).  This compote is true to the character of cranberries and better for you.
The compote takes about 20 minutes to make and it can be done ahead of time.  You can serve the compote alone but I would add some toasted nuts such as walnuts or pecans (the fat in the nuts will balance the tart berries).   My favorite way to serve the compote is spooned over wedges of Kabocha squash.  Of course it goes well with traditional dressing and potatoes.  You can even try the compote over a rich cheesecake or walnut tart.   Simple.  Versatile.  Keep the old traditions and add a few new.
Je vous souhaite un bon appétit !
LM