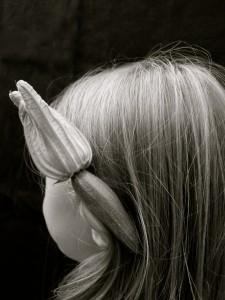 fleurs de courgettes
(zucchini blossoms)
I often hear from people in my classes that they see zucchini blossoms (fleurs de courgettes) at the farmer's market and would like to buy them but do not know what to do with them. This week's simple pleasure, beignets de fleurs de courgettes(fried zucchini blossoms) will solve that dilemma.

There are two types of zucchini blossoms: one has the zucchini fruit attached and the other blossom is simply on a long stem. Both blossoms are edible and taste the same.  The difference is biological. The blossoms that produce fruit are female and the female blossoms contain pistils.  The fruitless male blossoms have stamens inside the blossoms. You can use either blossom in your cooking.
Zucchini blossoms can be sautéed, braised with zucchini or other vegetables, or added raw to vegetable tarts, salads or as garnishes (once cooked the blossoms wilt and their bright yellow color dulls).  Zucchini blossoms are eaten frequently in France, especially in the south, and often  stuffed with ricotta or goat cheese, fried, and served with a tomato coulis on the side for dipping.
This week's recipe for stuffed and fried blossoms is easy to prepare. The tomato coulis can be made in advance and served warm or at room temperature. The goat cheese mixture, made with garlic, fresh herbs and zucchini and lemon lemon, pairs nicely with the light coulis and similarly can be prepared in advance.  The  actual stuffing and frying of the blossoms will take you 15 minutes at most.  While some people use tempura batter, but I prefer the traditional flour batter as it tastes lighter.
A couple of production notes.  First, the blossoms do not last long in the refrigerator and if the moisture level in your refrigerator is high they will wilt quickly.  It is best to prepare the blossoms the day you buy them.  Second, while you can panfry the blossoms with less oil, it is best to deep fry them. Panfrying often leads to a brown, greasy mess because either the pan and oil are not hot enough or there is not enough oil (both conditions actually cause you to cook the food longer leading to more oil absorption which is generally what you were trying to prevent in the first place by using less oil). If you want to eliminate the frying all together, you certainly can do that (and it does give you more flexibility with respect to service).
Lastly, vegetables or fruits that are fried should be served à la minute, meaning once fried, drain them to remove excess grease and serve them immediately while still warm.  Otherwise, the blossoms will get soggy when cold.
Je vous souhaite un bon appétit !
LM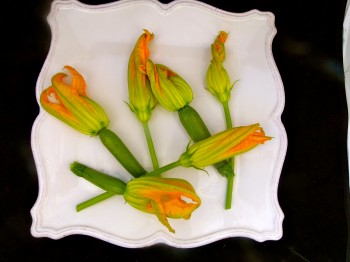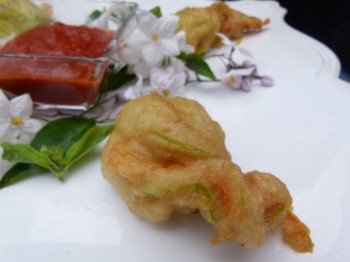 beignets de fleurs de courgettes
(fried zucchini blossoms)
stats:
serves 4-6 (2 or 3 blossoms each)
what you need:
12 zucchini blossoms, stamens and pistils removed
olive or vegetable oil (as needed)
stuffing
2 cloves garlic, smeared and minced
1 egg white
3 ounces goat cheese
1/2 teaspoon lemon zest
1 tablespoon zucchini zest
1 teaspoon minced fresh basil leaves
1 teaspoon fresh thyme leaves
1/4 teaspoon kosher salt (as needed)
1/4 teaspoon freshly ground pepper
batter
1/2 cup flour
1/2 teaspoon baking soda
1 tablespoon amber beer
1/2 cup water
kosher salt (as needed)
tomato coulis
2 garlic cloves, minced
3 anchovy fillets
1/4 teaspoon piment d'espelette
1/4 cup diced onion
1/8 cup diced celery
1/4  cup diced fennel
1 tablespoon Pastis
1 1/2 cup fresh diced tomatoes, concassé (or canned)
1 scallion, minced
1/4 cup water
2 tablespoon minced fresh basil
3/4 teaspoon kosher salt (or as needed)
1/8 teaspoon freshly ground pepper (or as needed)
1 1/2 tablespoon olive oil
3 teaspoons fresh lemon juice
how to:
stuffing
Mix.

Use a fork to mix the goat cheese with the zest, garlic, egg white, herbs, and seasoning.  Set aside. This can be done ahead of time.
coulis
Sweat and Simmer.

In a saucepan over medium high heat, add a tablespoon of olive oil.  When hot, add garlic, anchovies, and piment.  Once garlic is fragrant, add celery, fennel, and onions.  When fennel is soft and the vegetables begin to stick to the bottom of the pan, add the Pastis. Once the Pastis has been cooked out (

reduce

au sec

), add tomatoes, basil, scallion, lemon juice and water.  Simmer for about 20 minutes. Remove from stove.
Purée and Strain

.  Using an immersion blender or food processor, purée the sauce until very smooth, adding the olive oil and lemon juice as you purée. Pass sauce through a sieve to remove any chunks.
Adjust Seasoning.

Add salt and pepper to taste.  Set aside.  This can be prepared ahead of time and stored in the refrigerator.
zucchini
Remove Stamens/Pistils

. Gently open the blossoms with your fingers and pinch off the stamens and pistils. Discard.
Stuff.

Stuff each blossom with 1-2 teaspoons of filling.  Twist the blossoms closed.
Make Batter

.  Mix the flour, soda, and beer together with a fork.  Add the water and mix until incorporated.  Let the batter rest for 10 minutes.
Dredge.

Dip blossoms in batter and gently tap off excess.
Fry.

In a small dutch oven or deep skillet, heat oil to 375 degrees Fahrenheit.  Drop zucchini blossoms into hot oil, two at a time.  Fry until lightly golden (this will only take 1 minute).
Drain

.  Place fried blossoms on a paper towel to absorb excess oil.  Repeat process until you have fried all of the blossoms.
Season

. While the blossoms are still warm, sprinkle with salt.
Serve.

Serve while hot with tomato

coulis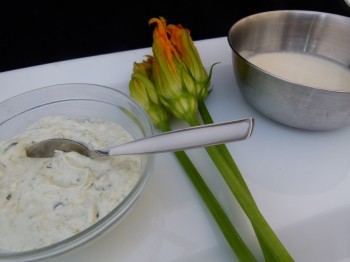 Tags: beignets de fleurs de courgettes, fried zucchini blossoms, zucchini blossoms