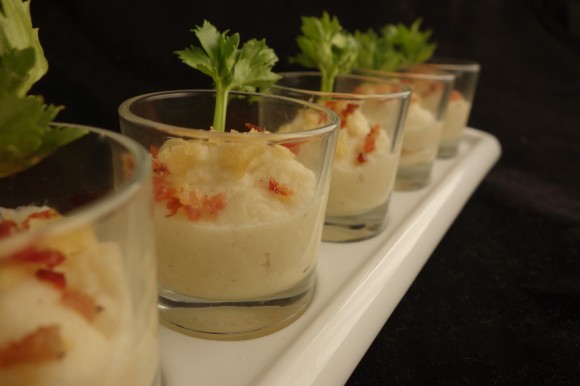 celeriac purée with crumbled bacon and potato chips
serves 6-8
what you need:
1 large celeriac (celery root), peeled and trimmed (about 14 ounces)
bottled water (as needed)
2 tablespoons quality olive oil
¼ teaspoon ground cardamon
5 tablespoons cooking liquid
2 tablespoons heavy whipping cream
kosher salt (to taste)
freshly ground black pepper (to taste)
lemon juice (as needed)
handful of potato chips
3 strips bacon
how to:
Prepare Celeriac.

Peel and dice celeriac. Place in a saucepan and add enough cold (bottled) water to cover the diced celeriac.
Boil.

Place saucepan over a medium-high flame. Bring to a boil and cook until celeriac is fork tender.
Cook Bacon.

While the celeriac is cooking, place the bacon in a skillet. Cook bacon until crisp. Remove from the skillet and place bacon on a paper towel to absorb excess grease.
Drain

. Place a strainer over a pan. Once celeriac is cooked, drain through the strainer and reserve cooking liquid (you will add some to your purée).
Purée.

Place the celeriac with olive oil in a small food processor and purée (you can use an immersion blender as well). Add cream, cardamom, and cooking liquid (one tablespoon at a time). Continue to purée until you achieve a smooth texture with the consistency of mashed potatoes.
Season.

Season to taste with salt and pepper (remember that the bacon and the potatoes will be salty so do not add too much salt).
Plate and Garnish.

Place the purée in small glasses or verrines. Finely chop the cooked bacon and crush the potato chips. Sprinkle crushed potato chips and bacon over each serving immediately before service (or the potato chips will become soggy).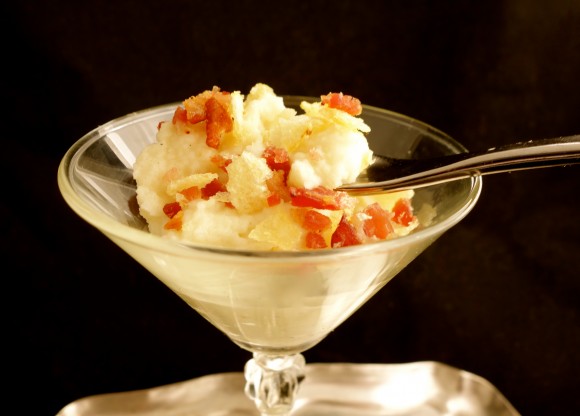 Tags: appetizer, bacon, celeriac, celery root, easy appetizer, potato chips