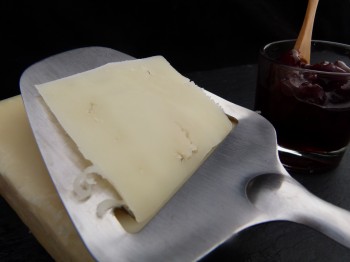 cheese plate focus on quality and simplicity: brebis and spicy cherry compote
My cooking mantra is this: focus on the quality of your ingredients and keep your preparation and presentation simple and you can never, never go wrong.  I was reminded of this recently when I went out to dinner with a friend. The food was disappointing but the cheese plate was what sealed the deal. There were heaping chunks of rubbery cheese, in various colros, two of which were so awful in appearance that the visual imagery still haunts me. My friend laughed endlessly about it.
I hesitated in writing this post because as it is people tell me that they are nervous to choose a restaurant or to cook for me as they are afraid I will be highly critical of what and where I eat because of what I do professionally. Actually, that is not true for me or for most chefs I know. I enjoy simple, unfussy food served anywhere including a truck, a mini-mall, in parts of town most people would probably never imagine venturing, or on a towel at the beach. What matters is the quality of the product and the thought behind the meal. My point in writing this post is not to focus on this one cheese plate's shortcomings, but to focus on how easy it is to put together a delicious cheese plate with no more than two quality items: here, cherries and cheese.  When you do, neither embellishment nor mass quantities is necessary.
With my mantra in mind, this week's simple pleasure, Abbaye de Belloc avec compote de cerises épicée  (Abbaye de Belloc cheese with spicy cherry compote) takes advantage of cherry season as well as the classic French pairing of black cherry preserves and ewe's milk cheese, with my own twist, of course.  Below I provide some information on these two items.  The recipe is posted in a companion post for your printing ease.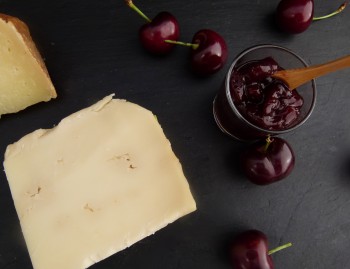 the compote
Cherries fall into one of two categories: sour (i.e., black cherries, Morello (in France called Griottes), Montmorency and Marachino)  or sweet (i.e., Bing, Napoleon, Florence, Rainer, Queen Anne, Brooks, and Lapin).  Sour cherries are rarely sold fresh and are usually canned.  Because  sour cherries are tart when eaten raw they are better to cook with and are used in a range of desserts (cakes, pies, tarts, ice cream), soda, and jam. Sweet cherries are what you will find at your farmer's markets and in your grocery stores.
Cherries, particularly sour cherries, are credited with a number of health benefits. They contain anti-oxidants which reportedly reduce the risk of heart disease, cancer, and diabetes.  Cherries contain melatonin which regulates your sleep patterns, hormones and may be helpful treating Alzheimer's as well as headaches. Cherries are also reportedly good for helping arthritis and gout (of which I am particularly interested in given my affinity for running and the consumption of cheese).
Compote is the result of poaching fresh fruit in a simple syrup (usually equal parts water and sugar) until it is soft.  Once soft, the fruit is removed and the poaching liquid is further cooked to thicken it. The fruit is then returned to the syrup. The compote and can be served warm or at room temperature.
Compote is wonderful to incorporate in your cooking arsenal because it is easy to make, it keeps in the refrigerator, and it is versatile as it can be used for both sweet as well as savory dishes.  On the sweet side, pour it over ice cream, yogurt, or kitchen cheeses (mascarpone or fromage blanc) or spoon it over panna cotta, cheesecake or a simple pound cake.  On the savory side, it can be used to freshen-up a pork or poultry dish or game such as venison or wild boar.  Cherry compote is often used with duck such as in canard à la Montmorency (duck breast is served with Montmorency cherries poached in Bordeaux wine and cherry brandy is used to deglaze the pan in which the duck was cooked and veal stock is added to make a sauce).
Instead of using sour cherries we are making a compote with the cherries you find at the market.  Because the cherries are naturally sweet, only a nominal amount of sugar is added (in contrast to making black cherry jam).  To give it a little kick we add some piment d'espelette.  Espelette is a chili pepper from the same region the as ewe's milk cheese.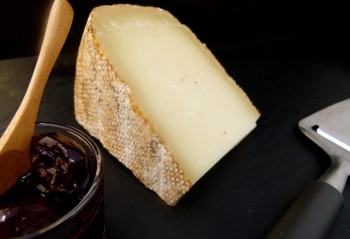 the cheese
La tomme de Brebis de l'Abbaye de Belloc is semi-hard, unpasteurized ewe's milk cheese produced by Benedictine monks at the Belloc Abbey in Basque region of France. Tomme is a general word used to describe a wheel-shaped cheese, usually made from partial (usually winter) milkings or milk from more than one herd.  Brebis is ewe's milk cheese from France (just like a Pecorino is ewe's milk cheese from Italy).
Abbaye de Belloc is one of the cheeses that comes under the "Ossau-Iraty" Brebis Pyrénées banner. The Ossau-Iraty cheeses are produced in the south-western part of France. This is the Basque country which lies in both France and Spain. The name Ossau-Iraty refers to two areas in this region: the Ossau valley and river in Béarn and to the west, the Iraty forest which straddles the French and Spanish border.
Ossau-Iraty cheeses come from milk from Manech and Basque-Béarnaise ewes.  The cheese is made by several different cooperatives, dairies or small farms that collect the milk from smaller farms and dairies in the region. Producers that make Ossau-Iraty cheese include: Makea, Onetik, and Asteria. In addition to Abbeye de Belloc, Istara and Vallee d'Aspe are other well known Ossau-Iraty cheeses. Ossau-Iraty cheeses are classified A.O.C.
When you buy an Ossau-Iraty cheese, you will most likely purchase a wedge because the cheeses are made in 8 to 11 pound wheels.  Alternatively, you can purchase a whole or part of a "petite basque" which is a small round wheel and wonderful to serve on a Girouette for a party (let your guests shave off some cheese and serve the compote on the side). There are slight taste differences between the different producers which results from the terrior (what the ewes are grazing on) and the ripening process. Abbaye de Belloc is my favorite because it is buttery and nutty like all Ossau-Iraty cheeses, yet a little firmer and more dense.
This week, pick some beautiful cherries and buy a few ounces of Abbaye de Belloc from your local cheese shop.  Place a modest serving of sliced cheese on each plate with a side of compote.  Simple ingredients.  Simply delicious.
Je vous souhaite un bon appétit !
LM
Tags: Abbaye de Belloc, brébis, cherry compote, piment d'espelette