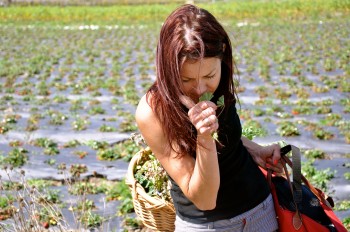 deep roots, significant growth, and organically so:
McGrath Family Farms and three fresh salads for spring
kale and turnip slaw with mustard seed dressing
strawberry and wild arugula salad on a Ciabatta plank
spring pea and fava bean salad with fava leaves
Mustard seeds are powerful things. When I was a girl my mother gave me a necklace with mustard seeds in a little locket. It represented a parable about the power of faith and how significant growth can come from humble beginnings (tiny seeds). It was also significant to me because her family came from generations of famers. I wore it all the time and when it broke I was girlishly devastated.
My draw to the mustard plant was not unique. In 1868, Dominick McGrath, a sheep herder from Northern California, journeyed to Southern California where he discovered six foot high mustard plants. Significant growth from tiny seeds. Dominick McGrath had found fertile soil and the place where he would sow seeds and plant his family's roots. McGrath Family Farms was born. I recently visited the McGrath Family Farm and as I picked (and ate) my way through the organic fields, it was the very soil underneath my feet which inspired our lunch that day and this week's simple pleasure: three fresh salads for spring (and yes, one includes mustard seeds).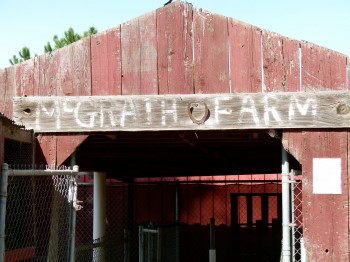 know your source
It is important to know your suppliers whether you are a professional or cooking for your own family. It is a matter of taste (and health). The meals that I make are only as good as the ingredients of which they are composed. As such, I want to know how the product was raised/grown, what was put in the soil or fed to the animals, and when it was harvested. The relationships I have with my suppliers are paramount and based upon respect, trust, and knowledge of their practices.
The McGrath Family Farm is one of those suppliers whom I, as well as many Los Angeles first-rate restaurants, rely on for many organic products. The McGrath Family Farm is located in Camarillo, 55 miles from Los Angeles. Phil McGrath (a fourth generation Oxnard farmer) and his wife, Joanna, run the farm. Michael Roberts works the farm and oversees the educational programs, the organic market, and community food donations. Many of the workers live on the land.
what does it mean to be an organic farm ?
What constitutes "organic" can be confusing to everyone. However, with respect to the production of organic produce it is relatively simple (we will discuss organic meats, dry goods, and packaging on another occasion).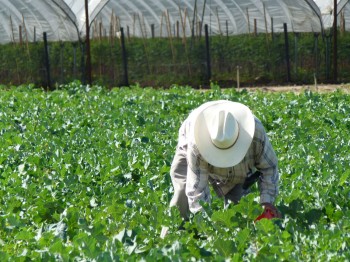 It was President Lincoln who, 150 years ago this May, created the United States Department of Agriculture ("USDA") which is responsible for administering programs for the fair marketing of food. At Lincoln's time, conventional versus organic farming did not exist; everything was organically grown (our obsession with chemicals and spraying and killing things with them… came later).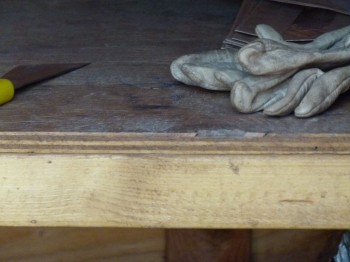 The National Organic Program (NOP) was created by the Organic Foods Production Act of 1990 and it is responsible for regulating and enforcing the USDA standards for USDA organic farming. The NOP defines "organic" food as food produced without the use of conventional pesticides, fertilizers, synthetic ingredients, sewage sludge, bioengineering, or ionizing radiation. 7 CFR Sec. 205.105 et seq. In other words, if you buy certified organic food (it must be certified) then you know that your food was not grown in a petrie dish, not the result of gene splicing, and no chemicals, gases, waxes or dyes were used to grow, extend the life of, add color to, or ripen your food. If you are wondering, yes, all of that manipulation is permitted in conventional farming and it is done. Hungry?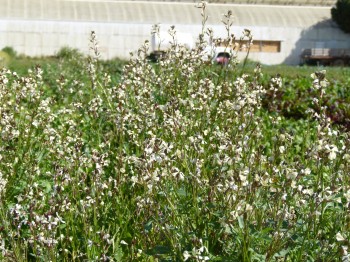 Organic food production also means that the crops are produced by farmers who emphasize the use of renewable resources as well as the conservation of soil and water to enhance environmental quality for future generations. So the food is not only better for you (as well as the farm workers) but the production of organic food is better for our environment now and the land we leave to our children.
For a farm to be certified as an organic farm, an NOP accredited certifier must inspect the farm to make sure that the farmer is following all of the USDA rules to meet the organic standards. This includes reviewing the farmer's organic plan and record-keeping as well as annual inspections. In addition to the inspections, the inspector interviews the farmer and others involved in the food production. The process to convert to organic farming takes a minimum of three years. It is time-consuming and costly.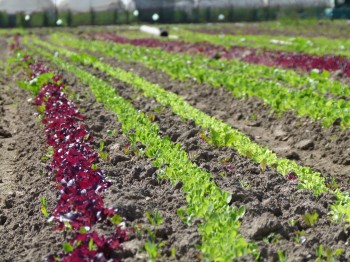 how does an organic farm work?
Seeds are planted in long, elevated rows throughout the year so that crops will be ready for harvest in their seasonal prime. However, instead of pesticides and chemicals, organic farmers rely upon natural means to enhance the growth of the crops and to fend off pests. To encourage crop growth, organic mulches (consisting of roots and prior growth) and compost and worm casings are used to enhance the soil.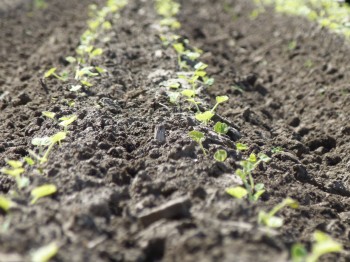 Above the soil,flowers are important in organic farming. Flowers surrounding the row edges (called bumper crops) maximize pollination and attract insects, bees, and birds all of whom also eat pests that are contemplating have a snack on the crops. Caspia, Tuberose, Lavender, Aster, Sunflowers, Ranunculus, and Snapdragons are just a few of the border crops I found that day.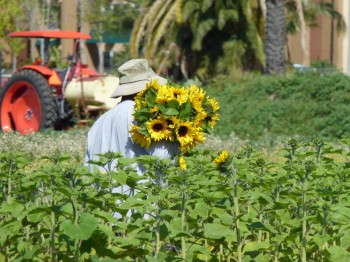 why does organic food cost more?
Clients and students routinely ask me why organic produce costs more than non-organic produce. While most people I meet want to eat organically, they are surprised by the price difference. Organic food costs more than conventionally grown produce because it simply costs more to produce.
Organic farmers incur costs to obtain and maintain the organic certification (inspection fees, application fees, annual certification fees as well as consultant fees and other internal costs of compliance). Reimbursement programs to recover certification fees are available but even if you are able to receive one, it is capped at $750 yearly (and on a "first come first served basis).
Organic crops are much more labor-intensive to cultivate. The creation and application of mulches and compost takes time and labor as does the constant planting of flowers.
The yield is smaller because organic crops are not as resistant to disease and pests as crops which are laden with chemicals.
The product itself is smaller (which matters when sold by weight and volume) because the food is more delicate than chemically protected crops. Look at apples, kale or even chickens that are organically grown versus those that are conventionally grown. Notice how large and uniform and shiny conventionally grown apples are? There is a reason for that uniform appearance and there is nothing organic about it.
Organic crops and the production of organic food is not subsidized by the government as is conventional farming. Very briefly, the government will pay farmers not to grow certain crops but it is typically commodity crops such as wheat, corn or soybeans (this is an international trade issue). This this not apply to smaller, organic farms.
Additionally, Ventura/Los Angeles area is the top five growing areas in the world due to its climate and soil. This makes it expensive land to lease and drives up the price of produce grown here even more.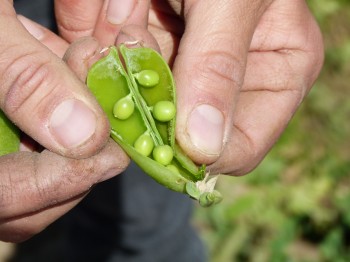 why eat seasonal, organic food?
It goes without saying that consuming food that does not come from a petrie dish, grown in questionable sludge, or colored or covered with gas and pesticides is simply better for your health and those that grow the food. Chemicals kill pests and animals but has no negative impact (short term or long term) on humans?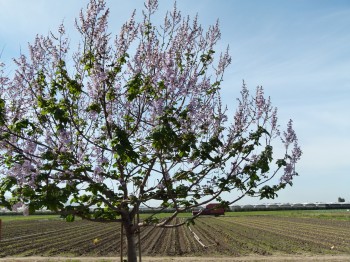 Second, organically grown seasonal food simply tastes better. It has taste for one thing (something that honestly alludes the produce in many American grocery stores, in my humble opinion). Eating food grown close to home means that it spent more time in the ground or on the tree before it made it way to you allowing it to ripen and allowing it to get to you before the natural sugars in the produce begin to turn to starch (fresh peas are a perfect example). In addition, eating food that naturally tastes good does not require secondary sources for flavor (i.e. sugar or salt) and that is also better for our health (as well as our waistlines).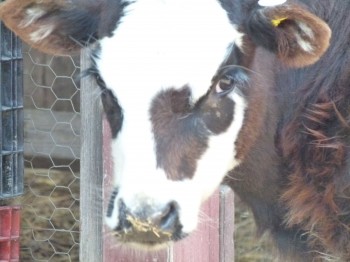 what you can find at McGrath Family Farms
Anyone can visit the McGrath Family Farm. It is an easy drive on the 101 North (and just a hop away from the outlets).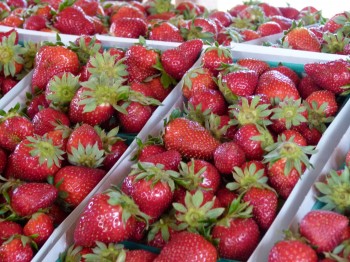 In the spring, the farm is full of strawberries, raspberries, blackberries, cauliflower, Tuscan kale, arugula, beets, broccoli rabe, turnips, rainbow swiss chard, mustard frill (red and green), various greens, fava beans and English sweet peas, and pea tendrils (on which the peas grow).
As we approach summer, the crops ready for harvest will change and the farm will be full of basil, cilantro, cucumbers, grapes, lemons, summer squash (i.e., zucchini), sweet peppers, onions, corn, watermelon, melons, green beans, and lima beans. Tomatoes that were planted in February (heirloom tomatoes and early girl tomatoes are just a few examples) are anticipated to be ready for harvest as early as June, July.
Fall and winter will bring new crops. Thanks to the ideal climate and soil, strawberries (and carrots) are grown throughout the year.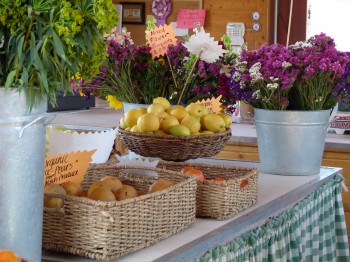 the market and the zoo
In addition to berry picking, the McGrath Family Farm has educational tours, a petting zoo, and an organic market. It is a perfect family day trip (as well as a great source to feed your family throughout the year).
The McGrath organic market is where everyday you can find everything that is currently being harvested on the farm. You can also purchase citrus from nearby farms, fresh flowers, and speciality olive oil and flavor balsamic vinegars.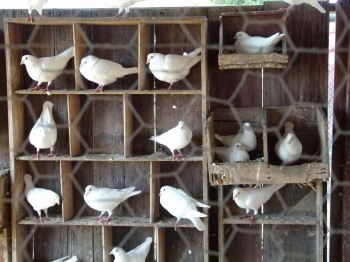 Next to the market is a petting farm with rabbits, chickens, geese, ducks, a cow, goats, sheep, white pigeons, and guinea fowl. All of which were adorable and approachable (except those darn guinea fowl).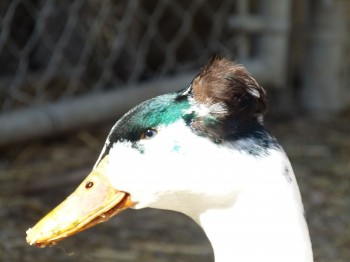 My favorite was the trio dubbed the "menage-a-trois," so named because while the two geese are a couple, Jean-Henri, the French duck (bien sûr) with the dapper top-knot, has a clear affection for the female goose (which is apparently reciprocated). Daytime barnyard drama. It is all here.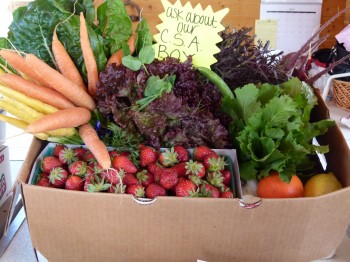 beyond the farm:
the CSA program; farmer's markets and the community
CSA (Community Support Agricultural program) is when a consumer agrees to buy a share in the farm's harvest and in exchange for a weekly delivery of fresh herbs, fruit, and vegetables. The CSA program is available at the McGrath Family Farm. All produce is generally picked the day of delivery but never more than 24 hours old. If you are interested in becoming a CSA member with McGrath Family Farms you can find more information on the program on the McGrath website.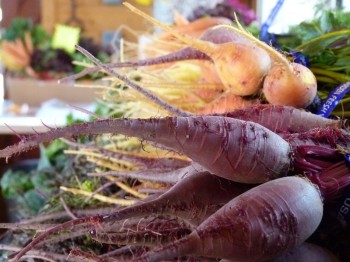 farmer's markets near you
If you cannot make it out to the farm or participate in the CSA program, you can find McGrath produce in various markets throughout the week including:
Wednesdays at Santa Monica Farmer's Market;
Thursdays at the South Pasadena Farmer's Market;
Fridays at Topanga Canyon Farmer's Market;
Saturdays at the Camarillo Farmer's Market and Santa Barbara Farmer's Market; and
Sundays at the Beverly Hills Farmer's Market, Hollywood Farmer's Market, and the Ojai Farmer's Market.
See www.mcgrathfamilyfarms.com for the exact locations and times.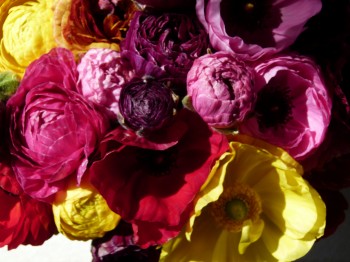 involvement in the community
The McGrath family's dedication and enthusiasm for organic and sustainable farming is felt beyond the boundaries of its farm and the markets that we know.
The McGrath Family Farm is active in Ventura and Los Angeles counties encouraging the growth and use of organic food and sustainable farming practices as well as the distribution of local produce to those who need it. For example, every week the farm donates fresh, organic food to food banks including Food Share (twice a week).
Phil himself sits on a number of boards and councils including the Ventura County Farm Bureau and the Los Angeles Food Policy Council (the LAFP sets the policy for food in the Los Angeles area and recently the board worked to get 50% of food served in the our schools to be sourced from farms with a 200 mile radius of LA area). Phil is also on a subcommittee to the California Department of Food and Agriculture working to get regulations in place to clean up farmer's markets, CSAs, and roadside stands so when you buy produce you know as a consumer that it is grown by the person whom is selling it to you (right now this critical check and balance system does not exist and is unfair to the consumer).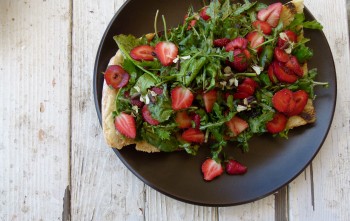 our lunch and your recipes
And my day at the farm? Let's say that my basket was overflowing and Phil, Joanna, and Michael could not have been more gracious and welcoming despite the fact that the farm was busy with children, shoppers, and berry pickers as well as the usual daily work.
After I chased the guinea fowl, jokingly threatened Levi the rabbit with a braise, and bonded with the baby goats, we made a simple lunch of the goodies I raided from the farm. It took 15 minutes to make all three. No fancy ingredients. Light and fresh.
We sat down to eat our lunch at a simple white picnic table overlooking the farms with the ocean in the background. There is nothing better than sharing lunch made of delicious food you picked yourself with your friends. I gazed down at our plates and I saw the mustard seeds. I thought of Dominick McGrath and the mustard plants. I imagine he would be proud of Phil and Joanna and the organic farm they worked hard to create and maintain. Significant growth from tiny seeds.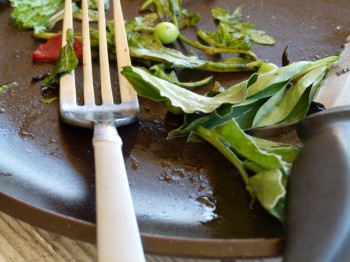 My sincere gratitude to Phil, Joanna, and especially Michael for welcoming me to the farm and showing me a day in the life of an organic farmer. It was a perfect day.
The three recipes are posted separately.
kale and turnip slaw with mustard seed dressing
strawberry and wild arugula salad on a Ciabatta plank
spring pea and fava bean salad with fava leaves
Je vous souhaite un bon appétit !
LM
For more information on the McGrath Family Farms, please see their website at www.mcgrathfamilyfarms.com. To see additional photographs of my day at the McGrath Family Farm, see my facebook page at cheflisabakermorgan.
food for thought:
why we all do not eat organically and
why Abraham Lincoln would probably be disappointed
If organic food is better for our health and it tastes better, why are we predominately producing mass quantities of chemically-dependent, tasteless food in a country where obesity and other food-related illnesses are at an all time high? The reason for it is simple: farmers are supplying it because we create a demand for it. Whether that demand is a result of conscious choice or by default, the responsibility lies with all of us. Rather than prioritize quality, taste, and health, we seem to be more concerned with making a profit or the "bargain" of seeing how much tasteless, colorless food we can buy and stuff into our physical frame for $4.99.
Worse than our problematic conscious choices is the problem of inequality: what do you do when people want to eat organic food but simply cannot afford to do so? Many people in this wealthy country cannot afford fresh produce, let alone organic produce. This country was founded on the principle that all men are created equal and it was President Abraham Lincoln, who not only stood for equality for all but also had family roots in farming, created the USDA. How would Lincoln feel today to know that all men [I mean this in a gender-neutral sense] do not have equal access to organic food (which to me is the same as saying that all men do not have equal access to the ability to be live healthy lives). At Lincoln's time, conventional versus organic did not exist…everything was organically grown.
Whether you look at the issue from a social or economic point of view, it affects all of us. Unhealthy food habits lead to unhealthy citizens who cannot contribute to society and require healthcare (in a country where many people cannot afford healthcare coverage to begin with). We all bear the cost in many ways.
As a country are responsible for our destiny and if we do not like the way things are then we need to change them and we can. Look at what our voices did recently in social issues (change.org). Voices together get results. If it matters to you, together we can create a demand for affordable organic food. We can insist that the government subsidize and/or provide better economic incentives to encourage more farmers to convert to organic farming. We can insist on better/more government grant programs and assistance to organic farmers in order to reduce the prices of organic food, making it more available to all who want to eat it. We can insist that those who do not have a choice, our school children, are fed organic, local produce.
Let your voice be heard. Let the government know that organic food production matters. You can start here and it is only two clicks away:
http://www.takepart.com/foodinc
Tags: Farmers market, Mcgrath family Farm, NOP, organic, organic food production, organic standards, salad, Spring, USDA