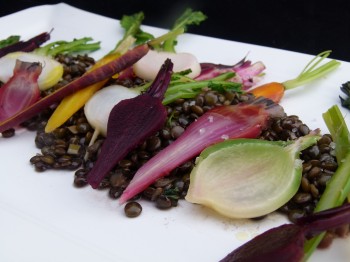 It is just the way I see things; baby spring vegetable
and Puy lentil salad
Spring is my favorite season. Budding bulbs and blossoming trees bring a sense of renewal and the promise of a fresh start. Returning to my apartment from my baguette run, I was filled with anticipation. Partly, because I could not wait to slather apricot jam on this airy piece of crispy goodness I clutched in my hand, but also because the morning air was filled with the smell of narcissus, daffodils, and hyacinths. The corner florist had opened their doors. Spring has sprung and the evidence was artfully presented in round baskets for shoppers to take home and bring a little bit of spring indoors (even if the radiators were still turned on). I stopped and as I looked at the displays this week's simple pleasure was born: baby spring vegetable and Puy lentil salad.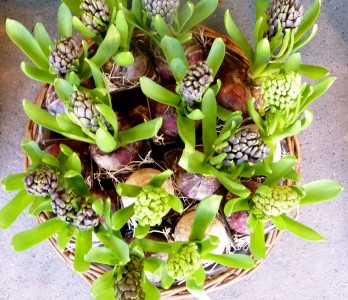 Most people look at a basket of spring flowers and see flowers. Not me. I see food. While I can acknowledge things for what they are, I primarily always see them for what they can be. For me, when I looked at these baskets I thought of bulbs of beets, turnips and radishes. I saw a bounty of young, tender spring vegetables planted in earthy, rich Puy lentils. Admittedly, I have an unbridled love affair with the preparation of food, but that is just the way I see things.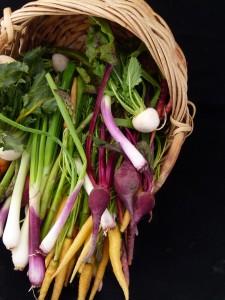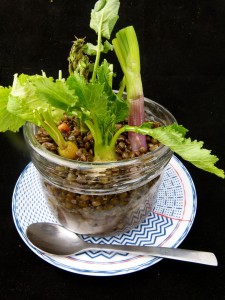 Puy lentils (lentilles du Puy) are the perfect "soil" for our plated spring vegetable garden. Puy lentils ( from le Puy-en-Velay in South Central France) are dark green with a hint of blue and brown marbling. They grow in rich volcanic soil, making the analogy even more apt and their taste is so unique the lentils have AOC status. Lentils are full of amino acids, fiber, iron, and protein (perfect for those meatless Fridays during Lent). Puy lentils do not become mushy when cooked and they do not have to be rehydrated (soaked or rapidly boiled). This lentil salad should be served cool (or room temperature), so after you dress the lentils, refrigerate them for a few hours before consumption. Make sure to adjust the seasoning as the flavor profile will change when the lentils are cold (and after the dressing has been absorbed).
With respect to the vegetables, you can use a variety of vegetables. However, take advantage of the sweet, young vegetables that are available right now: turnips, radishes, carrots, onions, and beets, all in a variety of colors. The key is to use vegetables that are small (for scale and for their sweet flavor) and that have a substantive texture (i.e., a beet or turnip as opposed to a cucumber or zucchini with a high moisture content).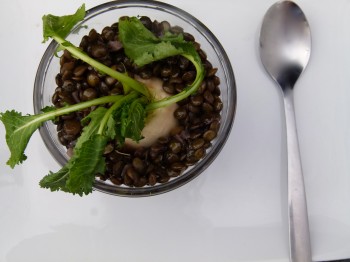 This salad can be made in advance and stored in an airtight container in the refrigerator for a few days, making it perfect not only for quick meals, but a healthy on-hand snack. It can be served as a first course or a side dish as lentils pair well with a variety of meats as well as fish.
Je vous souhaite un bon appétit !
LM
baby spring vegetable and Puy lentil salad
serves 4-6
what you need:
lentils
2 teaspoons olive oil
½ pound (8 ounces) lentilles du Puy
1 tablespoon finely minced garlic
¼ cup finely minced leek
¼ cup dry red wine
1 fresh bay leaf
2 ¼ cups chicken (or vegetable) stock
1 teaspoon sel de Guérande (or sea salt)
vegetables
1 bunch baby orange carrots
1 bunch baby red carrots,
3 small golden beets
3 small red beets
3 small candy beets
5-6 small asparagus spears
3 small Tokyo turnips
3 small spring onions
dressing
1 teaspoon red wine vinegar
pinch of ground cumin
2 tablespoons quality olive oil
1 teaspoon minced fresh coriander
1 teaspoon minced fresh Italian parsley
sel de Guérande (or sea salt), to taste
freshly ground black pepper, to taste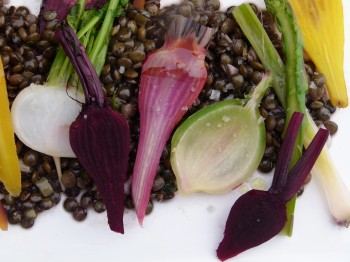 how to:
vegetables
Prepare Vegetables.

Trim the vegetables (removing discolored or stringy parts) and use a vegetable brush to scrub the vegetable skins (do not peel). Wrap the tops of the beets, radishes, turnips, and carrots with aluminum foil. Cut the asparagus and onions so they are about 3-4 inches in length.
Blanche Asparagus and Onions.

Place water (with a little salt) in a saucepan over a medium-high flame. Bring to a boil. Boil the asparagus and onions for about 1-2 minutes. Remove from the boiling water with tongs and place the asparagus and onions in an ice bath (a bowl of ice with a little water) to cease the cooking. Remove from the ice bath and set aside.
Boil Radishes, Turnips, Carrots, and Beets.

Working in batches of 4-6 wrapped vegetables (of roughly the same size), place the vegetables in the boiling water and hang the wrapped tops over the edge of the pan. Secure them in place with the lid. Boil for 3-5 minutes (depending upon the vegetable size) until tender. Remove the vegetables with tongs. Remove the foil and place the vegetables in an ice bath. Once cool, set aside with the cooked asparagus and onions. Repeat this process until all of the vegetables have been cooked. Boil the red beets last because they will color the water.
Slice Vegetables.

Use a chef's knife to slice the vegetables lengthwise (the carrots, asparagus and onions will only be sliced in half). Set the sliced vegetables aside. They can be stored in the refrigerator. Keep the red beets separate because they will color the other vegetables.
lentils
Sauté.

Place a saucepan over a medium-high flame. When warm, add olive oil. When oil is warm, add garlic. Once the garlic is fragrant, add the minced leeks and toss in the oil. Add the lentils and coat the lentils in the oil and leeks.
Deglaze.

Add the red wine to lentils and toss to coat. Reduce au sec (until wine is cooked out of the pan).
Add Flavoring.

Add warm stock and the bay leaf to the lentils.
Simmer.

Bring to a boil and then reduce to a simmer. Simmer until lentils are soft but still hold their shape (about 45 minutes). Do not overcook.
Drain.

Remove and discard bay leaf. Drain lentils (if there is excess stock).
Dress.

In a separate bowl, combine the oil, vinegar, cumin, and fresh minced herbs. Add dressing to the lentils and toss.
Chill.

Place the lentils in the refrigerator for at least 4 hours to chill. Before service, adjust seasoning with salt and pepper to taste.
Add Sliced Vegetables. Serve family style on one large platter or on individual plates. Scoop lentils on plate and add sliced vegetables in a decorative way. Garnish with sea salt and a drizzle of quality olive oil. Serve cool or at room temperature.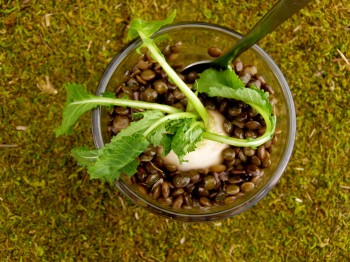 Tags: asparagus, beets, carrots, lentilles du Puy, Puy lentils, spring onions, spring vegetables, turnips