la blanquette de veau

(veal stew in a white wine-crème fraîche sauce with mushrooms, pearl onions,
and artichoke hearts on garlic-rubbed toasted French Bread)
(a/k/a "la blanquette d'amour" for Valentine's Day 2013)
serves 4-6
preparation time: 10 minutes
oven time: 1 hour
stove time: 30 minutes
what you need:
veal
2 pounds veal shoulder (or beef or chicken breast), cut into 1 ½ -2″ cubes (fat discarded)
all-purpose flour (as needed)
kosher salt (as needed)
freshly ground black pepper (as needed)
2 tablespoons unsalted butter
garnish
2 dozen fresh white mushrooms, trimmed and quartered if large
2 dozen frozen pearl onions
1 cup dry white wine
3 cups quality chicken stock
1 bouquet garni (fresh leek, Italian parsley, bay leaf)
4 cooked artichoke hearts, quartered
½ cup frozen peas
sauce
2 tablespoons unsalted butter
3 tablespoons all-purpose flour (or arrowroot slurry 1 teaspoon arrowroot dissolved in 1 tablespoon water)
¼ cup crème fraîche
1-2 teaspoons fresh lemon juice
2-3 fresh garlic cloves
french bread (2-3 slices per person)
minced fresh Italian parsley (as needed)
how to:
Season/Dredge. Season veal cubes with salt and pepper. Dredge veal in flour. Tap off excess flour.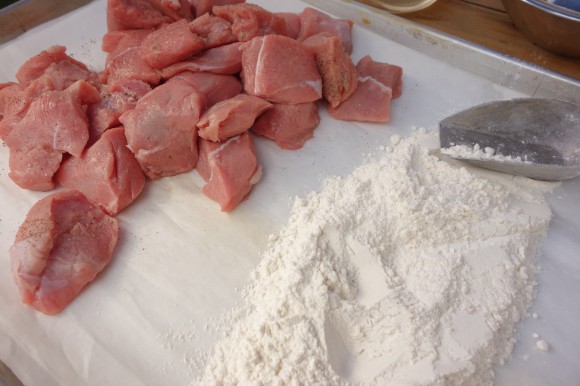 Brown Meat. Place a cocotte (or Dutch oven) over a medium-high flame. Add butter. Once melted, add veal cubes (in batches, do not crowd the pan). Brown veal. Remove veal from cocotte and place on a plate. Remove excess grease from cocotte.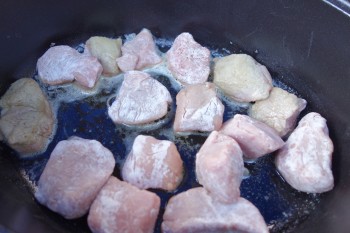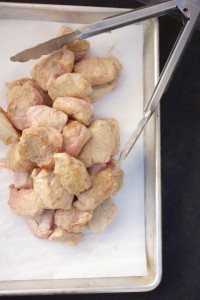 Brown Vegetables. Add onions and mushrooms to cocotte. Lightly brown all vegetables to develop their flavor.
Deglaze. Add wine to cocotte and scrape up any browned bits from the bottom of the cocotte. Reduce wine demi sec (by half).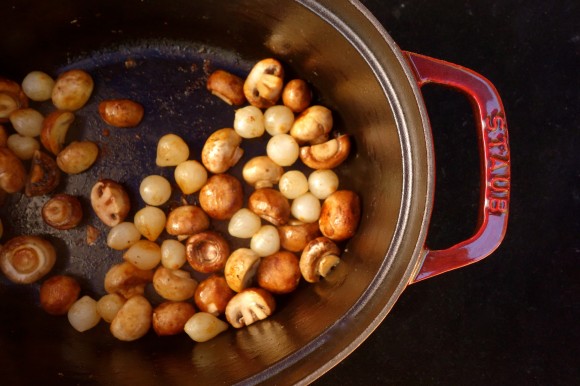 Simmer. Return veal to cocotte. Add bouquet garni, chicken stock, and artichokes. (note: You can add the peas now but they will loose their bright green color, it is better to add them later, they do not need to be cooked inasmuch as they need to be quickly warmed). Cover cocotte with a lid and place in an oven preheated to 325 degrees Fahrenheit for about one hour. The veal is done when tender. Do not over-cook.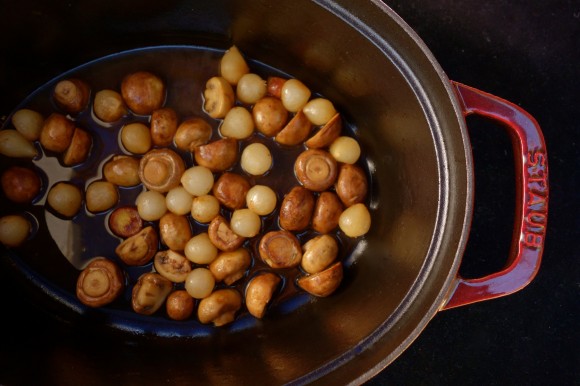 Make Sauce. Carefully remove cocotte from the oven. Use a slotted spoon to remove the veal and the vegetables from cocotte. Place on a plate and cover meat with aluminum foil to keep warm. Use a spoon to skim the fat from the top of the liquid. Over medium heat, reduce the liquid to 2 ½ cups.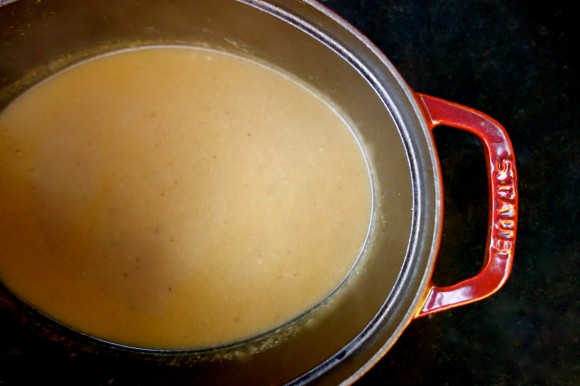 Add Roux. In a separate saucepan, melt the butter and add the flour to the butter using a whisk. Add the warm roux to cocotte and simmer (while whisking) for a few minutes until the flour taste is gone. (note: Alternatively, you can use a "slurry" instead of a roux by dissolving 1 teaspoon of ground arrowroot in 1 tablespoon of water and whisking that into the liquid as you would the roux).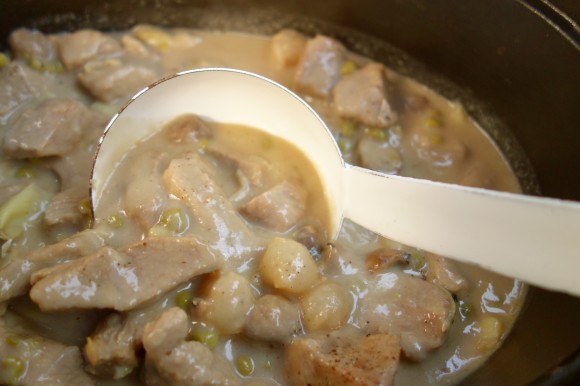 Combine. Return the veal and the vegetables to the cocotte. Add the peas. Add crème fraîche. Stir to combine. Place lid on while you toast the bread slices.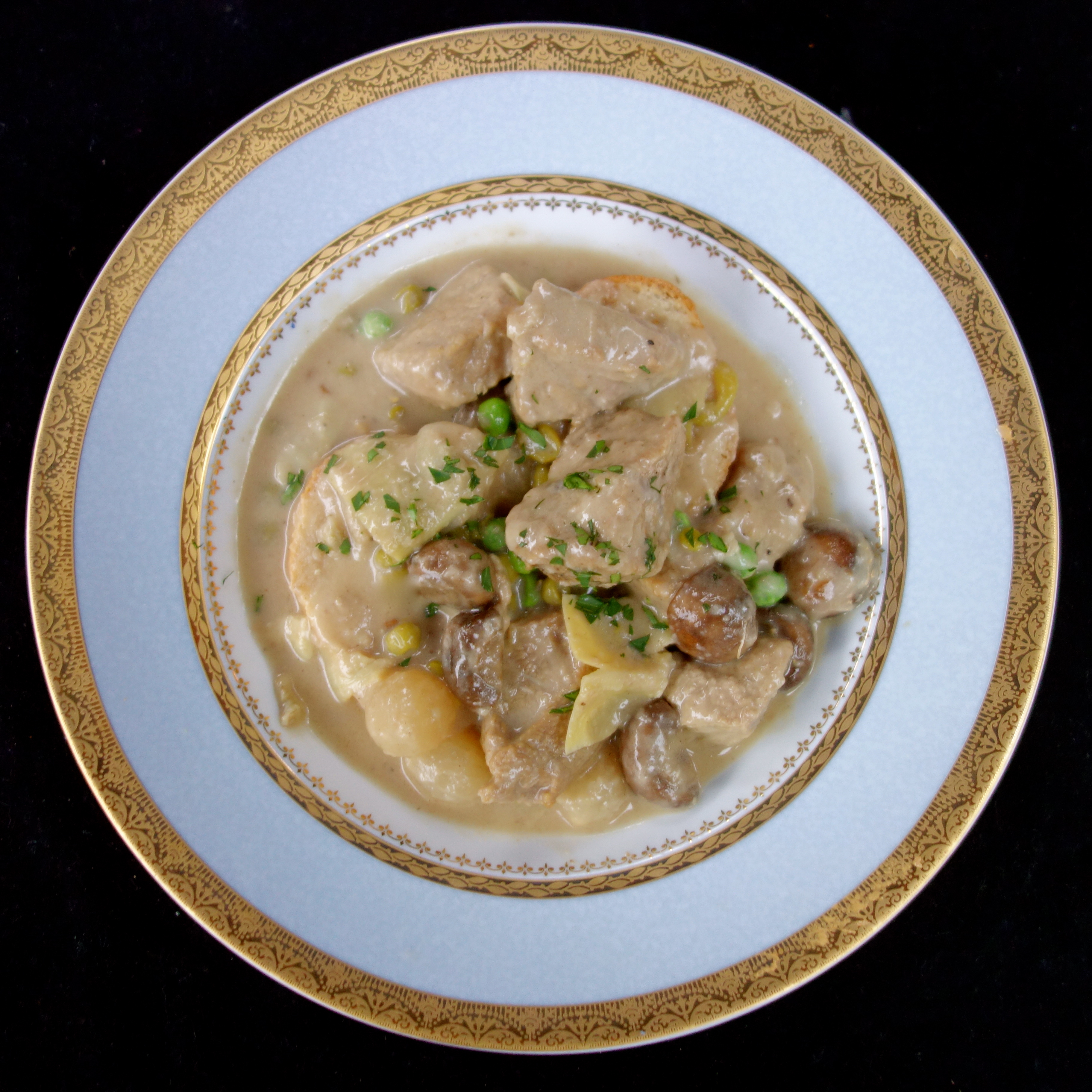 Make Garlic Toasts. Place slices of French bread on a baking sheet and toast in the oven until crisp (you can leave the oven temperature the same). Remove toasts from the oven. Rub fresh garlic on one side of each slice. Place the slices at the bottom of the stew in the cocotte.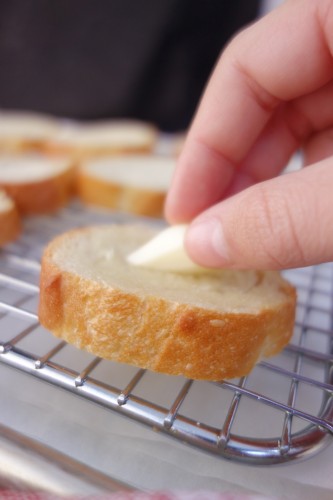 Finish. Add lemon juice to stew. Salt and pepper to taste. Serve warm.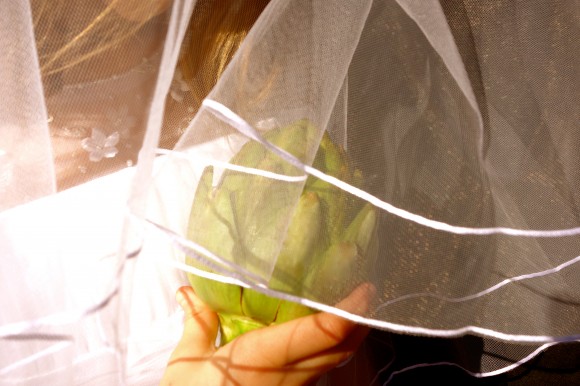 Tags: artichokes, chicken stock, cocotte, crème fraîche, frozen peas, garlic toast, love, pearl onions, stew, valentine's day, veal, white mushrooms