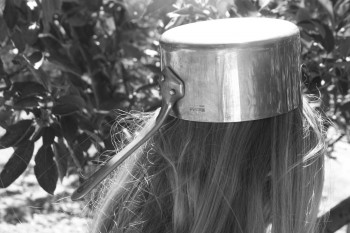 picking apples, planting memories
John Chapman (aka Johnny Appleseed) spread apple seeds in Ohio, Indiana, and Illinois.   Ask any first-grader as Johnny Appleseed appears to be standard first-grade Fall curriculum.   The lesson is time appropriate as well as fun.
Mr Chapman and his apple seeds did not make it to California but some forty years after his death someone did and that person planted apple seeds in Glen Oaks, California, a little town nestled against the San Bernardino Mountains (about one hour and a half east of Los Angeles).  At an elevation of 5,000 feet, Glen Oaks is the perfect climate for apple growing.   It also made for the perfect family get-away one Sunday.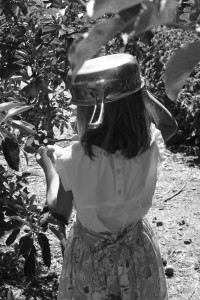 There are a number of orchards in Glen Oaks, we chose Ridley's Apple Farm which has fourteen varieties of apples, all which come into season at at various times:  Glen Seedling and Gravenstein in September, Red Jonathan, Fuji, and Cortlands in October, and in late October/early November Red Delicious, McIntosh, Rome Beauty, Spartan, Winesap, Braeburn, Northern Spy ,and Newtown Pippin.   Apples are $2.50 per pound up to 20 pounds and $2.00 per pound thereafter.  However, picking and re-discovering the pleasure of the taste of an apple picked fresh from the tree was "priceless" (pardon the pop-culture reference).
Down the road from Ridley's we made cider.  The hands-on pressing, crushing, and straining of apples resulted in a gallon of fresh, unpasteurized cider to go (which admittedly, did not last long).   We planned to make bake apple pies and tarts, but it was 110 degrees Fahrenheit in Los Angeles that day, so we made apple sorbet instead.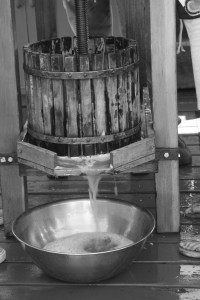 Below are some notes on apples and tips on how you can make the most of the soon-ending apple season.   There are a few apple recipes, including the sorbet recipe, which you can skip straight to if you want.   As always, je vous souhaite un bon appétit !
LM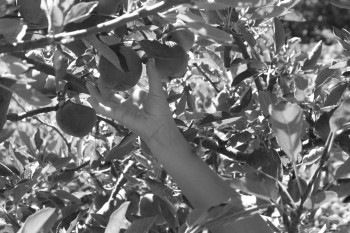 apple notes (part one):
making the most of apple season
Once picked, apples continue to ripen and as they do, their color, texture and taste evolve.  Under-ripe apples are dark green, hard, and tart.  As they ripen, they go from firm, crisp and tart, to sweeter and softer.  Over-ripe apples are mealy, bland, and mushy (this is because about one quarter of an apple's volume is air and over time the air dries out and the apple's structure breaks down).  Choose an apple that is firm and without bruises or cuts as that causes the apple to deteriorate (and will cause apples with which a damaged apple is stored to deteriorate as well).
Refrigeration slows the ripening process and wrapped, unblemished apples store well in a refrigerated environment for a long time.   Apples varieties available from October to the end of the season (mid-November) can be stored until June (i.e., Braeburn, Empire, Fuji, Mutsu, Newtown Pippin, Rome Beauty, Winesap).  Varieties available in early in the season (late July to early September) do not store as long and should be used first.  The early bloomers include:  Gravenstein, Glen Seedling, Jerseymac, and Patricia.
Apples can be frozen; however, first they should be peeled/cored and cooked or par-cooked (blanched for 1-2 minutes in water with a squeeze of lemon).  It is best to cyro-vac them.  Apple desserts can be frozen (blanche the apples first and then let them cool completely before freezing).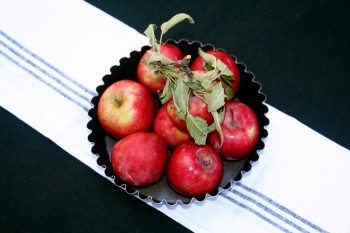 apple uses
Raw apples are typically used in salads or as garnishes and the manner in which they are grated or cut will not only change their appearance but their texture as well.  Apples can be sliced (vertically or horizontally), cut into wedges, grated, diced, cut into rings, julienned, tournéd, and even stuffed (with or without the skin).   Once cut, the flesh will brown but you can prevent this by rubbing them with a little lemon juice or apple cider or placing them in water with lemon juice until you are ready to use them.  A few varieties are naturally slow to brown (i.e., Ginger Gold and Cameo).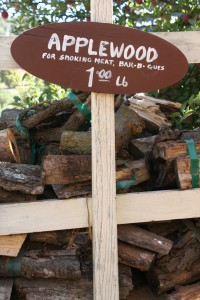 Apples do well with a variety of cooking techniques including: braising, sautéing, grilling, deep frying, poaching, baking, puréeing, and steaming.  They can be dehydrated for snacks or garnishes.   Apple tree bark can be used to impart apple flavor in a smoker or on the grill.   Apples can be preserved by canning (whole, quartered, or as a sauce or a jam or butter).  Because apples are high in pectin, they make delicious purées, soups, sauces, chutneys, and butters.
Most apple skins can be tough and will not break down by cooking.  In pies  and other baked goods  apples should always be peeled because the indirect oven heat is not enough to break the peels down.  However, because much of the vitamins and flavor is in the peel, I try to leave the peels on when cooking and then strain the peels from the apple flesh.  Because apple skins are high in pectin, I put them in cheesecloth and use them when making jam or gelées.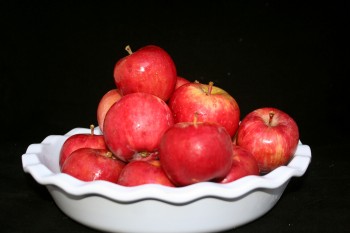 to cook or not to cook…
There are reported to be 15,000 varieties of apples.  Food writers and chefs often try to establish categories based upon an apple's sugar/acid content as to whether the variety should be cooked or consumed raw.   While there are a few well-known truths (i.e., a Red Delicious is not a good apple to cook with but Granny Smith and Golden Delicious are great), when deciding how to best use a particular apple, I believe it is better to consider the following factors:  (a) The apple variety (is it crisp?  is it tart?  what color is it?);  (b) How ripe is the apple?  (the riper it is the sweeter it is); and (c)  What do you hope to do with the apple?  For example, if you want to make a salad and want something crunchy with pear overtones that will go well with blue cheese try Hudson's Gold Gem.  If you want to bake a pie and want a mildly tart flavor with honey overtones use Crispin and Granny Smith.
If you are making a tart, pie, or baking or poaching an apple, you need an apple that holds its shape.   The varieties that are most often used for that purpose include:  Braeburn, Bramley's Seedling, Calville Blanc d'Hiver, Granny Smith, Ida Red, Jonathan, Jonagold, Melrose, Mutsu (Crispin), Newtown Pippin, Northern Spy, Rome, Pomme des Reinettes, and Golden Delicious.  If you do not know if a particular apple will maintain its shape, you can test it by cutting off a wedge and submerging it in water and cooking it, or wrapping the wedge in plastic and cooking it in microwave (or in aluminum foil in the oven).  If the wedge maintain its shape and does not fall apart, you have your answer.
Some apples are particularly crispy and juicy and therefore best used raw since those attributes would be wasted if cooked.  Some examples are:  Empire, Ginger Gold, Hudson's Gold Gem, Jerseymac, Jonagold, Red Delicious, Red Empire, Macoun,  Mutsu (Crispin), Patricia, Raritan, Sierra Beauty, and Smokehouse.
Many varieties are equally wonderful raw as they are cooked and include  some of my favorites:   Ashland's Kernal, Braeburn, Cortland, Gala,  Pink Lady, Fuji, Jonagold , Jonathan, Golden Delicious, Honeycrisp, Granny Smith, Newtown Pippin, Northern Spa, Stayman, White Pearman, and Winesap.
Apples varieties most often used for purées or apple sauce include Bramley, Gravenstein, Cortland, McIntosh, Green Jonathan, and Rhode Island.  However, do not feel limited to this list.  Experiment a little.
Tags: apple picking, apples, Glen Oaks, how to cook, John Chapman, Johnny Appleseed