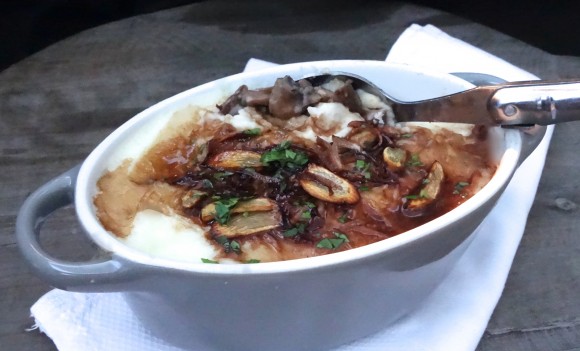 Porcini Parmentier 
with crispy shallots and garlic and mushroom jus
Hachis Parmentier or Parmentier is the French version of the English Shepherd's Pie, to which people more often refer probably because it seems easier to pronounce. Any way you dish it, parmentier is comfort food. Hearty and warm. Perfect for the winter weather.
Let it snow (or rain).
Traditional parmentier is a meat base (be it braised, stewed, ground and sautéed, or confit) and topped with mashed potatoes. Vegetables are optional and usually do not include more than diced carrots and peas if the meat is stewed. Placed in a baking or gratin dish, the parmentier is then baked in the oven and served piping hot with the contents of the dish bubbling up on the sides from underneath the creamy potatoes. Veal, beef, or game are generally used.
This is the meatless version. It is every bit as hearty and delicious as the non-vegetarian versions.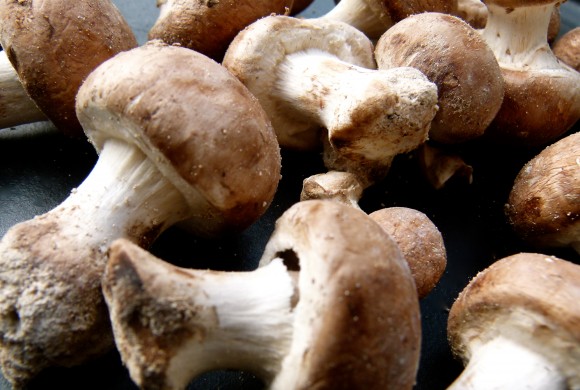 This dish celebrates the earthy, filling flavor of mushrooms with the roundness of red wine and woodsy-smelling thyme. This recipe calls for both fresh mushrooms as well as dehydrated porcini mushrooms (I always advise students and clients to keep a package of dehydrated mushrooms in their pantry). A variety of mushrooms are used in the filling for taste and texture. I suggest using a combination of white mushrooms, crimini, porcini, and shiitake mushrooms.
I top this vegetarian permentier with crispy  thinly sliced cloves of garlic and shallots which have been fried in olive oil and a dash of freshly minced parsley. Both are a wonderful contrast to the creamy potatoes and melted cheese. The porcini mushroom jus is drizzled over that. Yum (or Miam).
I think my favorite part of this dish is the mushroom jus. The jus is created by hydrating dehydrated porcini mushrooms. I was introduced to versatility of vegetable jus from a fellow chef whom had worked with Michel Richard (I always credit chef Richard for pioneering the technique although many chefs are now using it). 
This recipe can be prepared in advance (in whole or in part). In addition, you do not have to make the potatoes from scratch, it is an excellent way to use those holiday mashed potatoes. 
bon appetit! 
LM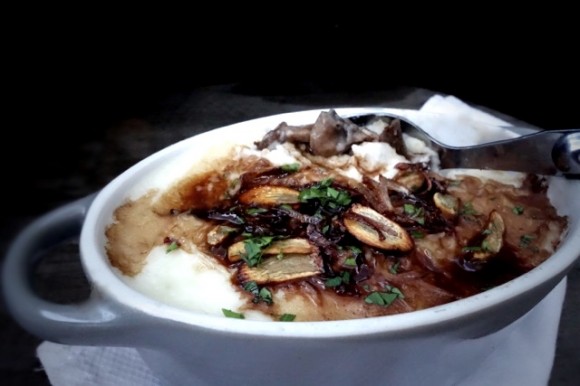 Porcini Parmentier
with crispy shallots and garlic and mushroom jus
serves 4
mashed potatoes*
2 pounds potatoes, peeled
6 ounces cup heavy cream, warm
7 ounces unsalted clarified butter, warm
1 teaspoon kosher salt
1/4 teaspoon freshly ground white pepper
1/2 cup finely grated Gruyère cheese
mushroom filling
1/2 cup dried porcini mushrooms
1 cup hot water
2 tablespoons unsalted butter
1 garlic clove, minced
4 sprigs fresh French thyme, stripped
1 1/2 pounds mushrooms (white, crimini, porcini, shiitake), trimmed
1/4 cup red wine
freshly ground black pepper, to taste
kosher salt, to taste
jus
1 tablespoon unsalted butter
1 teaspoon minced shallots
3-4 thyme sprigs, stripped
1/8 cup red wine
reserved water from hydrating porcini mushrooms
garnish
olive oil, as needed
1 shallot, thinly sliced
2 garlic cloves, thinly sliced
minced fresh Italian parsley, as needed
Preheat oven to 400 degrees Fahrenheit.
Make Mashed Potatoes.
Wash the potatoes and dry well (peeling is optional). Dice potatoes into 2″ cubes. Cook Potatoes. Place potatoes in a pan of cold water. Bring water to a boil and cook potatoes just until a fork can be inserted.  

Use a colander to strain potatoes (you can reserve the potato water and save it for pastas, soups, sauces, or your pan gravy).  Return the potatoes to the pan in which they were cooked. Cover with a lid to keep them warm and let the moisture evaporate from the potatoes. Check the top of the lid and wipe off any condensation with a towel so it does not drip on the potatoes. Do not let the potatoes cool.
Pour potatoes into a potato ricer, food mill (using the large disc), or china cap.  Place the warm pan in which the potatoes were cooked underneath to catch the mashed potatoes. The peels will separate from the flesh. If the potatoes are difficult to pass through that means they are not cooked enough (you can remedy this by putting the potatoes in the microwave for a few seconds). If the pan is no longer warm, you can place it on stove over low heat. 

Once potatoes have been mashed, lightly fold (in an upward motion) the warmed butter and salt into the potatoes (the folding will incorporate air into the potatoes). Do not over-mix the potatoes or they will be gummy. 

 Once the butter is incorporated, gently fold the cream into the potatoes (do not worry that it seems like too much cream, the starch in the potatoes will absorb it).

 Season to taste with salt and pepper. White pepper is traditionally used for mashed potatoes because you cannot see it. 
Fry garnish
Place a small heavy bottomed pan over a high flame. Add olive oil as needed (you do not need much). Once oil is 350 degrees Fahrenheit, add slices of garlic and shallots. Use a slotted spoon or spider to remove from oil once golden brown and place on paper towels. This can be done in advance.
Hydrate Porcini Mushrooms
Place the dried porcini mushrooms in 1 cup of hot water and let it soak for 30 minutes. Remove mushrooms and squeeze mushrooms to expel excess water. Reserve mushroom water for jus.
Make Mushroom Filling
Clean and trim mushrooms. Slice half of the mushrooms and chop the rest to create textural interest. Set aside.
Sauté. Place a large sauté pan over a medium flame. Once hot, add butter. When butter has melted, add thyme leaves to butter. Add all mushrooms (fresh and re-hydrated porcini mushrooms) and toss in the butter. Add a few pinches of salt to draw the moisture out of the mushrooms. Cook until mushrooms are deep brown. When they begin to stick to the bottom of the pan, add the 1/4 cup of red wine. Toss to coat mushrooms in the wine and continue to cook until there is just a little wine left in the pan. Season with salt and pepper to taste. Remove from heat. 
Make Jus.
Place a small saucepan over a medium heat. Once hot, add butter. When butter has melted, add thyme leaves and shallots. Sweat shallots. Add wine and reserved mushroom jus. Continue to cook until liquid is reduced to 1/4 cup. Strain through a sieve. Discard thyme and shallots. Reserve jus.
Assemble.
Distribute mushrooms evenly amongst four baking dishes and top with mashed potatoes. Divide grated cheese amongst four dishes. Place on a rimmed baking sheet and place in the oven on the middle rack. Bake until the cheese has melted and the potatoes lightly browned(about 20 minutes). Be careful because the dishes will be hot. 
Serve.
Add crispy shallots and garlic chips and parsley to each dish. Pour jus over the top, evenly amongst the dishes. 
* You can use your own favorite mashed potato recipe or leftover potatoes. For a step by step instructional of how to make perfect mashed potatoes click here.
Tags: cheese, easy recipes, garlic, parmentier mushrooms, porcini, potatoes, shepherds pie, thyme, vegetarian