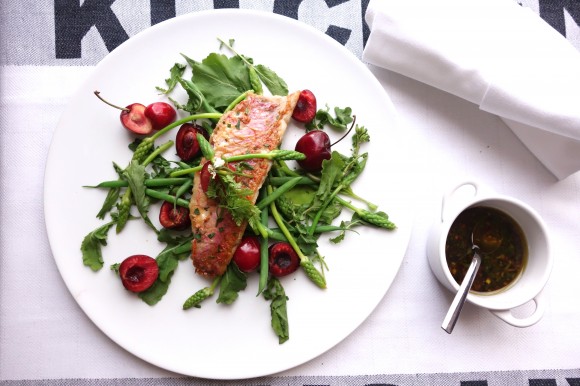 my favorite accessory
wild thing, I think I love you…
rouget with wild asparagus and cherries
Admittedly, I am obsessed. I have discovered wild asparagus, which eluded me for months, and I cannot get enough. Sigh. It is not just the wild asparagus though… It is also the cherries. I have been using these two ingredients with abandon. So, this week we head effortlessly into bathing suit season while we embrace the flavors of summer with this week's simple pleasure: rouget with wild asparagus and cherries.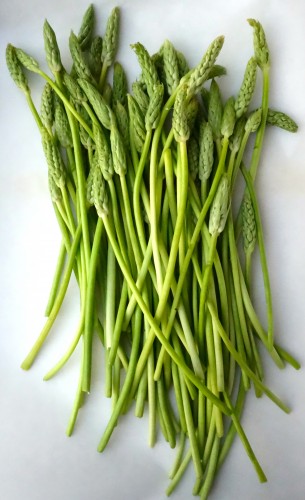 Have you ever purchased a bracelet or a pair of shoes that you were so crazy about you chose your "outfit" around that item? It sounds backwards but when we are excited about something, it happens.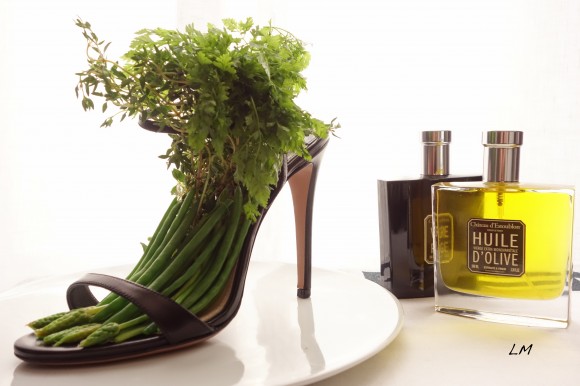 Wild asparagus and red cherries are my new shoes. I have been building dishes around them all week. Sautéing cherries with fennel and sea bass; cherry salsa and tapenade; steamed asparagus with diced potatoes with cod in a fumet; wild asparagus with penne; and cherries marinated in white port and served with vanilla and crushed almond panna cotta. The list goes on…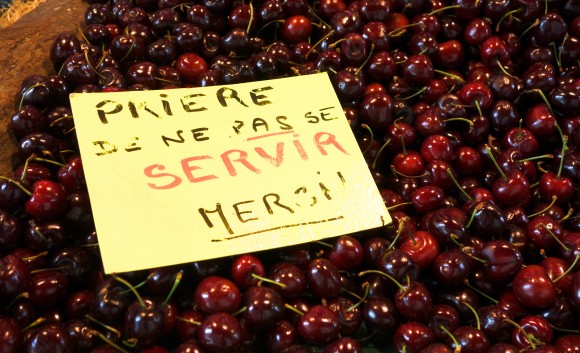 I decided to combine them.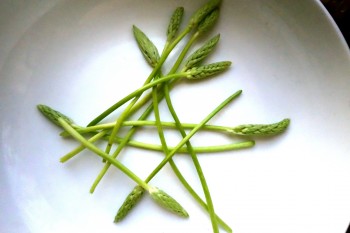 Beginning with the accessories of cherries and asparagus, we bulid our meal in layers: a foundation of various greens, the primary piece of fresh fish, and rounding it out with a drizzle of tarragon dressing and fresh herbs. Voila ! Just like getting dressed.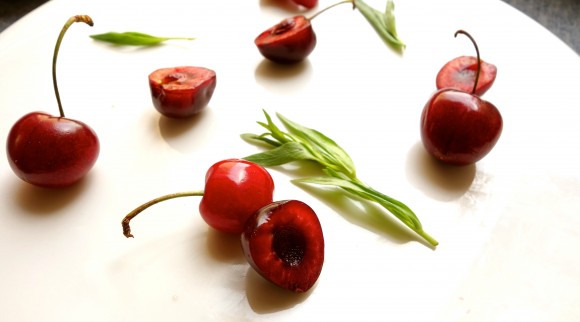 Rouget is very popular in France and I am hoping it will catch on more in the States because it is wonderful. Rouget is a delicate fish with flesh that is both a little pink and sweet. It pairs wonderfully with the sweet cherries. The red color of the cherries also picks up the beautiful tones the fish. You heard it here first.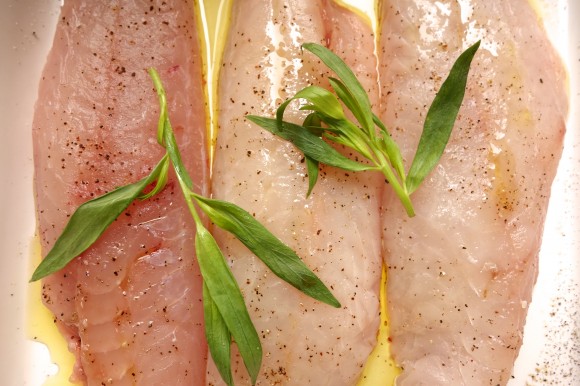 There is no butter used in this recipe which will send you confidentially into bathing suit season. Even more, the meal comes together easily. All the preparation, including blanching the asparagus and haricots vertes, can be done in advance. The rouget cooks quickly (a few minutes stovetop and another few minutes in the oven to finish) and then assemble and serve. Just like getting dressed…
mangez bien, vivez bien, et bon appétit ! (eat well, live well and enjoy)
LM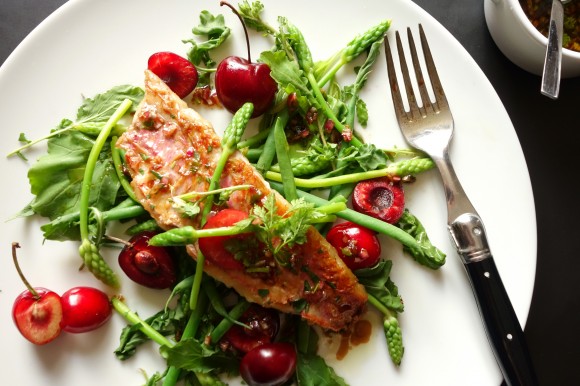 rouget with wild asparagus and cherries
serves 4
4 fillets rouget
kosher salt (as needed)
freshly ground pepper (as needed)
olive oil (as needed
4 dozen haricot verts, trimmed
4 dozen wild asparagus (or pencil thin regular asparagus)
4 handfuls wild arugula
2 dozen beautiful, ripe red cherries, halved
minced fresh Italian parsley (as needed)
fresh chervil (as needed)
dressing
2 tablespoons quality balsamic vinegar
2 teaspoons finely minced shallots
6 tablespoons quality olive oil
2 teaspoons minced fresh tarragon
1 teaspoon sel de Guérande (or sea salt)
how to:
Season Filets.

Remove bones carefully if you can. Leave the skin on. Season filets with salt and pepper. Drizzle with olive oil. Set aside until ready to cook. Preheat oven to 350 degrees Fahrenheit.
Prepare Dressing.

Place vinegar in a bowl and whisk in the oil . Add salt, tarragon and shallots. Shake or whisk well until a good emulsion is reached. Set aside.
Blanch Asparagus and Haricot Verts

. Trim the haricots verts. Trim asparagus to 4 inches in length. Place both in a pot of boiling, salted water for 1-2 minutes. Remove from water with tongs and place in an ice bath. Remove. Blot dry with a paper towel.
Cook Rouget.

Place an overnproof sauté or fry pan (best to use non-stick because the rouget skin is delicate) over medium heat. Add olive oil. Once oil is hot, add the fillets, skin side down. Cook half way (this only takes s few minutes). Remove from the stove and place in the oven for a few minutes to finish cooking the fillets (they are no longer translucent but not yet coming apart or oozing white stuff).
Serve.

Arrange arugula, haricots verts, and asparagus on plates in a visually pleasing manner. Use a spatula to carefully remove the fillets from the pan and add one to each plate (skin side up). Add cherries. Garnish with fresh chervil and parsley. Drizzle dressing over each serving or serve dressing on the side.
bon appétit !