seafood "zucc-ghetti"with fresh herb and walnut pesto
stats:
serves 4-6
30-35 minutes active time
if serving 4, one serving equals 365 calories (322 calories of which from the olive oil & walnuts)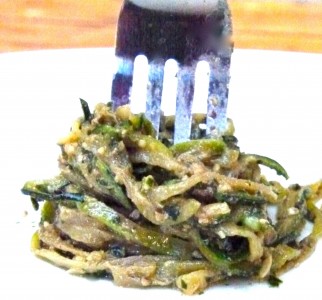 what you need:
pesto
1 cup raw walnut pieces
½ cup fresh tarragon leaves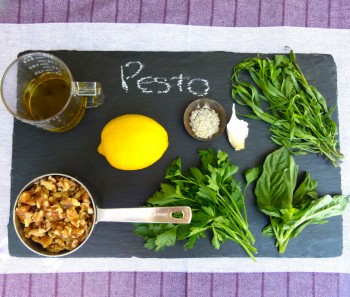 ½ cup fresh Italian parsley
1 cup fresh sweet basil leaves
2 teaspoons fresh lemon juice
1 garlic clove, smashed and minced
½ teaspoon kosher salt
⅓ cup olive oil
zucc-ghetti
4 medium zucchini
pinch of gros sel de Guérande (or 2 pinches of kosher salt)
1 tablespoon olive oil
½ teaspoon fresh lemon juice
seafood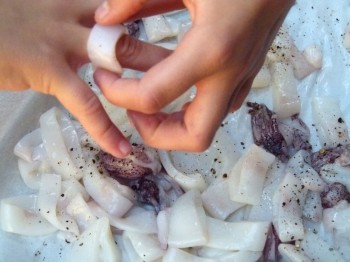 1 pound calamari rings and baby squid
8 medium shrimp, tails on
kosher salt (as needed)
freshly ground black pepper (as needed)
how to:
pesto
Blend.

Place walnuts, salt and garlic in a

food processor

. Pulse until walnuts are crushed. Add herbs. Pulse until combined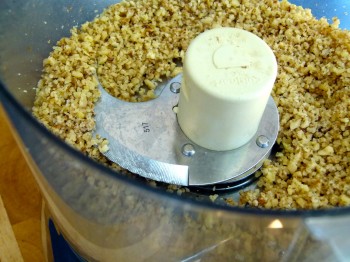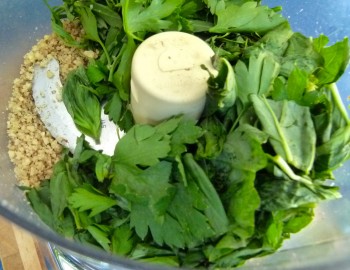 Add Oil.

Slowly pour the oil in top of the food processor while you continue to pulse it until the mixture has a paste quality. If it looks dry, add more oil.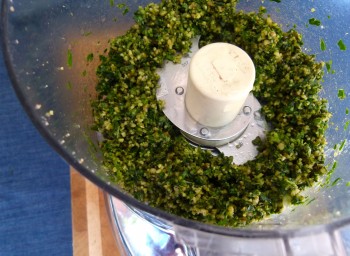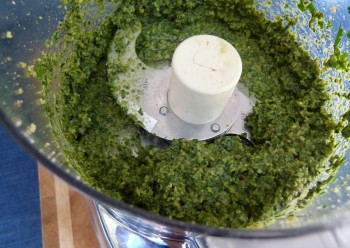 Adjust Seasoning

. Salt to taste. Add lemon juice as needed. Set aside. The pesto can be stored in refrigerator for a couple of days in an air-tight container.
zucc-ghetti
Shred Zucchini

. Use a

vegetable shredder

fit with the medium blade to cut the zucchini into long spaghetti-like strands (if you do not have a vegetable shredder, you can use a mandoline fit with a julienne blade). Place zucchini strands in a bowl and toss with salt, olive oil, and lemon juice. Let sit for a minimum of 15 minutes. Drain off excess water. (you can store the zucchini in an airtight container overnight in the refrigerator).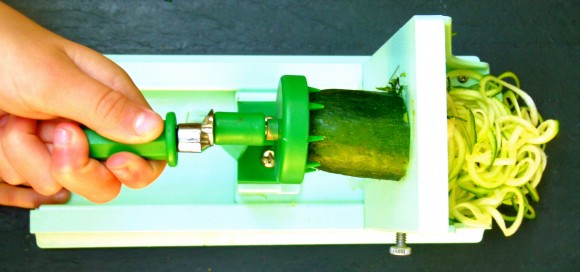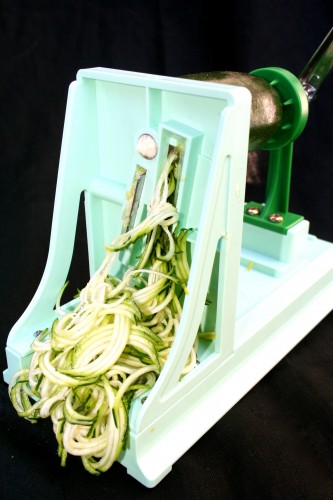 seafood
Clean/Season Seafood.

Rinse the seafood in cold water. Clean the tentacles (inside and out). Dry on a paper towel. Season with salt and pepper. Remove heads from shrimp (if on) and remove the shells and legs (leave the tails on). Devein the shrimp. Rinse shrimp with cold water. Dry on a paper towel. Season with salt and pepper.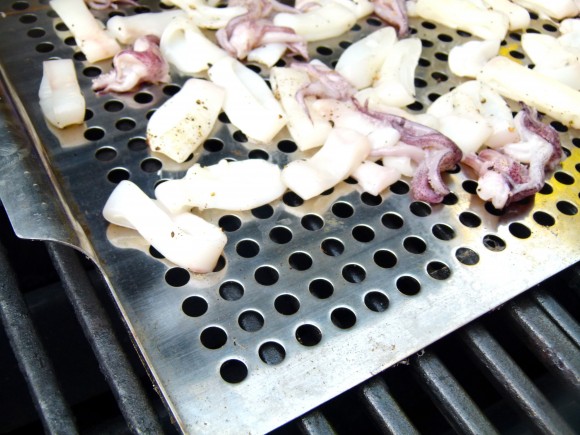 Grill.

Preheat grill. Place calamari in a fry/grill basket. Place on the grill. Grill calamari until it is done (it no longer translucent, but takes shape, appears opaque (see below). Do not over-cook. This should take about 15 minutes. (While the calamari are cooking), place the shrimp on a grill and grill about 2-3 minutes on each side until they are pink and curved. Do not overcook. (NOTE: if you do not have a grill, you can use a pan on a stove. However, while the calamari is cooking it will release a lot of moisture so you need to drain off the excess moisture from the pan so the calamari is not soggy).
Assemble/Serve.

Drain excess water from zucchini. Toss zucchini in pesto and add seafood. Toss to incorporate. Serve at room temperature or slightly warmed from the cooked seafood. Garnish with fresh sweet basil. Seafood zucc-ghetti can be stored in the refrigerator for a few days.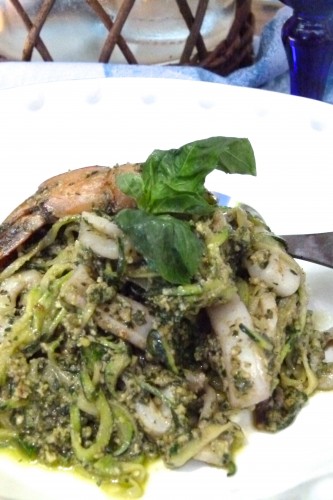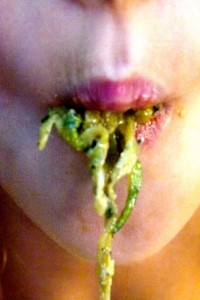 Tags: calamari, easy, gluten free, nutrient dense foods, runner, shrimp, simple pleasures. french cooking recipes, walnut and herb pesto, zucchini