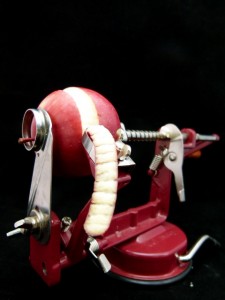 braised pork and apples with melted radicchio and endive
This recipe is for those of you who want a project on a chilly Fall day.   It is not hard, but it takes two days.  However,  do not let that scare you as the actual hands-on preparation requires only about two hours.   This braise takes advantage of the apple season and it is a forgiving, easy braise to do.
The "hands-on" portion is simply three parts.  Part One, you make the brine and soak the meat overnight in the refrigerator.  Part Two, you give your braise its flavor by browning your vegetables and the meat (after removing it from the brine).  Now you place everything in a Dutch oven or a crock-pot and let it braise for 8 hours on low heat and get on with your day.  Part Three, make a sauce from the cooking liquid.
Because the apples and the pork tend to go to the sweet end of the spectrum, this dish really needs the radicchio and/or endive to balance it (but you can use cabbage, kale or make an arugula salad if you prefer).   Generally I serve this dish with white cheddar buttermilk biscuits, but you can serve it with creamy white polenta or potatoes as well.
Je vous souhaite un bon appétit !
LM