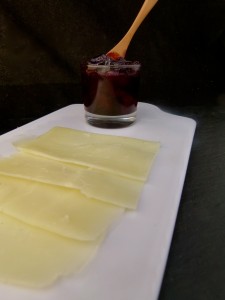 Abbaye de Belloc avec compote de cerises épicée
(Abbaye de Belloc with spicy cherry compote)
stats:
yield: serves 6 (with compote leftover)
what you need:
11 ounces de-pitted fresh cherries
2 1/2 ounces superfine sugar
2 teaspoons fresh lemon juice
1 tablespoon cherry brandy
3/4 teaspoon piment d'espelette
1/3 cup water
6 ounces of Abbaye de Belloc or another Ossau-Iraty Brébis de Pyrénées cheese
how to:
Prepare And Macerate Cherries

. Remove stems and pits from cherries. Toss cherries with lemon juice, brandy, piment, and sugar and place in the refrigerator overnight.
Poach.

Place macerated cherries in a saucepan over low heat. Add water. Poach cherries (between 160 and 180 degrees Fahrenheit) until softened (about 10-15 minutes). The cherries should collapse slightly but still retain but retain their shape.
Drain

. Remove cherries with a slotted spoon and set aside. Turn the heat to medium-high and continue to cook the poaching liquid until you reach about 220 degrees Fahrenheit on a candy thermometer. Remove from the heat and let the compote cool to room temperature. Compote can be made in advance and stored in the refrigerator.
Serve.

Serve compote at room temperature with one ounce of cheese.