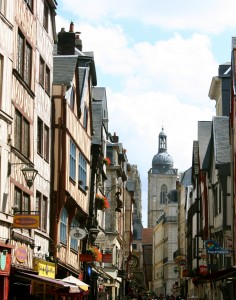 venez avec moi à Rouen
"Normandy at large…is, undoubtedly,
one of the most beautiful tracts of country
on this fair Earth, and repays,
with accumulated gratifications."
– George Musgrave
A Ramble Through Normandy
Musgrave was right.  Take your own ramble through Normandy and start with Normandy's capital, Rouen.
Je vous souhaite un bon appétit !
LM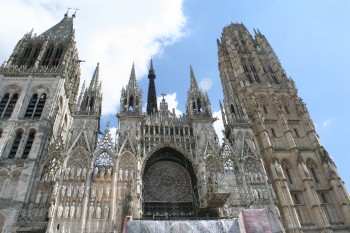 centrally located
From Paris, Rouen is an easy drive north on the A13. The train is a quick hour and twenty minutes from Gare Saint Lazare (24 euro roundtrip for a second class ticket) and it will land you in the Rouen train station, a 1928 architectural art deco masterpiece which is something to see in and of itself.  The station is north of Rouen's center.
From the train station, if you walk fifteen minutes southerly on Rue Jeanne d'Arc, on your right (the west) is the le vieux marché, place du vieux marché, le Palais de Justice, and the Musée des Beaux-Arts de Rouen (Fine Arts Museum).  On your left side (the east) you will find the beautiful gothic La Cathétradel Notre-Dame the Bureau de Finances (the House of the Exchequer built in the 16th century and it where Monet painted part of his "Cathedral series" in the 1890's), Saint-Maclou Church, Place Maréchal, and the Parlement de Normandie (Parliament of Normandy Court House, built in the Middle Ages and the largest civil Gothic edifice in France). Like Paris, Rouen is divided by the Seine and has a "right bank" and a "left bank."  Rouen's center is on the "right bank".
Rouen, described by Victor Hugo as "la ville aux cent clochers" (the city with 100 spires), is centrally located in Normandy.  A ten minute drive will put you in the country. Lisieux, which surrounds Rouen, known for its Basilica of St Theresa and as a pilgrimage site, will give you a bird's eye view of Rouen.  Honfleur and Deauville (known as "Paris plage") are close by and the sites of the D-Day landings are just a little further, about 1 1/2 hours by car from Rouen.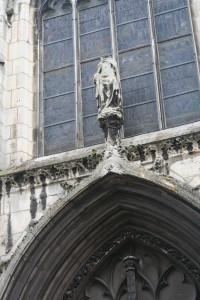 art & architecture
Normandy is said to be the birthplace of impressionism.  Rouen, in particular, served as inspiration for impressionist painters such as Monet, Pissarro and Gauguin all of whom lived in Rouen.  In the summer of 2010, le Musée des Beaux Arts de Rouen had a special exhibition show casing work from these three artists.  In addition, upper and lower Normandy collectively assembled numerous impressionist exhibits of photography, painting, music and theater events throughout the region.  The seven month exhibition was enjoyed by the French from all regions of France as well as tourists (and in every restaurant in which I dined it was a popular subject for discussion).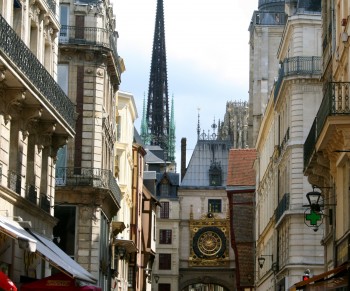 Once a walled city, Rouen remains a visual treasure with its gothic architecture and cobble stone streets, timbered and colorful houses, and the river and bridges dividing the city.   Rouen was devastated by World World II, destroying many of its bridges and buildings.   While much of Rouen was rebuilt, scars documenting the bombardment in 1944 (purposely) remain.  For example, when the Parliament of Normandy was recently restored many places in the stone ifice were purposefully not filled as a reminder of the times Rouen has seen.  Surrounding the le vieux marché the cobble stone streets abound with chocolate shops, boutiques, bistros, pâtisseries, and gourmet shops. Rue du Gros Horloge, the oldest pedestrian street in France, is lined with such shops, leads you to the Gros Horloge (the big clock), with only the hour hand, and housed by a large tower built in the middle ages) and the gothic cathedral (which allegedly houses Richard the Lion-hearted's heart). To the north lies rue des Bons Enfants (a stark contrast to Rue du Gros Horloge) which is lined with crooked timbered buildings with crooked painted lines and gives one the impression that you have fallen down the rabbit hole.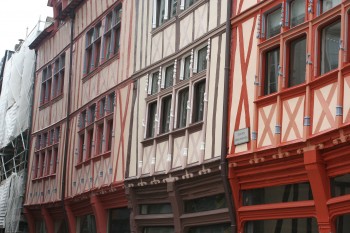 Many famous French writers were either born in Rouen or were so taken by its charm that they made Rouen the subject of their work including: Guy de Maupassant, Pierre Corneille, and Gustave Flaubert (who wrote the then-scandalous Madame Bovary), and of course, Victor Hugo.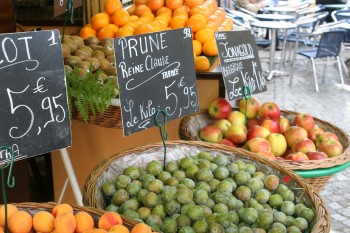 the markets & the food
Despite the architecture, the history, the art, and Rouen's central location, it was the food which brought me to Rouen.  Markets — open air and stationary —  are plentiful in Rouen and the food reflects the city's architecture: something old, something new.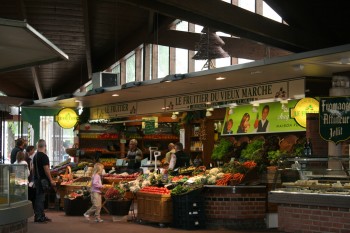 Le vieux marché, the "old market" is in the place du vieux marché, this is same area where Joan of Arc was brûlée (burned) at the stake.  There is a simple memorial on the site where she died and the Joan of Arc museum is immediately to the west.  A string of restaurants with outdoor seating flank the site. Le vieux marché is a roof covered-open sided market home to vegetable and fruit stands as well as fish mongers (les poissonniés), butchers (les bouchers), and cheese merchants (les fromagers).  On the weekend there are additional vendors, selling "bio" (organic) produce.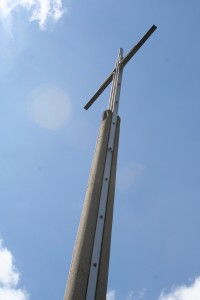 Normandy is regionally seasonal and true to the boundaries of its own culinary treasures.  For example, I was in the south of France and Paris days before I arrived in Normandy.  In the south as well as Paris the markets abounded with zucchini (les courgettes), zucchini flowers (les fleurs de courgettes), asparagus  (l'asperge), and fava beans (les fèves). However, in Normandy, zucchini and asparagus were sparse and zucchini flowers and fava beans were nowhere to be found.   However, Normandy is so rich in its culinary gifts there is no reason to extend beyond the plenty it offers: flavorful mushrooms, potatoes, apples of every variety, pears, fresh greens, cheese and diary in abundance (see my December 30, 2010 blog on the food of Normandy for an overview of Normandy's food).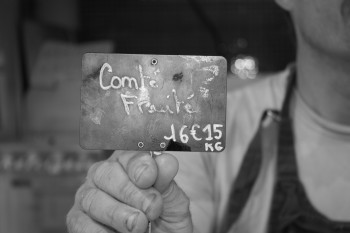 Les fromageries have selections of cheeses and saucissons not available in the States, including a variety of local cheeses made from raw cow's milk.  Regional specialities, such as Camembert and Pont L'Éléque were soaked in Calvados, which gave the cheese a surprisingly gentle warm flavor and not overwhelming in the least bit, shocking given the alcohol content in Calvados.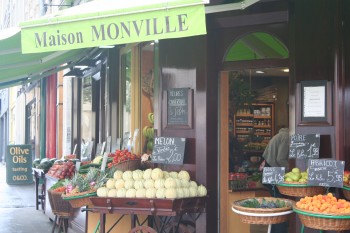 gourmet and specialty shops
"de toutes les passions, la seule vraiment
respectable me paraît être la gourmandise".
— Guy de Maupassant
(of all the passions, the only real respectable one for me is the gourmand).
Two streets, both off the main tourist paths, became my favorite.  The first is rue Rondelle which is lined with fresh produce and meat and gourmet items including: Maison Monville le Palais du Fruit (one of my two favorite places in Rouen for produce), Famille Mary Miel et Nature, Maison Bizet, and Oliver & Co. On this street you can find everything from special honeys, pâtés, sausages, cheeses, marinades, sauces, biscuits, as well as regional specialities made with duck, and lamb.  The other street is Place de la Pucelle, where you can find au Bois Chenu (a charming, hidden restaurant) and Haulot (which had not only beautiful and delicious artisan chocolates, but panettone that rivaled the panettone from Italy).   There are also several bakeries and charming outdoor cafes.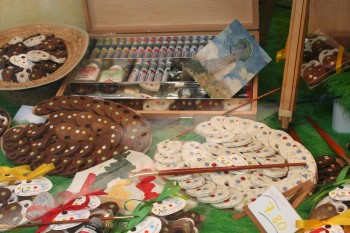 Rouen is no exception to France's ability to take chocolate to an entirely different level.  The flavors, shapes, and intricate designs are works of art in and of themselves.  A few chocolate shops were complete stand outs, including: Chocolats Hautot, Auzou, Roy Home Chocolat, Saveurs et Délices, and Confiserie  Heloin (which had artisan confections almost too beautiful to consume).  Auzou, the most well-known throughout Normandy, has every kind of chocolate-praline combination you can imagine.  Auzou even had tiny chocolates in the shape of painter's palettes to honor the impressionist exhibit.  Their chocolate dragées with a unique crunch coating in between the chocolate and the almond were my favorite.  Roy Home had chocolates in the shape of fruit that looked like Marzipan.  The lemons were white chocolate exterior with a dark chocolate citrus interior and the red apples had a chocolate Calvados-infused interior. Salted caramels came in all shapes and sizes including on a stick or wrapped individually or coated in chocolate/pralines.  However, for me the real treat was a hot chocolate spiced with my favorite pepper – piment d'espelette – at L'atelier du Chocolat de Bayonne (which actually originated in the town of Bayonne in the Basque region of France).  This chocolate shop specializes in the art of infusing various chocolates with spices from all over the world.  Needless to say, j'ai bien profité de tous les gôuters (I took advantage of the samples given me)  and as I did so I was reminded of another famous quote of Norman-born Guy de Maupassant:   "l'essence de la vie est la sourire des fesses rondes d'une femme à  l'ombre de  l'ennui cosmique " (life is the smile of round female bottoms, under the shadow of cosmic boredom).   Thinking of the quote made me laugh.  The chocolate made me full.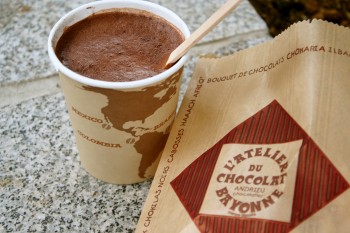 Rouen culinary specialties
In Rouen you will find all of the specialties that Normandy is known for; however, Rouen's specialty is its preparation of duck from  the Seine Valley and if you can try only one thing in Rouen, try canard à la Rouennaise.  Stuffed and roasted in a hot oven, pressed to expel the cooking juices from which a sauce is made and enriched with puréed duck liver.  It is really delicious.  Roasted or braised lamb from Mont St -Michel  just off the coast of Normandy is a close second.  Lamb tournedos garnished with Excelsior (a Norman triple cream cow's milk cheese)  is divine. Allez à Rouen et mangez bien (go to Rouen and eat well).
Je vous souhaite un bon appétit !
LM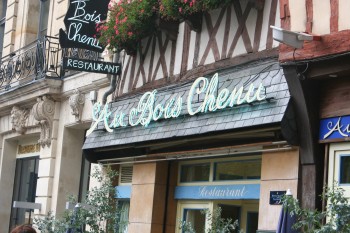 restaurants
Restaurant Gill
8-9, quai de la Bourse
76000 Rouen, France
33 (0)2 35 71 16 14
http://www.gill.fr
Located on the right bank by the Cathedral.  Haute cuisine with short menu with broad range (i.e., pigeon to seafood).  Reservations required.
Au Bois Chenu
23 Place de la Pucelle
76000 Rouen, France
33 (0)2 35 71 19 54
Quaint, small restaurant.   Reservations required.  Menu is not complicated and includes traditional  regional specialities (oysters, mussels, lamb, duck, pan-fried sole or steak with Normandy sauce).
Pascaline
Le bistrot comptoir
5, rue de la poterne
76000 Rouen, France
33 (0)2 35 89 67 44
pascaline.rouen@numericable.fr
www.pascaline.fr
Bistro where the locals dine.   Reasonable prices, good service, and solid food.  Centrally located and children welcome.
les pâtisseries,  les chocolatiers et les boulangeries
L'Atelier du Chocolat de Bayonne
111 rue des Carmes
76000 Rouen, France
33 (0)2 32 10 70 31
www.atelierduchocolat.fr
Auzou
Fabricant de chocolats et macarons
163, rue du Gros Horloge
76000 Rouen, France
33 (0)2 35 70 59 31
Boulangerie Bastien
29 Place Pucelle d'Orléans
76000 Rouen, France
33 (0)2 32 10 00 79
Chocolats Hautot
fabrication artisanale
33 Place de la Pucelle
7600 Rouen, France
33 (0)2 32 08 65 03
chocolatshautot@wanado.fr
Confiserie Héloin
98, rue des Carmes
76000 Rouen, France
33 (0)2 35 71 02 94
Roy Home Chocolat
73 rue des Carmes
76000 Rouen, France
33 (0)2 35 89 76 19
www.roy-home-chocolat.fr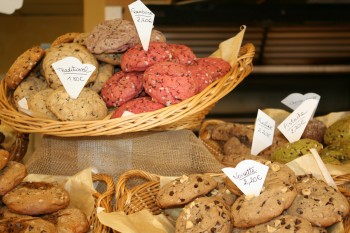 speciality gourmet items
Le Palais du Fruit
9 Rue Rollon
76000 Rouen, France
33 (0)2 35 71 89 99
Oliviers & Co.
5 Rue Rollon
76000 Rouen, France
33 (0)2 32  10 56 60
tableware and kitchenware and supplies
le Torchon à Carreaux
37, rue du Bec
76000 Rouen, France
33 (0)2 35 89 65
Tout Pour la Pätisserie
56 rue Jeanne d'Arc
76000 Rouen, Paris
33 (0)2 35 71 48 32
Saveurs et Délices
22 rue petit de Julleville
7600 Rouen, Paris
33 (0)2 35 88 54 44
Wenley
15, rue Rollon
76000 Rouen, France
For information on Normandy generally see www2.normandie-tourisme.fr.
For information on Rouen, you can visit the official site of the tourism office at:
Tourism Office
(located close to the Cathédrale of Notre Dame)
25, place de la Cathédrale
76008 Rouen Cedex 1
33 (0)2 32 08 32 40
33 (0)2 32 08 32 40 (fax)
http://www.rouentourisme.com
accueil@rouentourisme.com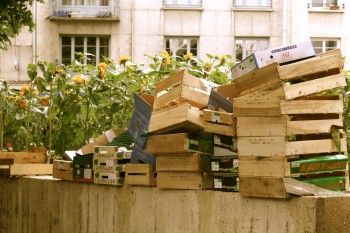 Tags: markets, restaurants, rouen, vieux marche