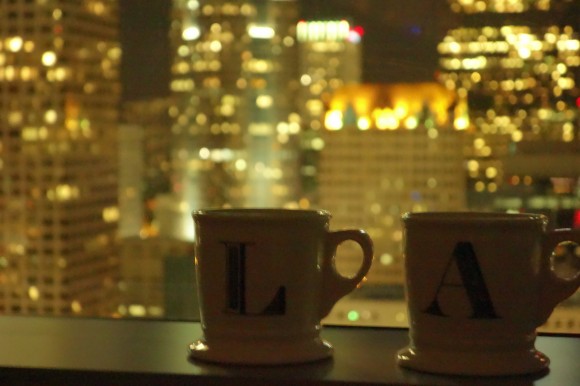 my favorite restaurants in Los Angeles
This is a short list of my favorite places to dine in Los Angeles. The list ranges from very casual places/hamburger spots to more formal/occasion restaurants. Both the food and service I find to be consistently good, and if I find the service to be substandard (even if the food is amazing) I will not put it on my list. I try to update my list often. However, you should contact the restaurant directly for menu selections, hours, reservations, and prices.
bon appétit !
LM
Brentwood / West Los Angeles
Asahi Ramen
2027 Sawtelle Boulevard
Los Angeles, CA 90064
310.479.2231
www.asahiramen.com
Cash only. Closed Thursday. Authentic casual little noodle shop nestled amongst a collection of Japanese restaurants on Sawtelle Boulevard.
Hamasaku
11043 Santa Monica Boulevard
Los Angeles, CA 90025
310.479.7630
www.hamasakula.com
Probably my favorite sushi restaurant in LA. In a strip mall, but do not let that dissuade you from enjoying tasty hand-rolls and inventive combinations.
Tavern
11648 San Vicente Boulevard
Los Angeles, CA 90049
310.806.6464
www.tavernla.com
The latest restaurant endeavor of which Chef Suzanne Goin has a part. Small, market driven menu with fresh Mediterranean flair. Uncomplicated food with delicious fruit and nut breads (which are also available to go).
Toscana
11633 San Vicente Blvd # 100
Los Angeles, CA 90049
310.820.2448
Norther Italian food. Toscana is authentic Italy: welcoming, loud, simple hearty dishes and waiters pushing a plate full of desserts in your direction. The food is as good today as it was when I first came to LA.
Beverly Hills / Bel Air
Bouchon
235 North Canon Drive
Beverly Hills, CA 90210
310.271.9910
French brassiere par chef Thomas Keller with the standard brassiere items (along with some twists). Brunch is my favorite.
CUT
9500 Wilshire Boulevard
Beverly Hills, CA 90210
310.276.8500
www.wolfgangpuck.com
Nestled in the back dining room of the Beverly Wilshire hotel, another restaurant by Chef Wolfgang Puck that does not disappoint. The wine list is wonderful. The emphasis on meat is well-placed.
e. baldi
375 North Canon Drive
Beverly Hills, CA 90210
310.248.2633
ebaldi.com
Named after chef Edoardo Baldi, this is great Northern Italian, simple food. Anything fish is my favorite, but the menu is great.
Il Pastaio
400 North Canon Drive
Beverly Hills, CA 90210
310.205.5444
www.giacomindrago.com
My favorite pasta in Los Angeles. Truffle season is a particular treat.
Mr. Chow
344 North Camden Drive
Beverly Hills, CA 90210
310.278.9911
The only Chinese food I eat in L.A. The duck, the green beans, the noodles, and the pink champagne
Sotto
9575 West Pico Boulevard
Los Angeles, CA
310.277.0210
Good bread in Los Angeles is rare. Sotto has it and the pizza to match. This is simple Italian food and I have enjoyed everything I have tried from the soups to the fish.
Spago
176 North Canon Drive
Beverly Hills, CA 90210
310.385.0880
www.wolfgangpuck.com
After all this time, Spago is still wonderful Spago.
Sushi House Unico ("SHU")
2932 1/2 N Beverly Glen Circle
Los Angeles , CA 90077
310. 474.2740
www.giacominodrago.com/piccoloparadiso.com
Hidden in the Beverly Glen Center is some seriously delicious sushi. The Kobe beef with mushrooms is fabulous and the salad, cru dishes, and crispy tacos are inventive and fresh (there is even risotto).
Tagine
132 North Robertson Boulevard
Beverly Hills, CA 90211
310.360.7535
www.taginerestaurant.com
Delicious and creative Moroccan/Middle-Eastern fare tucked away on Robertson.
Culver City
Father's Office
(Helm's Bakery)
3229 Helms Avenue
Culver City, CA 90034
310.236.2224
www.fathersoffice.com
I love the burgers in this 21 and over place. They have great sweet potato fries and healthy salads to go with the less healthy things. There is another location in Santa Monica.
Waterloo & City
12517 West Washington Boulevard
Culver City, CA 90066
310.391.4222
I really like what chef Brendan Collins has done here. Good food, good service, fun atmosphere. The terrines are my favorite.
Hollywood/West Hollywood
AOC
8022 West 3rd Street
Los Angeles, CA 90068
323.653.6359
www.aocwinebar.com
After all these years, I still like the small plates, charcuterie bar and artisan cheese selections.
Angelini Osteria
7313 Beverly Boulevard
Los Angeles, CA 90036
323.297.0070
www.angelinosteria.com
Chef/owner Gino Angelini never disappoints in this Authentic Italian restaurant.
Animal
435 North Fairfax Avenue
Los Angeles, CA 90048
323.782.9235
www.animalrestaurant.com
Owners Vinny Dotolo and Jon Shook create inventive dishes with every meat, playing with sweet and savory combinations. No frills. Very casual.
Bar Marmont
8171 Sunset Boulevard
Hollywood, CA 90046
323.650.0575
www.chateaumarmont.com
Good place for a cocktail with friends
Bloom Cafe
5544 West Pico Boulevard
Los Angeles, CA 90019
323.934.6900
www.bloomcafe.com
California cuisine with no frills in a small, quaint cafe. Emphasis on organic and fresh ingredients.
Boa steakhouse
9200 Sunset Boulevard
West Hollywood, CA 90069
310 278 2050
www.boasteak.com
Good steaks. They make the caesar salad table-side and it is good. There is another location in Santa Monica.
BLT Steak
8720 West Sunset Boulevard
West Hollywood, CA 90069
310.360.1950
www.bltsteak.com
Chef Laurent Tourondel's Americanized bistro. Delicious steaks with sustaining sides (creamy gnocchi, mashed potatoes). The popovers are an addiction. This location is every bit as good as the one in NY
Cafe Med
Sunset Plaza
8615 Sunset Boulevard
West Hollywood, CA 90069
310.652.0445

Casual Italian in a low-key atmosphere. Nice patio dining.
Cobras & Matadors
7615 West Beverly Boulevard
West Hollywood, CA 90048
323.932.6178
Spanish tapas in a super casual (albeit noisy) atmosphere. Good place to dine with a group of friends. Wine is not served, but there is a wine shop next door.
Comme Ça
8479 Melrose Avenue
West Hollywood, CA 90069
323.782.1104
www.commecarestaurant.com
Comme ça is solid brasserie food. My favorite times to go are for brunch or a late dinner.
Gordon Ramsey at The London
1020 North San Viencinete
Los Angeles, CA 90048
310.358.7788
I find the quiet and elegant atmosphere to match the food. Everything I have enjoyed here was executed with perfect technique and great flavor. The wine list is good and the waitstaff knowledgable and professional. COuld this be Heaven's Kitchen?
Hatfield's
6703 Melrose Avenue
Los Angeles, CA 90038
323.935.2977
www.hatfieldrestaurant.com
I resisted their move from their quaint porch-laden spot to their new location (formerly occupied by Citrus, Mason G, etc). However, Quinn and Karen Hatfield have made it work. The food is still inventive and delicious from beginning to end. Their combination of techniques and flavors result in something enjoyable and often surprising.
ink.
8360 Melrose Avenue
Los Angeles, CA 90048
323.651.5866
mvink.com
Top chef Michael Voltaggio is a true talent with a natural gift for cooking. He always surprises me with his creative dishes and I truly enjoy the artistic thoughtfulness given to each plated dish. My favorites? the lamb, the "ink'd" potatoes, the oysters in a terra cotta pot, the freeze-dried peas, the Branzino, the cauliflower, and the yogurt is a must for dessert. The added bonus is the service is first-rate and the wine list, delicious and reasonable.
Lemonade
9001 Beverly Boulevard
West Hollywod, CA 90048
310.247.2500
www.lemonadela.com
Casual and tasty. Good place to take children. Alan Jackson's concept works. Seasonal vegetables and grains. Cocottes filled with warm braises and stews. Enjoy there or take it away. Jackson has opened another location in Venice and Brentwood.
Lucques
8474 Melrose Avenue
323.655.6277
West Hollywood, CA 90048
www.lucques.com
I don't think there is anything chef Suzanne Goin does not do well in terms of food. At Lucques, Chef Goin makes the most of the season's best, whether it be tuscan kale, winter squash or heirloom tomatoes. Subtle use of spices in her seasonal dishes are an added bonus.
Joan's On Third
8350 West Third Street
Los Angeles, CA 90048
323.655.2285
www.joansonthird.com
Eat in, take out. Joan's has been around for years and it is the same delicious food that is was when it was a tiny place two doors down. Bakery, cheeses and sausages, and gourmet treat shop as well.
The Hungry Cat
1535 North Vine Street
Los Angeles, CA 90028
323.462.2155
www.thehungrycat.com
Chef David Lentz's terrific little spot for seafood, delicious fries, inventive drinks. Perfect for lunch or date night (Arclight is walking distance)
Il Sole
8741 West Sunset Boulevard
Los Angeles, CA 90069
310.657.1182
Traditional country Italian in an intimate and homey setting. I like the veal the best.
The Little Door
8164 West 3rd Street
Los Angeles, California 90048
323.951.1210
www.thelittledoor.com
Casual enough for group dinner and romantic enough for a date, patio and enclosed dining room. The Tagine is my favorite.
Little Next Door
8142 West 3rd Street
Los Angeles, California 90048
323.951.1010
www.thelittledoor.com
Terrific for lunch and brunch. Bread and pastries available for take-out.
Madeo
8897 Beverly Boulevard
West Hollywood, CA 90048
310.859.4903
www.madeoristoranto.com
When I have guests in town from Italy, I take them here. Honest to goodness Italian food, everything from the razor clams to the veal.
Milk
290 Beverly Boulevard
Los Angeles, CA 90036
323.939.6455
www.themilkshop.com
Bakery, ice cream shop, and casual cafeteria-style sandwiches and soups. Great for kids (and the kid in all of us).
Nobu (Los Angeles)
903 North La Cienega Boulevard
West Hollywood, CA 90069
310.657.5711
www.noburestaurants.com
Chef Nobu Matsuhisa's masterpiece. There is another Nobu in Malibu.
Providence
5955 Melrose Avenue
Los Angeles, CA 90038-3623
323.460.4170
www.providencelas.com
Chef Michael Cimarusti's restaurant specializing in seafood. I love his inventive combinations of spices and Indian flavors with seafood and even desserts. He had me years ago when he he added bacon in the clam chowder.
The Tower Bar
8358 Sunset Boulevard
West Hollywood, CA 90069
323.654.7100
www.sunsettowerhotel.com
The Tower Bar in the Sunset Tower Hotel is solid California food with an amazing view of the city in a low-key setting. My favorite is the lobster cobb salad during the day and the moules frites at night.
Unami
850 South La Brea Avenue
Los Angeles, CA 90068
323.931.3000
www.unamiburger.com
Terrific, flavorful burgers (ranging from cheeseburgers to truffled versions or lamb burgers). Perfect portions. Yummy pont-neuf fries.
Pasadena
The Royce at the Langham
1401 North Knoll Avenue
Pasadena, CA
626.585.6410
Chef David Féau is one of my favorite chefs in Los Angeles and in my opnion, one of the most talented. The Royce is lucky to have him. Modern French cuisine so good that I will travel all the way from the westside to dine here (and I detest driving). He can make me anything.
Santa Monica
Caffe Luxxe
925 Montana Avenue
Santa Monica, CA 90403
310.394.2222
www.caffeluxxe.com
Co-owners Mark Wain and Gary Chau are responsible for hands-down the best coffee in Los Angeles. The loose leaf tea is also wonderful. There are two additional locations in Brentwood.
Josie
2424 Pico Boulevard
Santa Monica, CA 90403
310.581.9888
www.josierestaurant.com
Chef Josie Le Balch's gives us this modern French-inspired restaurant which superb food (among my favorites are the maple duck and the wrapped quail). Pastry Chef Jonna Jensen's ice creams are divine.
Mélisse
1104 Wilshire Boulevard
Santa Monica, CA 90403
310.395.0881
www.melisse.com
Chef Josiah Citrin's fine, very fine, French American cuisine. Take someone you love or want to impress. The attention to detail and quality and is unparallel. The Dover sole is one of my favorites.
Rustic Canyon
1119 Wilshire Boulevard
Santa Monica, CA 90403
www.rusticcanyonwinebar.com
Chef Evan Funke (formally with Chef Wolfgang Puck) serves seasonal food with fresh nuances. His lamb chops are my favorite. Pastry Chef Zoe Nathan and her husband own this restaurant as well as Huckleberry's Bakery and Cafe as well as Sweetrose Creamery (ice cream shop).
Silverlake
Forage
3823 West Sunset Boulevard
Los Angeles, CA 90026
323.663.6885
www.ForageLA.com
Pick a protein and a couple sides. When you cannot wait until you get home to make something with your goodies from the Farmer's Market, walk down the street and go to Forage. Chicken or grilled skirt steak, lentil salad or green salads, everything is fresh, simple and tasty.
Venice
Axe
1009 Abbot Kinney Boulevard
Venice CA
310.664.9787
Thank goodness is opened back up!. Simple, organic meals. Great casual place with fresh food.
Jin Patisserie
1202 Abbot Kinney
Venice, CA 90291
310.399.8801
www.jinpatisserie.co
Chef Kristy Choo is not only one of the nicest people I have met but creative and talented with her pastries, using rose, jasmine, and other flowers, herbs and spices in ways no one else does. I love her inventive combinations.
Tags: beverly hills, brentwood, culver city, favorite restaurants, hollywood, los angeles, santa monica, venice, west hollywood, west los angeles