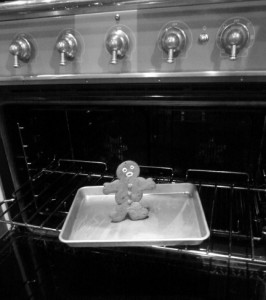 gingerbread doll recipe for children
The following is a recipe written specifically for your children who are reading and want to spread their wings in the kitchen. Of course, as their parent only you can judge how much supervision is requried with respect to the operation of a stand alone mixer, a food processor, and the oven.  If you show them how to measure ingredients, they should not have a problem following the rest of the recipe.  Making the gingerbread "clothes" is a pure exercise in creativity, akin to playing with play-dough.   Pull several items out of your pantry (raisins, sprinkles, nuts, left-over Halloween candy, licorice, sprinkles, etc) and see how creative your children can be.
Je vous souhaite un bon appétit !
LM