snacks (les goûters ou gâteries)
October 2nd, 2014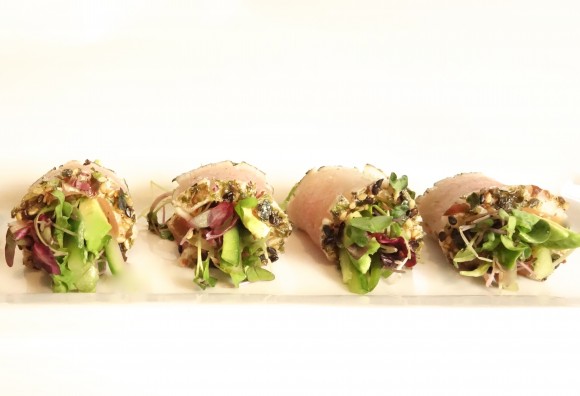 Kona, "Blazeman," and the log-roll
Recipe: seared tuna roll with microgreens
September 21st, 2013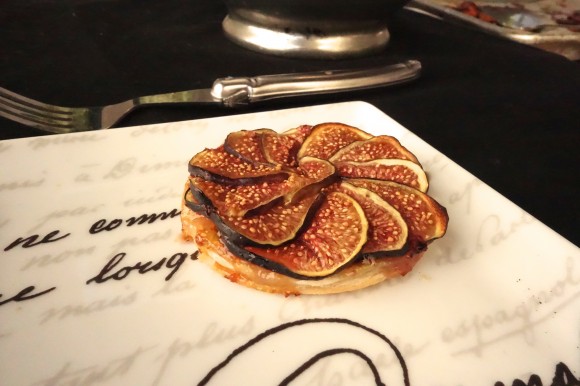 what is a fig to do ?
tartelette aux figues
(fig tartlets) 
Fig season in the U.S. is short, but sweet. They always seem to be here at the same time we are transitioning from Summer to early Fall with its demands of work and school. I like to think that the change in the market is giving us a sweet treat to ease the craziness of our schedules. Along with figs, the markets are filled with varieties of grapes and the early harvest of apples and pears. Heirloom tomatoes are disappearing with the sun.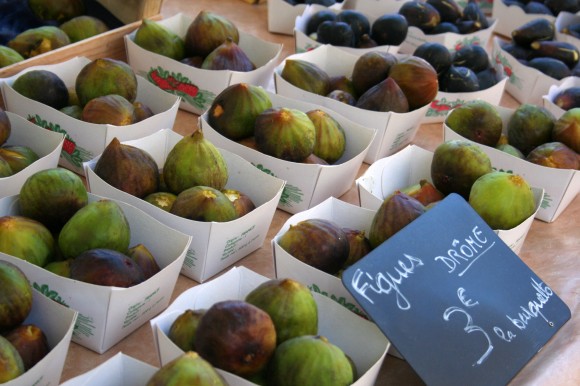 May 12th, 2013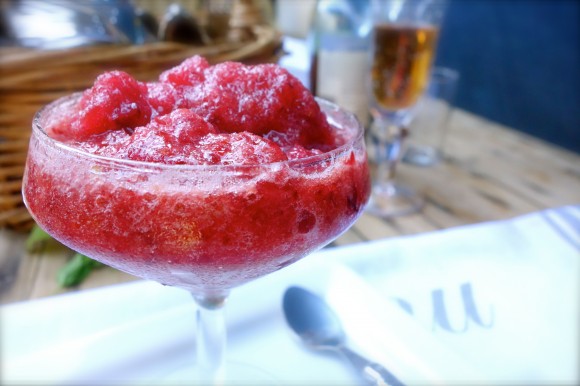 Mother's Day 2013
speak carefully and carry a positive message
cherry granita
This week I had my first taste of an "empty nest." My eldest, now a "tween," visited Boston with her fifth grade class for a week. Her healthy separation from me and her eagerness to see the world and rely on her peers in a new way is bittersweet. Every year I write a Mother's Day personal "recipe" for them. This year's recipe was not only inspired by their rapid coming of age, but by two recent events. The first was the passing of our family matriarch (this year was the first time in our lives we did not celebrate her birthday and Mother's Day jointly (at least, with her present)). The second was our Spring Break trip to Washington D.C. Both events reminded me of the importance of words, spoken, and unspoken. This week's simple pleasure, and my annual Mother's Day recipe for them, is a humble recipe for speaking with a little cherry granita on top (recipe below).
March 8th, 2013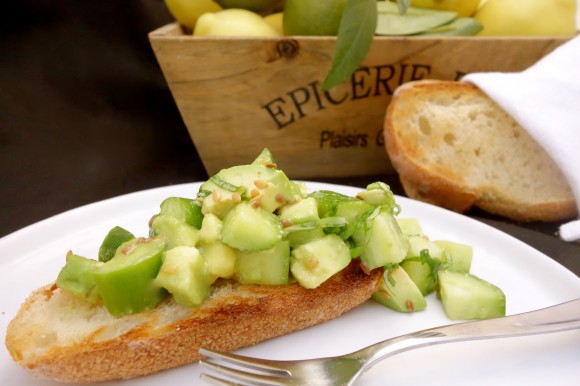 "a pinch" should apply only to seasoning
cucumber and avocado salad
It was the threat of a Saint Patrick's Day pinch which inspired this week's simple pleasure: avocado and cucumber salad. Read the rest of this entry »
February 5th, 2013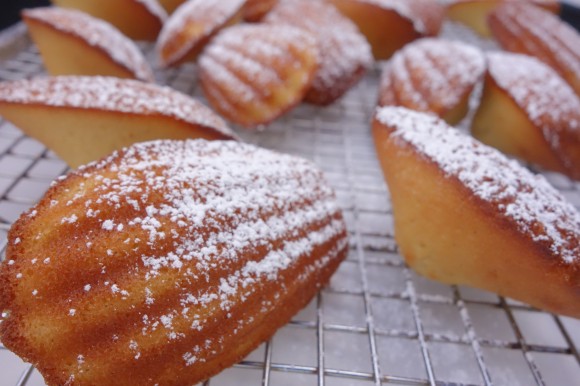 vanilla bean Madeleines
makes 2½ dozen
what you need:
9 tablespoons (4.5 oz) unsalted butter, melted
1 cup (7.5 oz) granulated sugar
4 large eggs (7 oz.), room temperature
1½ tablespoon vanilla bean paste
2 cups all-purpose flour
1 teaspoon baking powder
½ teaspoon kosher salt
½ cup 2 % milk, room temperature
1½ teaspoon lemon zest Read the rest of this entry »
January 21st, 2013
preserved Meyer lemons
makes 1 large Le Parfait jar (34 ounces)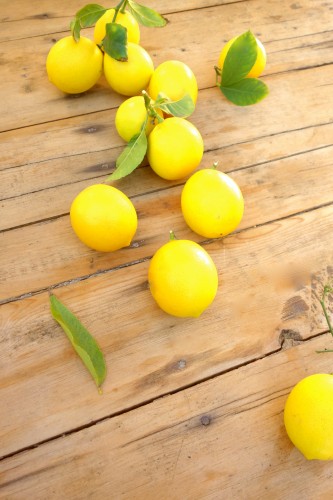 what you need:
10-12 Meyer lemons
~½ cup kosher salt
fresh lemon juice (as needed)
1-2 bay leafs
10 black peppercorns
French thyme or lavender (optional)
1-2 tablespoons olive oil
September 10th, 2012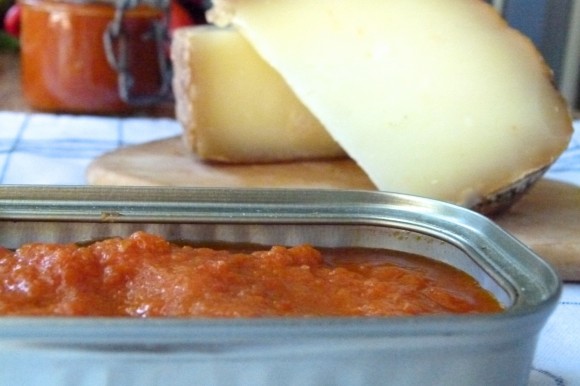 roasted red pepper tuna purée
stats:
makes 1 pint (16 ounces)
approximately 421 calories
2 ounce serving = 53 calories
July 18th, 2012
Banon de Banon A.O.C. with fennel confit
and fleshy, balsamic-drenched fig jam
serves 4
what you need:
1 disc Banon de Banon
fleshly fig jam
6 fresh black mission figs, quartered (approx. 300g or 10.6 ounces)
6 ounces (170g) balsamic vinegar
7 tablespoons light brown sugar
2 teaspoons fresh lemon juice
fennel confit
1 fennel bulb, (approx. 100g or 3.5 ounces)
2 tablespoons granulated sugar
1 teaspoon fresh lemon juice
1 teaspoon honey
8 ounces (30 ml) water
April 1st, 2012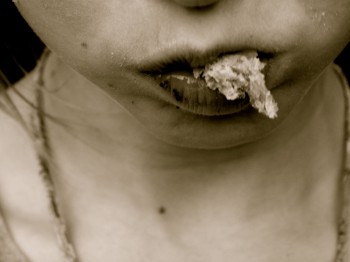 hungry no more: The Hunger Games Menu
Peeta's nut and raisin bread with Prim goat cheese
➽
Rue dandelion salad with tracker jacker dressing
➽
Katniss's rabbit (or chicken) chasseur
➽
Roasted blackberries on a vanilla pod bow with vanilla seed ice cream
and fresh violets for Gale


Impossible for me to resist. I love food. I love books. The title is The Hunger Games. Coincidentally the book (part of a trilogy by Suzanne Collins) is a fad among tweens and teens and it was race with my eldest daughter to see who could finish the book first. She won. We both loved the book and the food references throughout sent my creativity into orbit. However, the power of this book goes beyond the ability to encourage a child's love of literature, it can also encourage them to eat good food (unbeknownst to them), and as I quickly turned the pages, this week's simple pleasure, a Hunger Games menu, was born.
"Happy Hunger Games and may the odds be ever in your favor."
April 1st, 2012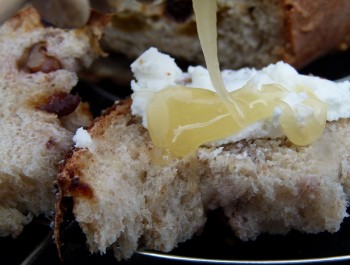 raisin and nut bread
makes two 1½ pound loaves
what you need:
¼ ounce instant yeast
2 cups (16 ounces) warm water
1 ounce quality honey
4 ounces King Arthur whole wheat flour
~18 ounces King Arthur bread flour
½ ounce kosher salt
1 cup raisins (all colors)
1 cup walnut pieces, toasted
½ cup whole and halved hazelnuts, blanched and toasted
mix of flaxseeds, poppy seeds, sunflower seeds (as needed) Read the rest of this entry »