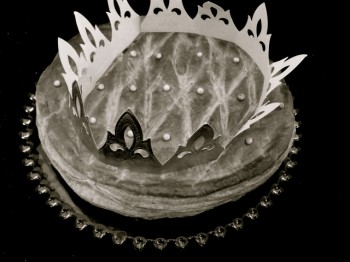 a paper crown
For Christians January 6 signifies l'épiphanie (the Epiphany).  The Epiphany is the twelfth day after the birth of Jesus; the day the three Magi found the baby in Bethlehem and bestowed upon him gifts of gold, frankincense and myrrh.  In France, the Epiphany is celebrated with la galette des rois (also known as the "twelfth night cake" or simply "king cake").
La galette des rois consists of two layers of puff pastry with a frangipane (almond cream) filling.  It is garnished with a paper gold crown.  What makes the cake special; however, is the trinket, la fève (a fava or broad bean), that is hidden inside.  Tradition dictates that the person who's slice contains la fève is crowned king or queen for the day and gets to wear the crown.  To ensure that the distribution of la fève is completely random, the youngest person present goes under the table and calls out the order of the cake recipients.  An extra piece of the cake is sliced, "la part du pauvre" (the poor man's share), should anyone of lesser financial means happen to stop by the house.  Today the tradition of la galette des rois extends beyond the religious context and the cake is sold and enjoyed in January generally, not just on January 6.
For me, la galette de rois, takes a very personal significance as well.  Three years ago to the day an ICU nurse gave me her crown (she had found la fève).   I still have it and the crown reminds me of how fleeting and precious life is.  This year my New Year's resolution is the same that is has been for the last two years:  to eat a piece of la galette des rois because I know that the ability to look down at the crown on the cake and enjoy a piece with those you love is like finding la fève every day.
This week's simple pleasure is la galette des rois. It is very simple to make and a fun tradition.  The active recipe time is about 20 minutes.  Nuts are decisive: you either like them in dessert or you do not.  If you like almonds, you will love this cake. However, if you are a person who is not crazy about almonds, you can replace the almond extract with vanilla extract or another extract such as orange.  You can also minimize the almond flavor by adding melted chocolate to the almond cream or mixing in a little strawberry jam with rose water.  However, do not add too much moisture (maxiumum of 2-3 ounces) or you will have soggy puff pastry.  With respect to the crown, you can buy the gold crowns at speciality stores or on the internet; however, you can easily make one of your own.
Forget the diet.  This week let's all eat a piece of cake. Je vous souhaite un bon appétit !
LM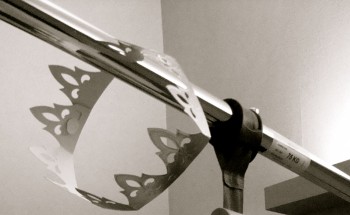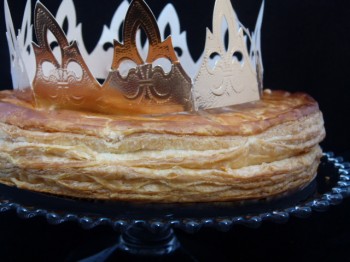 la galette des rois
stats:
makes  one 9"  inch cake
what you need:
shell
2 sheets puff pastry
1 dried bean (or nut)
frangipane filling
7 1/2 ounces blanched silvered raw almonds
3 ounces granulated sugar
1/2 teaspoon kosher salt
2 tablespoons powdered sugar, sifted
2 ounces (4 tablespoons) unsalted butter, cold and cut into chunks
1 egg
1 egg white
1 teaspoon vanilla extract
1 teaspoon almond extract (or 1/2 flavored extract)
1/2 teaspoon citrus zest (orange or lemon)
1 egg, mixed (for egg wash)
garnish
one paper crown
how to:
make frangipane
Create Paste

.  In a food processor, pulse almonds, salt, and sugars until finely ground.
Add Butter

.  Add butter to food processor and continue to pulse.
Add Eggs and Flavoring

.  Add egg, egg white, extracts, and zest to food processor.  Pulse until well combined.  Set aside.  This can be done in advance.
make cake
Roll Out Puff Pastry

.  Roll out puff pastry on a floured surface.  Using a 9" tart pan bottom as a pattern, create two circles in the pastry sheets.   Cut  out circles with kitchen shears.  Lay pastry circles flat on a baking sheet lined with parchment paper.  Place in the refrigerator for 10-15 minutes.
Stuff.

Remove from the refrigerator and add frangipane to the center of one circle.  Gently spread the frangipane.   It should be about one inch in height and come one inch from the edge.
Hide Trinket.

Place bean or nut (or trinket) in the frangipane (make sure that the recipients know something is in the cake and assess whether your cake recipients are old enough so there is no choking hazard).
Seal and Cover

.  Use a pastry brush to brush egg wash on the exposed one inch band of pastry surrounding the frangipane.  Lay the second puff pastry circle on top.  Pinch the edges of the two puff pastry sheets together to close.
Score.

Using a knife, score the top of the puff pastry with a design of your choice.  However, do not cut all the way through.
Chill

.  Return the cake to refrigerator for at least ten minutes.
Bake High

.  Lightly brush egg wash over the top and sides of the cake.  Place cake on a fresh sheet of parchment paper on a baking sheet.   Place in an oven preheated oven to 400 degrees Fahrenheit.   Bake for 10 minutes.
Bake Low

.  Reduce heat to 350 degrees Fahrenheit and continue to bake for about 15 minutes until the cake is golden brown and all layers have puffed.
Cool.

Remove cake from oven and let it cool on a wire rack.
Garnish

.  Garnish your cake with a crown
food for thought
The tradition of using a broad bean (fava bean) for
la galette des rois began in the Roman times.
Today people that collect the trinkets in la galette des rois are called les fabobiles.
Tags: almond, almond cream, almond extract, almonds, crown, epiphany, frangipane, gold crown, January 6, king cake, la feve, la galette des rois, la part du pauvre, les fabobiles, tinket, twelfth night cake