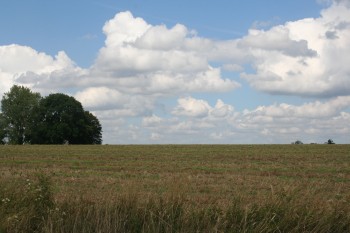 venez avec moi en Normandie
la cuisine de Normandie
(the food of Normandy)
There is nothing subtle about Normandy or its food.   Normandy is dramatic and its food is substantial.  Endless grasslands dotted with hay stacks and grazing cattle, apples orchards that stretch for miles, and cliffs that drop off to the Atlantic waters crashing far below.   In terms of its cuisine, Normandy is probably best known for its cream, the Camembert in a box, and the rich butter; however, Normandy's culinary treasures extend far beyond its dairy.  While I will occasionally post additional pieces on specific regions in Normandy or a particular food, this is only a brief overview of the food and flavors you can expect to find in this rich region of France.
LM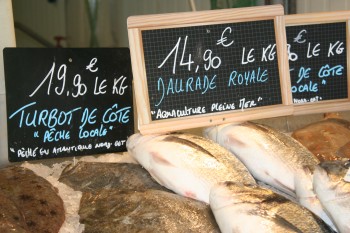 "pêche locale"
(everything is fished locally)
Thanks to the Atlantic coastline Normandy is the direct beneficiary of many cold-water, white-fleshed lean fish.  Many of these fish simply are not found in the markets in the United States.  Although the fish can be over-nighted, it is not the equivalent to buying the fish fresh at market in Deauville.
In Normandy you will find Dover sole, a lean fish with a substantial texture which is far more flavorful than the lemon or petrole sole that you find in Los Angeles.  Two popular fish are turbot (a flat fish with a meatier flesh than sole) and Saint Perrier (or "John Dory", is another flavorful flat fish).   Normandy fish markets are also full of: carrelet (plaice); cabillaud (cod); bar (sea bass); barbue (brill); colin (hake); daurade royale (sea bream); mulet (mullet); merlan (whiting), hareng (herring); maquereau (mackerel); lotte (monkfish); and sardines.  All are fished locally.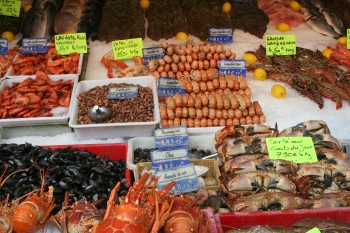 "Sole Dieppoise", named after the port of Dieppe, is sole poached in a white wine sauce and garnished with mussels, shrimp and mushrooms.  The phrase "à la Dieppoise" is a manner of preparation used with a variety of seafood and fish including whiting, brill, scallops, and pike.   If you see  "à la Dieppoise" on a menu that indicates that the menu item has been prepared and will be serve in a white wine reduction sauce.  "Marmite Dieppoise" or simply "marmite" is a seafood casserole wherein various white fish are partially poached in apple cider on a bed of apples and added to leeks, mussels (and sometimes shrimp) and served in white wine reduction sauce with the addition of cream.   Dieppe is also know for its mackerel and herring marinated in white wine.
In addition to fish, you will find langouste (known as spiny lobster or crawfish, langouste are lobster without claws), crevettes (shrimp), langoustines (Dublin Bay prawns or Norway lobster), palourdes (clams), amandes de mer (dog cockles which are meaty, tough clams), bulots (welks), tourteau (crab),  and Coquilles Saint-Jacques (scallops).  Especially delicious and plentiful are huîtres (oysters) and moules (mussels) of all sizes generally harvested from Baie des Veys.   Mussels are served similar to the fish dishes either in an apple-cream sauce "marmite de moules" or  "marinière,"(shallot, white wine reduction).  Many fish fish markets will provide samples of raw oysters and cooked mussels and bulots.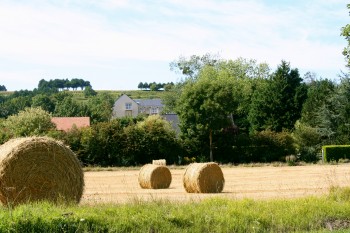 le terre
(the turf)
The land is as plentiful as the sea and each area in Normandy has its speciality.  Mont Saint Michel its known for its tender lamb raised on salt marshes.  Rouen, the capital of Normandy, is known for it's duck .  "Canard à la Rouennaise is a Rouen speciality and the unique taste is primarily due to its preparation wherein the duck is smouthered/suffocated to retain its blood, roasted in a hot oven,  pressed to expel the cooking juices, and then thinly sliced and served with sauce Rouennaise which is a  strained bordelaise sauce (made with shallots, veal stock, and red wine) with the addition of puréed duck liver. Côtes de veau de la Vallée d'Auge (veal cutlets from the Auge Valley) is veal sautéed in butter,  flambéed in Calvados, then braised in cider and finished with cream.  It is delicious.   "Tripes à la mode de Caen", the speciality of Caen, is cow's stomach braised for 9 to 12 hours in apple cider with calves' feet, and vegetables.   Grilled and roasted meats are generally served with a sauce, including, Camembert, beurre maître d'hôtel, and of course, sauce Normande (a cream sauce).  Auge Valley is also known for its excellent poultry.
Normandy is known for two sausages: Boudin Noir and Andouille de Vire. Mortagne-au-Perche is the production capital for Boudin Noir, blood sausage (also known as blood pudding or black pudding).  The sausage is a dark reddish brown with a soft consistency.  It is made with pork, blood, onions or crumbs and spices but it is not spicy at all. Andouille de Vire is an old tradition which takes a month to make.  Pig intestines are layered and tied together to create a swirling pattern visible when you cut into the sausage.  The sausage is then heavily smoked.   It is an acquired taste, of which, I have yet to acquire, but I appreciate the tradition and time it takes to make it.
des pommes partout et dans tout
(apples everywhere and in everything)
Apple orchards can be found in Charchigne (between Normandy and Brittany), Deauville, Pont l'Évêque, Calvados, and Livarot.  Normans use apples in everything: with seafood;  in stews; with vegetables; in salads; in sauces, in soups, and in dessert.  In fact, every dessert you can imagine that could include an apple, does:  baked apples, apples baked and wrapped in puff pastry, stuffed apples, apples tarts (in various forms), apple cakes, apple ice cream and sorbet,  sauces, confitures (jam), and gelées. Some the more popular apple desserts  include: tarte aux pommes (apple tart): chaussons aux pommes (apple turnovers), falues or fouaces (apple flat cakes); douillons aux pommes ("apples in a nightdresses" baked apples which have been cored, peeled, and sautéed in butter and then wrapped in puff pastry); charlotte aux pommes (brioche slices sautéed in butter and zest baked with apple quarters or halves that were sautéed and flambéed with Calvados); and crêpes flambées (crepes with Calvados).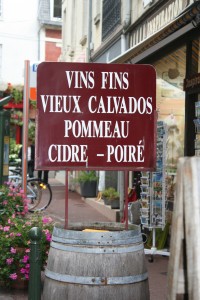 Normandy also produces apple vinegar, apple cider and Calvados.  French cider has a 4 percent alcohol content (different than the states) and it is made of a particular combination of sweet, bitter, and sour apples.  If you want an apple beverage without alcohol, buy apple juice (jus de pomme or pomme pressée). Pommeau is an apple brandy aged for 14 months.
Calvados, the infamous apple brandy from the Calvados region,  is serious business in Normandy.  Aged for a minimum of two years with a alcohol content of 40 %. Trois étoiles or trois pommes is Calvados aged 2 years. Calvados Vieux or Réserve is aged for 3 years. Vieille Réserve (v.o. or very old) is aged 4 years. Very Spécial Old Pale (v.s.o.p.) is aged 5 years. Hors d'Âge is aged over 5 years.
By way of background,  if a product is certified "AOC"  (Appellation d'Origine Contrôlée) it means that the French government has certified that that product (that wine, cheese, or pepper, for example) is from that specific area and/or made in a particular way.   It goes to the principles of "terroir" because products taste different depending upon the particular dirt in which they grew or grass upon with they grazed.  Grapes grown in Bordeaux, for example, taste earthier than grapes grown in the Loire Valley, and produce an earthier-tasting wine.  AOC guarantees that the product you are buying will taste a certain way (i.e., that the Bordeaux will have that familiar earthy taste which wines from the Bordeaux region are known for) .
Back to Calvados, Calvados has several AOC distinctions based upon the area and the manner in which the Calvados is produced: (1)  AOC Calvados means that it was made in the general Calvados region; (2) appellation réglementée means that it was single distilled; (3) appellation Calvados pays d'Auge contrôlée means the Calvados was made in the Auge region and double-distilled; and (4) "fermier calvados" indicates that the Calvados was made on a particular farm in the traditional way.
The Norman custom of café calva is enjoying a tiny bit of Calvados either with your coffee or in your hot coffee mug after you drank the coffee (although I had heard many just put the Calvados in the coffee). Le trou normand ("the norman hole") is the Norman tradition of taking a shot of Calvados in-between courses.  Sometimes served with or over apple sorbet, the combination is supposed to be a palate cleanser.  My view is that the Calvados is not so much to cleanse the palate, but to burn away the rich creamy food in your stomach, thus clearing the way for more rich food.   While I do not drink Calvados as a space clearer or as drink, I cook with it all the time.  However, if you are going to cook with it, use the 3 year stuff and save the hors d'âge for sipping (or clearing).
le sel
(salt)
Mon sel préféré (my favorite salt) is gros sel de Guérande (large sea salt from Guérande) that is hand-harvested by a plaudier. It is grey as opposed to a stark white because the salt is not washed or crushed.   Although Guerande is in Brittany, Normans use it in their caramels and their butter biscuits.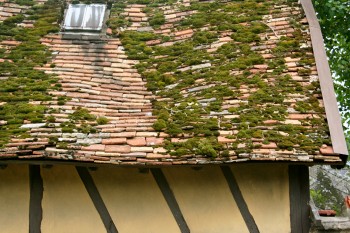 directement de la terre – les pommes de terres et les champignons
(straight from the dirt – potatoes and mushrooms)
Mushrooms and potatoes are used in Norman cooking almost as much as apples.  Again, both are plentiful in Normandy.  The Grenaille pommes de terre (baby potatoes) are creamy and a little granular in texture.  Every type of wild mushroom you can imagine spontaneously erupts from this rich, damp soil, you only have to look at the warped, moss-covered roofs to see why.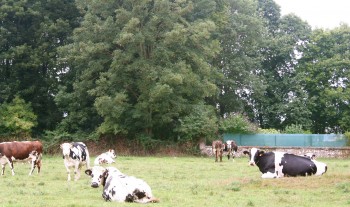 la crème, le beurre et le fromage de Normandie
(cream, butter, and cheese of Normandy)
To reference popular culture, I believe it was an ad campaign for California cheese which claimed that good cheese comes from happy cows.  The premise was that because California cows are so happy in sunny California, the cheese made from their milk is great.  While Norman cows may not have the California weather, I have seen the Norman cows firsthand, I have tasted their milk, their cream, and their cheese, and if judged by their diary, Normandy is cow Nirvana.   Normandy's fresh cream has a grassy freshness to it.  It is beyond compare but if I tried to compare it to something in the States, I would say that it is thicker than a crème fraîche, but not at all tart or sour.  The butter is has a velvety, elegant smoothness that slides gently across your tongue.
Isigny sur mer is the region in Normandy infamous for its butter and cream.  If you purchase beurre d'Isigny AOC you are guaranteed that the butter comes from that region. Galettes Normandes au beurre d'Isigny AOC are cookies (biscuits) made with the famous AOC butter and eggs. Sablés, a classic term used to describe shortbread (it can be sweet or savory), are made with beurre d'Isigny.
Norman cheese is primarily made from raw (unpasteurized) cow's milk. The United States prohibits the importation of hard cheeses made from raw  milk unless it has been aged for a minimum of sixty days (at a specific temperature). Soft and semi-soft cheeses made from raw milk cannot be imported.   Many "Camemberts" are now being made from pasteurized cow's milk (which is what you find in the markets here) and it is sold "fabriqué en Normandie" (made in Normandy) but does not have an AOC status due to its pasteurization.  It also does not taste as good as the Camembert made from raw milk that can be enjoyed in France.
Livarot (lee-vah-ROH) is a semi-soft cheese with a strong, nutty smell and slightly spicy taste.  It is from town of Livarot and has an AOC designation. Livarot is made with cow's milk (raw or pasteurized) and aged 3 to 4 months.   It is a washed-rind cheese (which means during ripening, it was dipped or rubbed with brine to inhibit the growth of the rind but to encourage the growth of bacteria, giving it that aroma).  It comes in larger and smaller wheels, the latter  is more flavorful. Livarot used to be referred to as la viande du pauvre ("the poor's man's meat").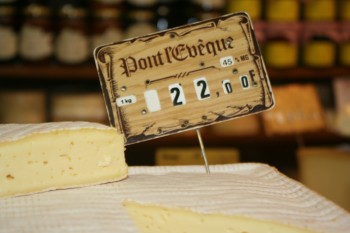 Pont l'Évêque (pon-lay-VECK) is from the town of L'Évêque as well as departments of Calvados, Eure, Manche, Mayenne, Orne, and Seine Maritime.  It has an AOC certification that the milk is from Normandy cattle from these areas.   A semi-soft, washed rind cheese in the shape of a square, aged 2-6 weeks, it is milder than Livarot but still has personality.  This warm and buttery cheese tastes best in summer.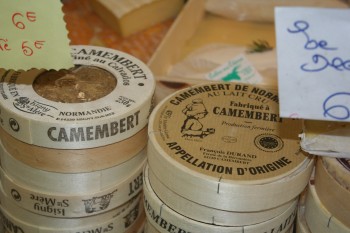 Camembert (KAHM-um-behr) is from the areas of Camembert and Isigny with a AOC certification  A soft-ripened, bloom rind cheese (meaning it was salted during ripening to create a soft, white rind), it is made from unpasteurized cow's milk and is a little stronger than Brie.  The longer  Camembert ages, the softer and more flavorful it becomes.
Brillat Savarin is a triple cream soft-ripened, bloom cheese with a very creamy texture and a slight tang.  It is aged only 1-2 weeks and made from cow's milk (raw and pasteurized).  This is my favorite Norman cheese.   It is named after Jean-Anthelme Brillat-Savarin, a French magistrate who in his treatise on gastronomy , La Physiologie du Goût (The Physiology of Taste), thought that cheese after a meal was so essential he devoted one of his 20 Aphorisms to it, saying: "[d]essert without cheese is like a pretty woman with only one eye."   While I love cheese and often eat it after my meal, I make no comment on the analogy.
Neufchâtel is a soft cheese like Camembert that is slightly saltier (because it is aged longer, about 8 to 10 weeks).   The texture is slightly grainy and has an earthy, mushroom taste.  It is made from unpasteurized cow's milk and  usually comes in the shape of a heart (although there are other shapes as well).  It is AOC from the town of Neufchâtel.
Gournay is a very soft spreadable cheese usually made from raw cow milk in Normandy in the small town of Gournay.  Usually sold by brands Boursin (the creator of Boursin grew up in Gournay it is said) or Valfrais, it is typically mixed with herbs or other flavors.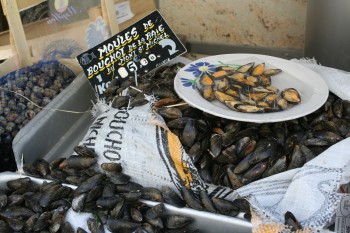 * * *
If you are planning a trip to Normandy buy some of the items we import from Normandy (i.e., pasteurized Camembert), buy some fresh flat fish and use my marmite recipe (see "my recipes").  When you are in Normandy, order a marmite and have the Camembert.  Taste the difference.  If you ever doubted that terroir and the freshness and quality of ingredients mattered, you will doubt no more.
Tags: à la Dieppoise, Andouille de vire, AOC, Appellation d'Origine Contrôlée, Auge Valley, Boudin Noir, Brillat-Savarin, café calva, Calvados, Camembert, canard à la rouennaise, charlotte aux pommes, douillons aux pommes, fish from Normandy, fish in Normandy, food of Normand, Gournay, le trou normand, Livarot, marmite, marmite dieppoise, Neufchatel, Norman hole, normandy, Normandy seafood, Pont l'Évêque, sole dieppoise, tarte aux pommes, tripes, tripes à la mode de caen