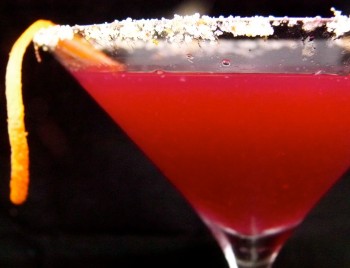 gone in 60 seconds, expiring in 15 minutes,
and a new house cocktail for Oscar: 
(freshly squeezed) blood orangetini 
I was writing a menu for a martini party when someone told me that a particular "racy" song reminded him of me. We thought that the song was from the movie soundtrack Gone in 60 Seconds which was about the rapid thievery of cars. Now, I do not know if his allusion was making light of my love of cars with a minimum 369 torque or my relationship flight-risk behavior, but it is not important and we were wrong about the song coming from that movie anyway. However, the "Gone in 60 Seconds" reference made me think of my father telling me that the "nutritional benefits of orange juice are gone in 15 minutes after you squeeze the orange", vanishing as rapidly as the cars in that movie. So there I was, writing a menu, thinking of fast cars, then my favorite car, then the actor known for driving that car (but not the reason I like it), then his cocktail of choice ("shaken not stirred"), and within 60 seconds I came full circle in my thoughts which culminated in this week's simple pleasure just in time for your Oscar party: a (freshly squeezed) blood orangetini.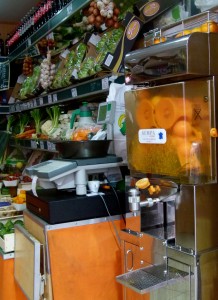 In France, freshly squeezed orange juice is common place. From the Casinos (a neighborhood grocery store) to the produce stand downstairs from your apartment, you can buy freshly squeezed juice on-demand in a variety of sizes (1.80 euros will buy you a small bottle).  If the French do not purchase juice on-demand, they squeeze it themselves and I do not think I have seen any of my French friends with a carton of orange juice in their refrigerator. Squeezing fresh juice is just what you do there and this Sunday when my friend came over for brunch, he brought a sack full of blood oranges which we squeezed and used to wash down the loads of cheese, brioche, and confiture we consumed.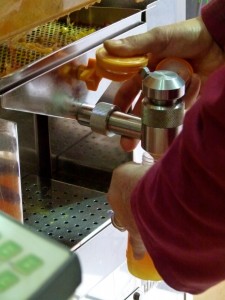 In the States it is rare to see a market with on-demand freshly squeezed juice. In fact, much of the boxed orange juice you purchase in the store is made  "from concentrate" and water is the primary ingredient (the claim that it is "100% pure squeezed" is funny to me as I am not sure the significance of that .. of course it was squeezed what else would be?)  Are the French high-maintenance and fancy with their freshly squeezed juice or do they know something we do not know ? 
Growing up my father would say to me that there is just no point of drinking orange juice if you wait longer than 15 minutes after it has been squeezed because all the benefits are gone. This is unfortunate because orange juice cleanses the body, helps our immunity, and is high in vitamin C, calcium, and folate. In short, orange juice is really good for us.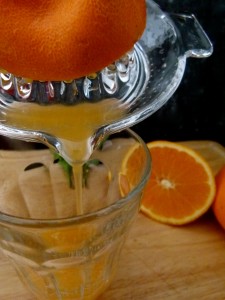 My father was right that the nutritional benefits of orange juice continue to diminish after the orange has been squeezed. The reason for the decline is because fresh juice is unstable and contains oxygen-sensitive substances which, when exposed to air, causes the juice to loose flavor, color, and nutrients. Although, it is known that juice from navel oranges will become bitter after 30 minutes due to a molecule which converts to limonin, (McGee, Harold, On Food and Cooking, pp. 375-76 (rev. ed 2004)), I have not seen evidence of a 15 minute cut-off for a complete loss of nutritional benefits, but there is a loss nonetheless.
However, maximizing these fleeting benefits is easily within all of our control. Everyone can juice an orange. You do not need a fancy juicer. Simply cut open the fruit and squeeze it (or use a fork or a reamer to expel its contents). Moreover, when you squeeze the juice yourself you not only maximize its nutritional value and taste, but you get a vaporisateur d'ambiance (room spray) because the orange oil which lies in the oil glands within the orange peel are expelled into the air when the peel is disturbed.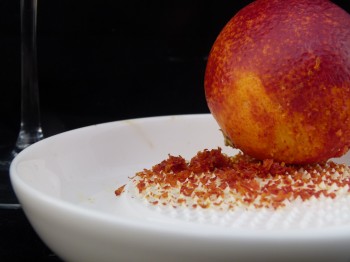 In addition, when you choose and purchase your own citrus (rather than relying upon a manufacturer to choose your fruit for you) you can buy organic and fully ripe, non-green oranges which is important for a few reasons. First, you do not want to buy green oranges because the citric acid has not yet converted to fructose and can cause arthritic-like joint pain. Second, there is little starch in oranges so they do not ripen or sweeten after they are picked (unlike pears or apples). Third, buying organic means your oranges were not sprayed with dyes or ethylene (often used to add color to the orange skin) nor treated with fungicide (used it used to prolong their shelf life).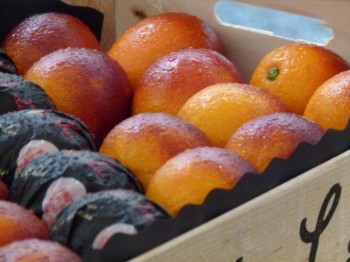 Now is the season for citrus and the farmers' markets are full of beautiful citrus. Blood oranges are a particular seasonal treat and are even higher in antioxidants than other oranges due to their anthocyanin pigments (which is responsible for their beautiful red hue).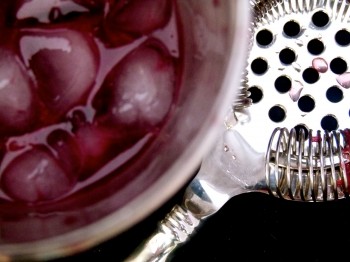 A blood orangetini is as delicious as it is nutritious and easy to make. The raspberry syrup pairs well with the natural raspberry overtones in the blood orange juice. Combining the blood orange zest with a little sugar and placing it on the martini glass rim will fill your guests' noses with the beautiful citrus aroma when they take a sip. A freshly squeezed blood orangetini is a house cocktail that may make your guests feel as if they have all won an Oscar and it just may send them back to the your bar in less than 60 seconds. Says who? Morgan. Chef Morgan.
 À santé!
 LM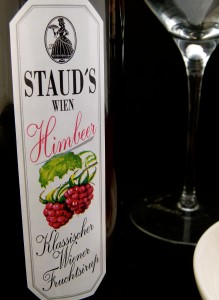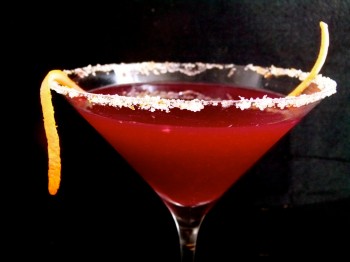 (freshly squeezed) blood orangetini
 makes one martini
what you need:
martini
4 ounces fresh juice from blood oranges
1 ounce raspberry syrup
2 ounces very cold Belvedere vodka
ice cubes, as needed
garnish
1 ½ teaspoon blood orange zest 
1 tablespoon granulated sugar
how to:
Prepare Glasses

. In a bowl, mix the sugar with the zest.  Place sugar on a plate. Use an orange segment or a damped your clean finger with juice or water and run it along the rim of the martini glass. Turn the glass upside down and press the rim into the sugar, evenly coating the rim all the way around.
Mix. 

Place the juice, raspberry syrup, and vodka in a cocktail shaker with ice.
Shake.

Making sure the lid is on (or another cup is over the mouth of the cocktail shaker) shake well a few times.
Strain/Pour.

  Strain the ice from the liquid and pour the liquid into a martini glass.
Garnish.

Garnish with orange zest, an orange segment, or a fresh raspberry.
food for thought
 Do I really have to say it ? Drink responsibly. Do not drink alcohol and drive.
Just don't do it.
Tags: blood orange, blood orangetini, fresh squeezed, martini, orangetini, raspberry syrup, simple pleasures, vodka