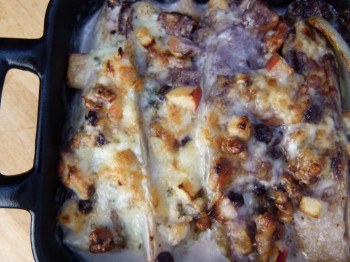 out of the salad bowl and turning up the heat:
Belgium endive au gratin
Rarely do Americans cook endives. Rather, we consume them raw, usually in a salad or as a passed hors d'œurves. However, sometimes you just have take things out of the salad bowl. I say that with great affection thinking of someone I met who primarily eats salads and rarely ventures out culinarily (at least on his own). This week's simple pleasure goes outside the endive salad bowl and turns up the heat with a Belgium endive au gratin.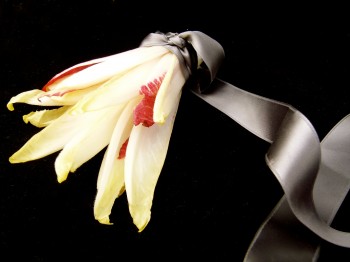 Belgium endives are a member of the Chicory family. They look like spears and are crisp with a slight bitterness. They are more costly than simple lettuce because, in truth, they are a little high maintenance to grow. To grow endives, seeds sprout and grow into lush, green leaves. The roots are then carefully unearthed and the green leaves are cut off and sold. The roots are trimmed and replanted in bins or buckets and kept in a cool place (like a cellar) and away from light (which prevents the new shoots from turning green). From these trimmed roots, beautiful white spears grow. A little high maintenance can be so worth it.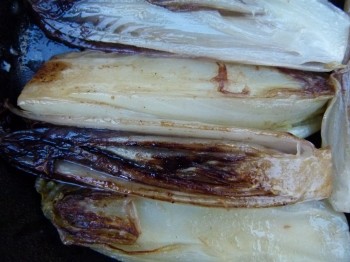 Endives pair well with nuts (especially substantial, oily nuts like hazelnuts and walnuts) and foods with a nutty, earthy-depth such as truffles and mushrooms. Because of their bitterness they can take on creamy cheeses, especially blues, and pair well as citrus and other fall/winter fruits such as apples and pears. Beyond the realm of raw, endives can be grilled, steamed, poached, boiled and sautéed. I like them best braised with a little butter.
I wrote this week's recipe in a simple way that will appeal to many tastes. First, brown the endives in a pan to develop their flavor. Second, soften them by braising them in a little water (cooking with the lid on the pan). Third, add the remaining ingredients and place the whole thing in the oven until bubbly and the flavors combine.
If you want a deeper and slightly sweeter flavor profile, cook the diced apples with the endives and add a tablespoon of Calvados (or apple cider) to the pan after the endives have browned. Once the Calvados has been cooked out of the pan, add the water to the pan and braise the endives and the apples together until the endives are soft. Continue with the recipe as written.
Either way, allow the gratin to slightly cool before service but serve it hot. The gratin is a nice compliment to any meal, but pairs particularly well with beef and salmon.
Je vous souhaite un bon appétit !
LM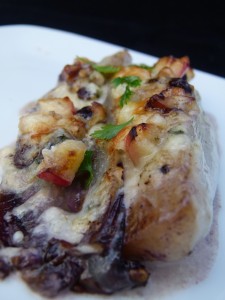 Belgium endive au gratin
serves 6-8
what you need:
4-6 Belgium endives, halved
1 tablespoon unsalted butter
1 teaspoon granulated sugar
1 tablespoon Calvados (or apple cider)(optional)
pinch kosher salt
⅓ cup water (and as needed)
⅓ cup heavy cream (or as needed)
½ cup crumbled Gorgonzola
¼ cup diced apples
¼ walnut pieces, toasted
¼ cup currantsfreshly ground black pepper
how to:
Cut Endive.

Cut endives in half lengthwise. Trim the bottoms slightly but make sure they are still attached at their base.
Braise Endive.

Place a sauté pan over a medium-high flame. Once hot, add butter to melt. When the butter has melted, place the endive halves in the pan, cut side down. Sprinkle with sugar and a pinch of salt. Once the cut sides are browned, turn down the heat to low and add the water to the pan (it should come up cover the bottom ⅓ of the endives). Cover the pan with a lid. Cook until the endives are soft, but still held together. If there is no more water in the pan, and the endives are not soft, add a little more water to the pan and continue to braise until soft.
Gratin.

Use a spatula to carefully remove each endive from the pan and place them cut-side up in a small shallow baking dish. Add cream (it should come

half way

up the sides of the endives, but you can add more if you choose).
Garnish

. Garnish with apples, walnuts. and currants. Place in an oven preheated to 375 degrees Fahrenheit. Remove when the cheese is bubbling and cream has been reduced.
Tags: apples, au gratin, Belgium endive, Calvados, endive, french cooking recipes, gorgonzola, vegetarian, walnuts