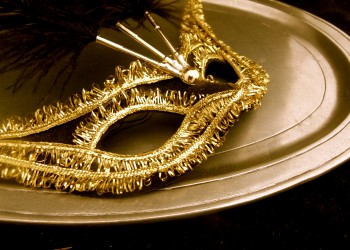 Bugnes Lyonnaise
Bugnes Lyonnaise (like all beignets) are synonymous with the festivities during Mardi Gras, the period before Ash Wednesday which begins the forty-day Lenten period of abstinence for Catholics.  Beignets are fried pastry dough topped with icing sugar and eaten warm.  To Americans beignets are simply doughnuts but in France beignets can be sweet or savory.
Bugnes Lyonnaise, a beignet from France's Lyonnais region, are flavored with orange blossom water, zest, or rum, and the shape resembles angel's wings or bows of ribbon. Although bugnes are particular to the Lyonnais region, beignets are enjoyed for Mardi Gras celebrations (and for feast days) throughout France (as well as Italy and even New Orleans).  They are all variations on the same theme only the shape and name changes depending upon where you are enjoying them (i.e., chichi frégi in Toulon/Marseille, corvechets in the Lorraine region, bottereaux in Nantes, and fritelli in Cosica).
It is common to use a leavener in beignets (i.e., oreillettes, in the shape of a pig's ear, use yeast, other beignets recipes call for the use of baking powder).  However, I wrote this recipe without the aid of yeast or a leavening agent.  If you do not overwork the dough and make sure your ingredients are well-incorporated before rolling the mixture into a ball, the bugnes be light and airy and the leavener is not needed.
I do not recommend using a food processor to mix the dough.  It results in over-mixed dough and you will have rock-hard bugnes (not a desirable quality in pastry).  Olive oil, sunflower oil, and grape seed oil are my favorite oils to use.  Olive oil produces a rich taste but can be cost prohibitive.  Sunflower oil produces very light bugnes.  Keep your oil at 350 degrees Fahrenheit:  if it is too hot the bugnes will get too dark; if the oil is not hot enough, they will soak up too much oil and be soggy.
Bugnes Lyonnaise are easy to make and something that your family will want to enjoy throughout the year, not only during Mardi Gras.
Je vous souhaite un bon appétit !
LM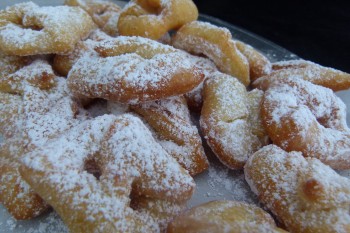 bugnes Lyonnaise
yield: about 3 dozen (2 inch bow ties)
what you need:
2 cups (9 1/2 ounces) all purpose flour, sifted
4 1/2 tablespoons granulated sugar (2 ounces)
4 tablespoons (2 ounces) unsalted butter, room temperature, cut into small bits
2 large eggs (4 ounces), mix
1 ounce heavy cream
pinch of kosher salt
1 1/2 teaspoons orange blossom water or extract
1 teaspoon orange zest
olive oil, sunflower oil  or grape seed oil (as needed)
sifted confectioner's sugar (as needed)
how to:
Prepare Dough

.  Sift flour into a large bowl.  Add salt.  Add the butter bits to the flour and mix with your hands until flour and butter are combined.  In a separate bowl, combine the sugar, zest, and orange blossom water.  Add the flavored sugar to the flour and combine.  Create a well and pour the eggs and cream into the well.  Use your hand to incorporate the wet ingredients into flour.  When the dough comes together, remove the dough from the bowl and work it into a ball.  Do not overwork the dough.
Rest

.  Wrap the dough in plastic wrap and press into a disc shape.  Place it in the refrigerator for 2 hours.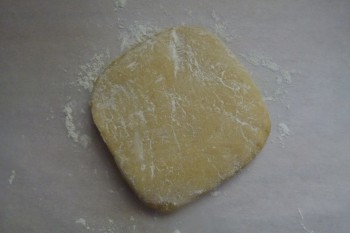 Roll.

Place the dough on a lightly floured surface.  Use a rolling pin to roll  the dough into a large rectangle about 1/4 inch thick.
Cut.

Using a pastry wheel or pizza cutter, cut horizontal strips across the dough about 1 1/2 inches in width.  Then cut strips vertically at an angle to create diamonds about 3 inches wide from tip to tip.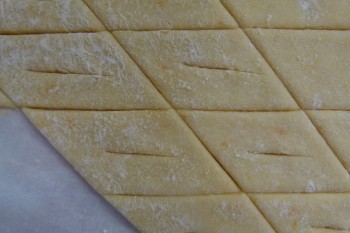 Shape

.  Use a knife to cut a 2  inch slit in the middle of each rectangle lengthwise. Pull the point on the top of the slit down through the slit and tuck under .  Repeat with the bottom point.  If you want to make a traditional bugnes shape, pull the right tip into the slit all the way through until there is a twist in the middle.  You can do it with the left side as well for a double twist.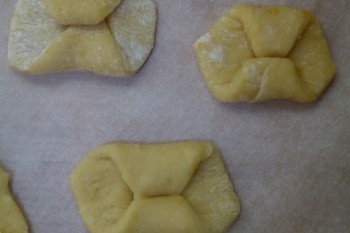 Fry.

Place oil in a small dutch oven over high heat on the stovetop. When oil registers 350 degrees Fahrenheit on a fry thermometer, drop 4-5 bugnes into the hot oil.  Use tongs to make sure both sides fry evenly.  Once golden brown, remove bugnes with tongs.  Place bugnes on a wire rack lined with paper towels to absorb the extra oil.
Garnish

.  Sprinkle confectioner's sugar on both sides of the hot bugnes.
plan b
Do not worry if your bugnes are different shapes and sizes or end up looking nothing like you intended. The bugnes will be delicious if they are letters, rectangles, knots, bow ties, or a collection of various shapes.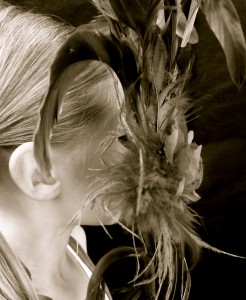 Tags: beignets, bugnes Lyonnaises, Mardi Gras