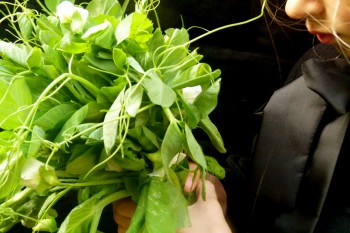 le printemps est arrivé !
(Spring has sprung !)
taking advantage of the early Spring crops with savory pancakes and tarts
Every season gives us an array of new flavors and colors. Autumn's coolness is tempered by the warm oranges and reds of pomegranates, winter squashes, pears, and apples. Winter has its dark kales, pale cabbages, brilliant white cauliflower and sunchokes, and bright citrus. Then there is Spring. Spring bursts with newness: vegetables and fruit trees are covered with blossoms and the bright shades of green fill the markets.  English peas, shelling beans, asparagus, fava beans, ramps, baby spinach, spring onions, and fresh garlic are just a few of the season's treats. Vegetables harvested in the Spring are at their sweetest and mildest (baby carrots, spring garlic, spring onions, baby leeks, and new potatoes, to name a few).
Despite the chilly air (and threats of snow on the Hollywood sign), Spring has sprung in Los Angeles and bringing the season's beautiful and tasty bounty to your family's table is easier than you think. This week's simple pleasure is devoted to the green of Spring and because I could not make a decision as to which recipe to post I am posting two: an elegant and beautiful savory tart topped with sautéed Spring vegetables, flowers and goat cheese; and savory Spring vegetable pancakes. Both are simple to prepare.
The tart recipe takes advantage of many of the delicious things you will find right now in the market (some of which people often do not know what to do with or need new ways to prepare them): thin asparagus, baby zucchini with blossoms, flowering rapini, baby artichokes, spring onions, and flowering pea tendrils.  The tart base consists of puff pastry that you can purchase in the freezer section of your grocery store (you only need one sheet so I do not advocate turning dough for days for only one sheet but make sure you buy quality puff pastry dough).  The dough is baked with goat cheese, topped with vegetables that are sautéed and braised stovetop, and then garnished with flowers.  Many flowers are edible (there are a few, however, that are not so if they are not on my list, double-check before you improvise).  For this tart I like to use zucchini blossoms, white flowers from pea tendrils, and borage blue starflowers (borage is an herb).  I will use nasturtium flowers (red, yellow or orange) and/or violets sometimes too.  The tarts make an elegant and colorful first course (something to keep in mind for the upcoming holidays) or you can cut them into smaller pieces as use them as appetizers.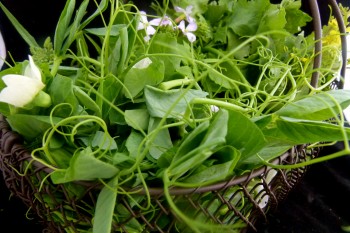 Similarly, the Spring vegetable pancake recipe combines five fruits/vegetables (potatoes, zucchini, soybeans, fennel, and carrots) in one savory package.  I wrote the recipe to maximize the foods' nutritional value as well as provide visual interest to the pancakes.  For example, zucchini skins and potatoes peels are left on; soybeans (out of their pods) are blanched but otherwise left whole; and the carrots are cut in long curly strands created with a growing-shredder (made by Shyang-tian which you can find in specility stores, Japanese markets, or on the internet).  The recipe uses a combination of garbanzo bean flour and unbleached white whole wheat flour (more nutritious than bleached white but softer than whole wheat flour). However, you can make the pancakes gluten-free by using all garbanzo bean flour.  Conversely, if you only have all-purpose flour you can go that route as well. The pancakes are so simple to prepare that your little sous chefs can help you (although an adult should do the frying).  The pancakes make excellent leftovers (especially for lunch boxes)
I hope both recipes are something that you and your family will enjoy throughout this wonderful season.
Je vous souhaite un bon appétit !
LM