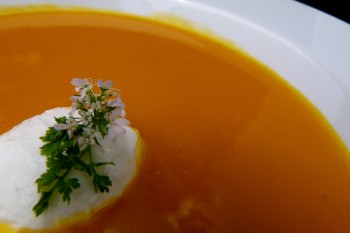 carrot velouté with quenelle of fresh chèvre
stats:
yield: makes 8 cups
what you need:
soup
1 tablespoon unsalted butter
1/4 cup diced spring onions
1 pound young orange carrots, diced
3/4 cup fresh orange juice
1 cup carrot juice (reduced from 2 cups)
1/2 teaspoon ground cumin
1 teaspoon kosher salt (and as needed)
2 cups water (and as needed)
garnish
8 ounces goat cheese, room temperature
fresh chervil leaves (as needed)
fresh coriander flowers (as needed)

how to:
Prepare Carrots and Carrot Stock

.  Clean and dice carrots. Place 2 cups of carrot juice in a saucepan over high heat and reduce by half. Set aside.
Prepare Flavor Base

.  Place another saucepan over medium heat.  Add butter.  When butter has melted, add onions and cumin, coating them in the butter.  Sweat onions until translucent. Add diced carrots.  Coat in butter mixture.  Sweat carrots until slightly tender. Add orange juice and reduced carrot stock.
Add Water.

Add water and simmer until flavors come together and carrots are tender (about 20 minutes).
Purée

.   Using a food processor or immersion blender, purée until very smooth.  If using a food processor, blend in batches.
Strain

.  Strain puréed soup and put in a clean pan.
Adjust Consistency.

The consistency of the soup should be that of cold cream.   Add more water if the soup is too thick.
Adjust Seasoning

.  Salt to taste.
Garnish

.  Use two spoons dipped in hot water to shape the goat cheese into a quenelle (should look like an Easter egg).  Each quenelle should be about 1 ounce.  Place one quenelle in each soup cup.  Ladle hot soup into cup.  Garnish quenelle with fresh flowers and herbs.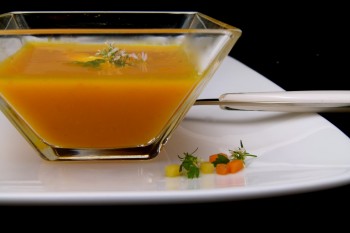 Tags: carrot velouté, carrots, chèvre, cumin, Easter, quenelle, vegetarian