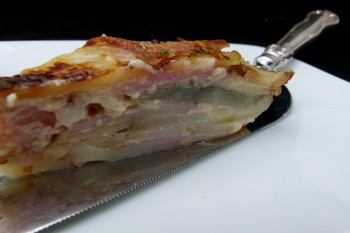 fingerling potato gratin dauphinoise with sunchokes and artichokes
stats:
yield: makes  1  10" gratin pie
what you need:
1 1/2 pound fingerling potatoes (i.e., Peruvian, French fingerlings, Rose Finn, Red Thumb), thinly sliced
1/2 pound sunchokes, peeled and thinly sliced
3 large beautiful artichoke hearts, steamed, cooled, and thinly sliced rondelle
olive oil (as needed)
grapeseed oil (as needed)|
4 garlic cloves, smashed and minced
2 shallots, thinly sliced
1/8 cup dry white wine
1 bouquet garni (fresh sage, fresh thyme sprigs, 1 bay leaf, and Italian parsley)
2 cups heavy cream
freshly ground black pepper (as needed)
kosher salt (as needed)
2 ounces grated parmesan cheese
5 ounces grated Gruyère cheese

how to:
Steam Artichokes

.  Trim artichokes and place in a large pot with a few inches of water over a high flame. Cover with a lid and steam artichokes until tender.  Remove from heat and cool.  Once cool, remove leaves and fibers from the heart.  Discard.  Using a mandolin or knife, thinly slice the artichoke hearts.
Slice Sunchokes And Potatoes

. Using a mandolin, thinly slice potatoes and sunchokes.  Toss in a bowl with a little olive oil  and salt until coated.  Set aside.
Sweat Aromatics

.  In a saucepan over high heat, add 1 tablespoon of grapeseed oil.  Once oil is hot, add garlic.  When garlic is fragrant, add shallots.  When shallots are translucent, add wine and reduce the wine demi-sec (means that there is still some wine in the pan).
Reduce Cream.

Add cream and bouquet garni to the saucepan.  Simmer until you get the flavor you want (if you want it stronger, reduce the cream more by cooking it longer).  Strain the cream and discard the aromatics and bouquet garni.
Assemble

. Rub about 1 tablespoon grapeseed oil on bottom of an oven-proof pie pan.  Place a layer of potatoes across the bottom of the pan, slightly overlapping the edges.  Season the layer with salt and pepper.  Add a layer of cheese.  Add another layer of potatoes.  Season with salt and pepper.  Add a layer of sunchokes.  Sprinkle a little cheese over the layer.  Add another layer of potatoes. Season with salt and pepper.  Add a layer of artichoke slices. Repeat layering process, seasoning each layer with salt and pepper, until all the ingredients are used. The top layer should be a decorative arrangement of potatoes slices with  cheese sprinkled on top.
Bake.

Cover with aluminum foil.  Bake in an oven preheated to 400 degrees Fahrenheit for about 30 minutes.  Remove the aluminum foil the last 10 minutes to allow the cheese on top to brown.  Gratin is done when the top is bubbling and a knife can easily be inserted.
Tags: artichokes, Easter dinner, fingerling potato gratin dauphinoise, sunchokes