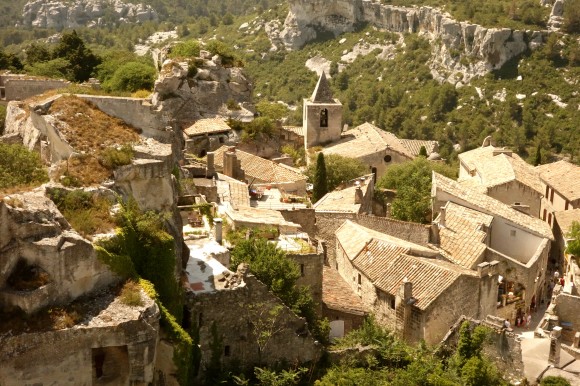 Les Baux-de-Provence
green olive tapenade (with steamed cod)
Provence is full of olive trees but there is only one area in Provence where the olives and olive oil are certified "A.O.C."  It is the  Vallée des Les Baux de Provence. When I discovered this piece of culinary trivia, the day trip was planned. The olives seduced me, but the history and culture kept me there. So come with me – venez avec moi – à Les Baux-de-Provence (which inspired this week's recipe: green olive tapenade with steamed cod).
Allez-y  (let's go) !
LM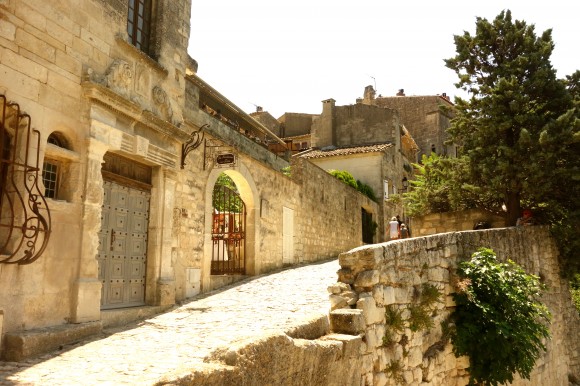 Les Baux-de-Provence is a commune in the south of France classified as one of the "most beautiful villages in Frances" in 1999.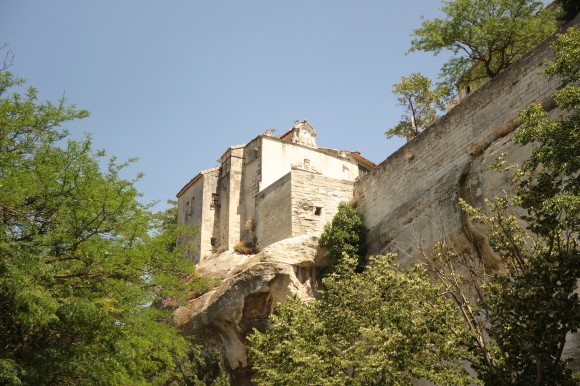 For reasons of weather, shelter and constant unrest, throughout Provence the villages were built of stone on top of hills. Today they are commonly called "perched" villages or "hanging villages" (at least that is how my French friends refer to them).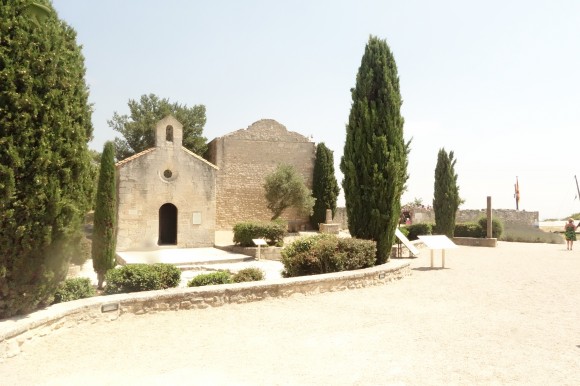 Les Baux is one example. Les Baux was the surname of a family in Provence. The fortress was reportedly built in the 13th century. The hill gave its inhabitants protection from invaders as well as an advantage from the weather and a natural "lookout."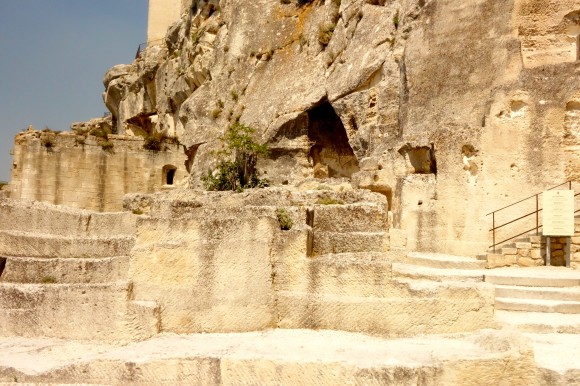 The fortress was used in the Middle Ages, demolished, partially rebuilt in the Renaissance, and destroyed again.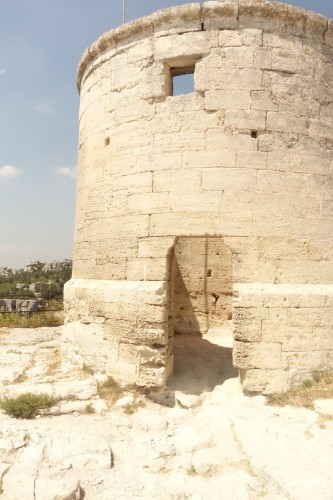 While Les Baux could have settled into common hanging village-dome (if there is really such a thing in Provence)…the village had a revival with Oustau de Baumaniere (which translates to "beautiful manners" …I feel more elegant just uttering the phrase). Oustau de Baumaniere is a five star hotel with a devotion to the culinary arts. It became an ambassador for gourmet food and made Les Baux internationally famous (and yes, the hotel alone deserves its own post).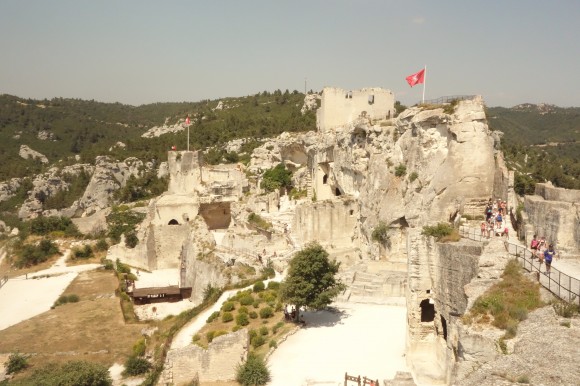 If you visit Les Baux you can see the well-worn remains of the Château des Baux (former feudal home of Monaco's Grimaldi family), Chapel of Saint Blaise, the private mansions (which are now museums), and the hôpital quiquéran. All of this sits above the Alpilles valley.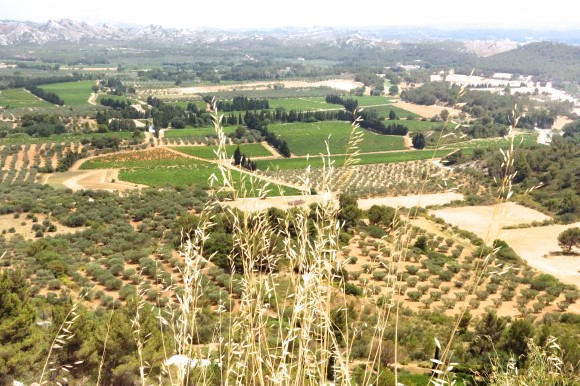 In addition to the history and beauty as well as shops and restaurants, it is a good family trip because there are all kinds of things that appeal to children including three types of catapults – trebucets, couillards and bricole -to hurl things, a windmill, and watch towers (tour sarrine – trou de l'auro). Did I mention the village stocks where every sibling in the area rushed toward to finally "get even" with the other.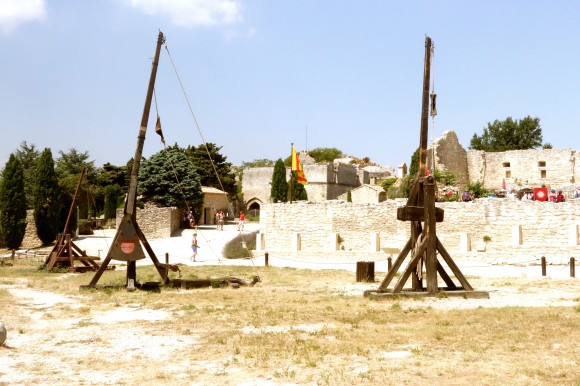 From April through September there are daily catapult demonstrations launching things through the air. There is also a medieval dual with audience participation as well as cross-bow shooting (although my girls were not particularity interested in the midieval aspect and just wanted a 2 euro frozen drink to cool them off).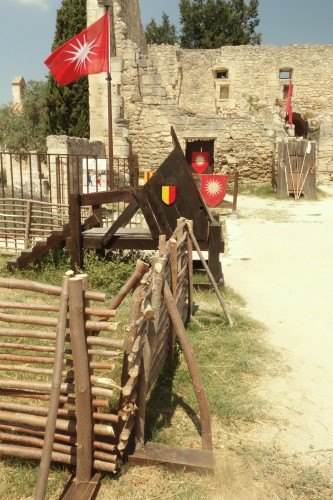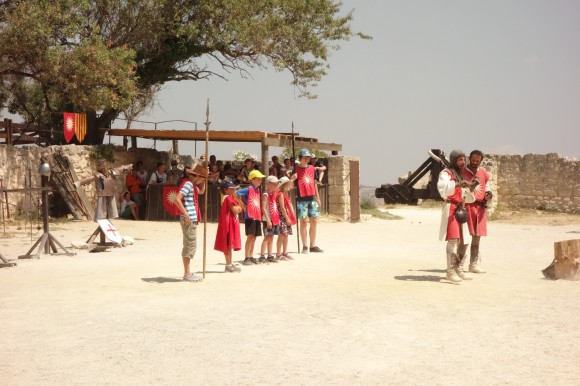 A few minutes north of the village and castle is the Carrières de Lumières. The stone taken out of these quarries built the village.  I have to say that I was overwhelmingly inspired (and surprisingly it had nothing to do with food).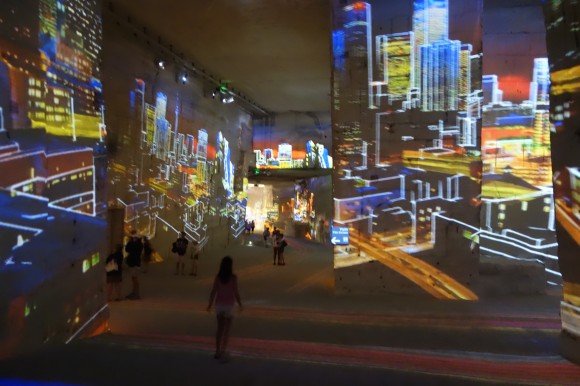 Images are projected on the wall, floor and celling of the quarry moving and set to music.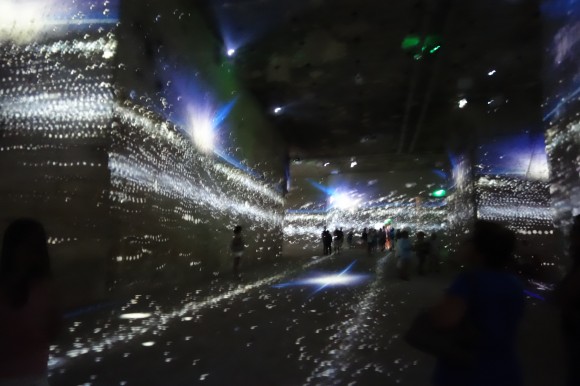 It is a wonderful human expression of  creativity through art and music.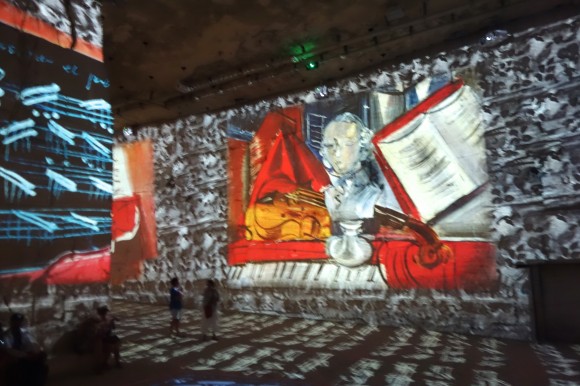 Although it was chilly, we remained in the quarry for quite some time.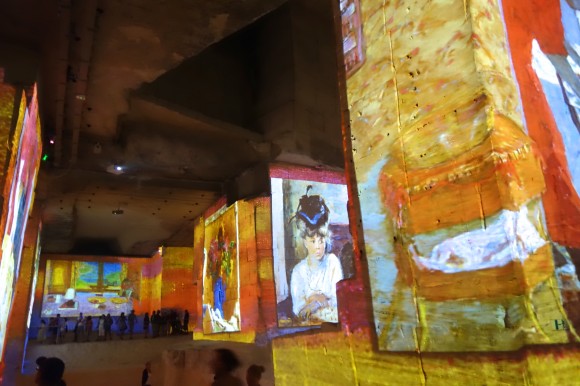 I am not sure how anyone can look at Chagall's embracing, whimsical figures sweeping through the air and not be inspired. I was.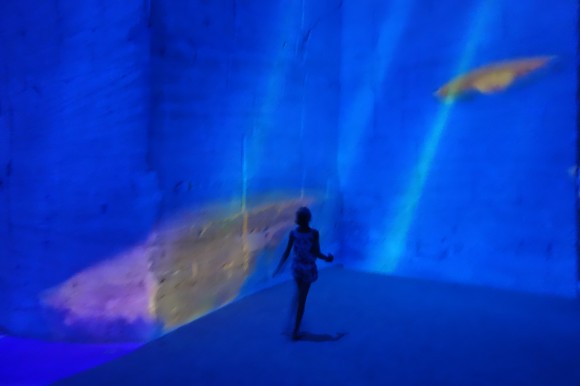 So I had interrupt this food journey with a little art and share these photographs with you.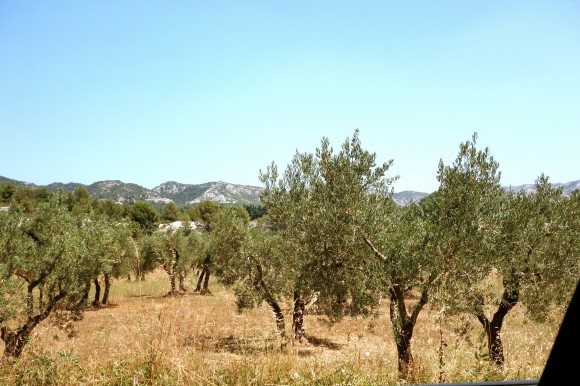 Coming back to the reason I wanted to visit Les Baux in the first place: olives.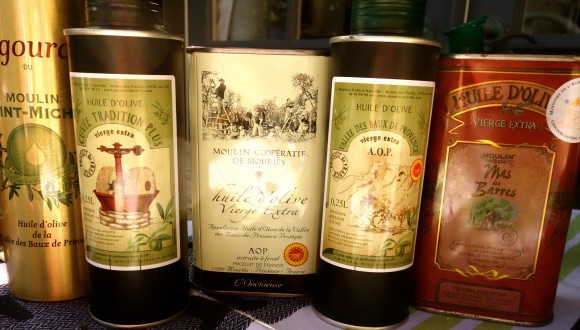 Three products in Les Baux are entitled to A.O.C. protection: the olive oil; cracked olives; and black olives. This is the only area in Provence that is entitled to A.O.C. protection for these products. (For more information about the A.O.C. /A.O.P. designations click here).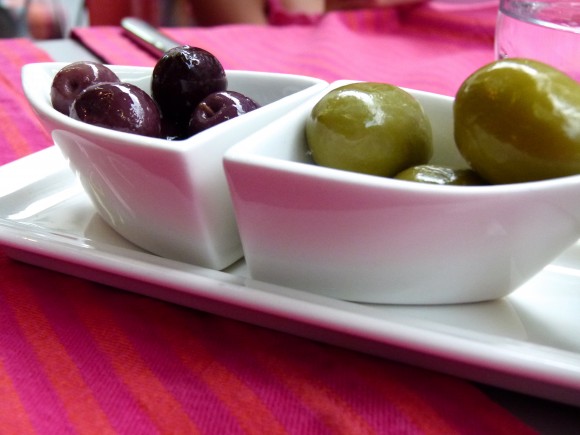 What makes Les Baux olive oils unique is that they are made from a combination of a variety of olives – la salonenque, la verdale de Fontvielle, la béruguette, and la grossane. Other varieties may be added (such as la picholine or cailletier) but these additions cannot exceed 5%.
Just a word about la salonenque olives…MIAM ! (that is the official French work for "yum").  La salonenque olives from Les Baux are sold also as cracked olives. They are rare to the world but account for approximately 60% of the trees in Les Baux valley. They are bright green (the color of avocado flesh for my fellow Californians), meaty and lush with a hint of fennel. The  meat separates from the pit easily. They also discolor quickly. They are precious and savored as table olives or "cracked olives" (which means they were slit or slightly bruised during the curing process to quickly absorb curing materials).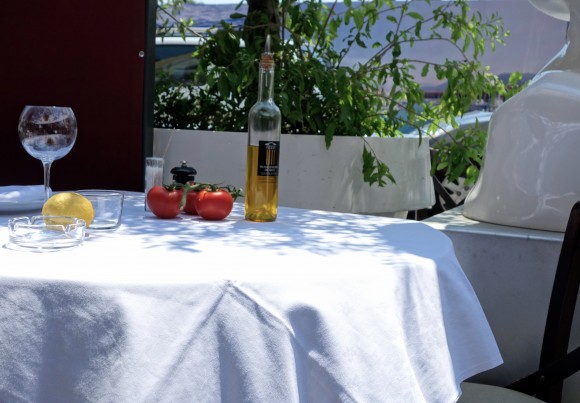 Back in Paris, I was already missing Provence so I made some tapenade. Tapenade is one of those things that is Provençal to its core. In Provence, tapenade is offered on most tables with croutons (what we think of a crostini). A bowl of olives is routinely served with apéritifs.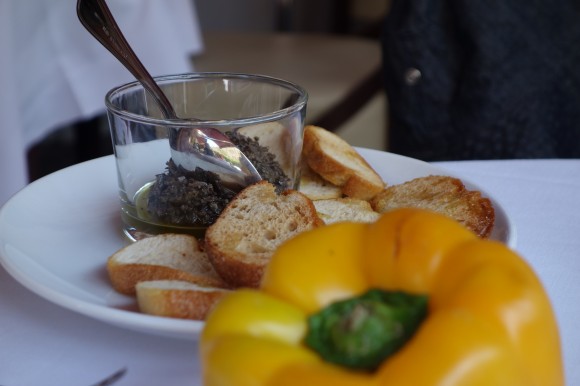 At dinner that evening we heaped the green tapenade, flecked with dark green fresh herbs, over steamed fish. The fresh market tomatoes sliced and layered with basil and mozzarella and served with crispy bread did not miss the tapenade either.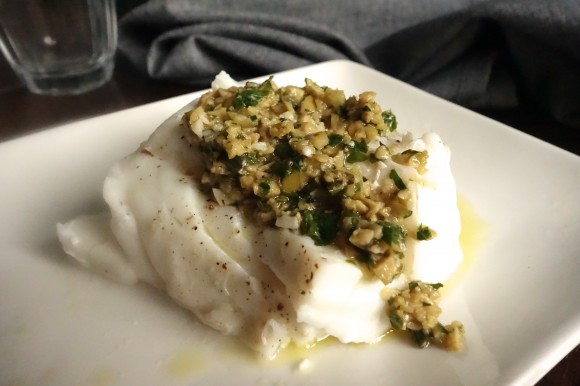 Over dinner, we talked about Les Baux and the fortress with its hurling contraptions. My youngest, while mimicking the trebuchet with her ficelle and pointer finger jokingly posed the question,
"What if they used tapenade to fling instead of stones?"
"Perhaps if people fed one another rather than throw stones they would have been more at peace," I responded, pulling away the piece of the morning's ficelle she held in her hand as a launcher aimed at her sister (and the newly painted ebony wall behind).
Life is delicious…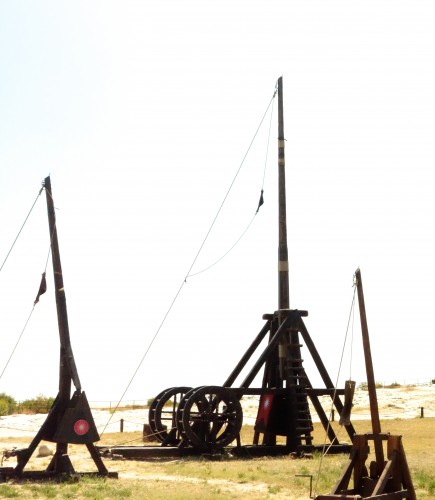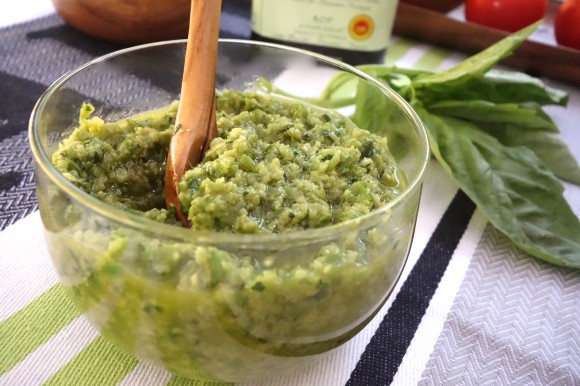 Because this post is entirely too long already, I have posted this week's recipe in a companion post.  You can find it here as well.
à table !
 LM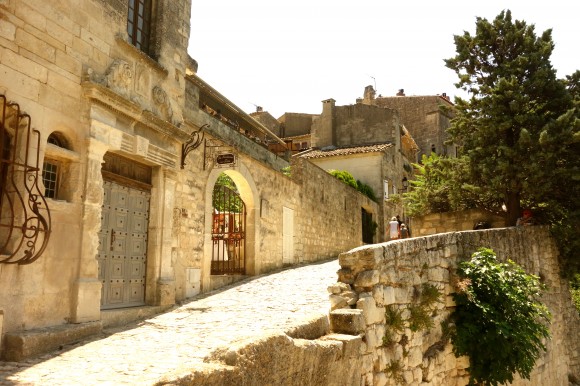 To visit Les Baux here are some sites to get you started
Office de Tourisme
Maison du Roy
13520 Les Baux-de-Provence
33 (0)4 90 54 34 99
www.lesbauxdeprovence.com
This site has an excellent list of restaurants in Les Baux-de-Provence
Ousau de Baumaniere
Relais & Chateux
Jean-Andre CHARIAL
Vallon de la Fontaine
13520 Les Baux-de-Provence
33 (0)4 90 54 33 07
www.oustaudebaumaniere.com
olive groves in the Vallée des Baux de Provence
Appellation d'Origine Protégée (AOP) area
You can visit  these olive groves. Contact their web sites directly for times and tours. In the interim, many of their products can be purchased online.
http://www.castelas.com
*Mas de l'Olivier, D27
13520 Les Baux-de-Provence
33 (0)4 90 54 50 86
www.moulinsaintmichel.com
cours Paul Revoli
13890 Mouries, Provence
33 (0)4 90 47 50 40
http://www.masdesbarres.com
13520 Maussane-les-Alpilles
33 (0)4 90 54 44 32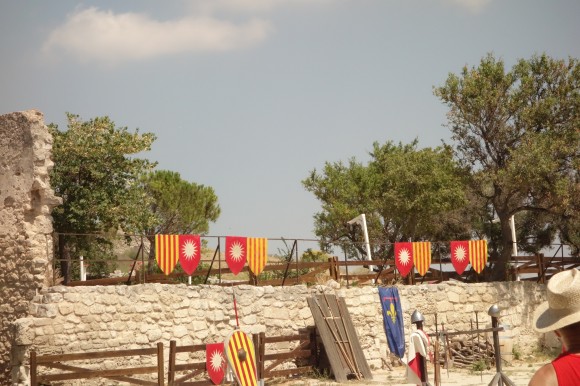 Tags: les baux-de-provence, olives, tapenade