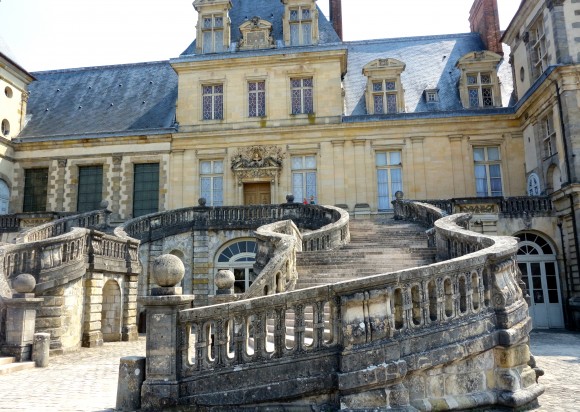 Paris day trip: Château de Fontainebleau 
emperors, strawberries, and a canoe on carp lake

recipe: summer strawberries with lime sugar and fresh mint 
Not far from Paris is a château rich in history. Yes, there are many. However, this particular château was inhabited for seven centuries by the royal and imperial French elite (most famously by  Napoleon I and Josephine). Surrounded by breathtaking courtyards, fountains, canal, gardens, a park, and a lake, it is a perfect Paris day trip. It is the Château de Fontainebleau and this week's recipe, summer strawberries with lime sugar and fresh mint, was inspired by a visit to this château. So until you get there in person – venez avec moi (come with me) – à la Château de Fontainebleau. 
Allez -y (let's go) !
LM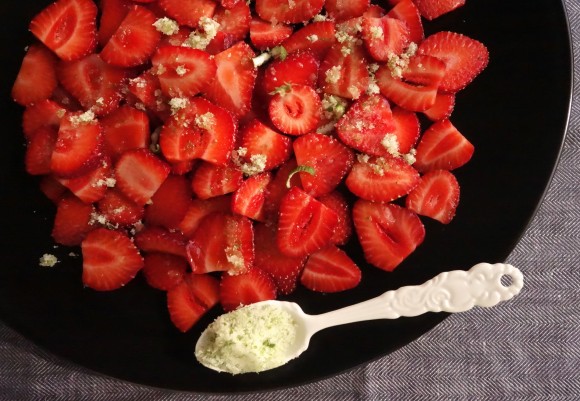 Two summers ago, I drove from the south of France back to Paris (I had too many variations of flour, honey, olive oils, and wine from Châteaunauf du Pape to return to Paris by train…another story for another time…). As I drove, I passed the signs for Fountainebleau and wondered why I had never gone. There was no reason for it really. I had always heard wonderful things and it is not far from Paris. I made it a point to add the day trip to my 2013 "to do" list.  2013 "to do" list done.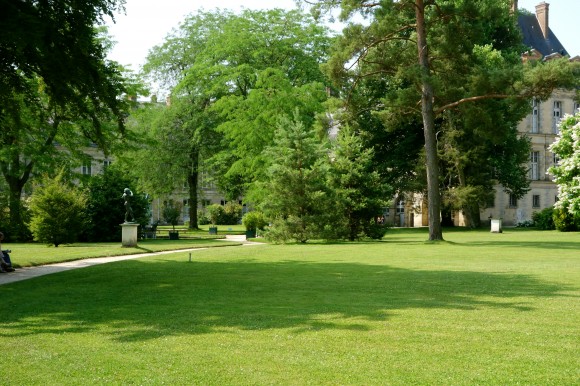 The Château de Fontainebleau is in the town of Fontainebleau, south of Paris. It is an easy one and one half hour train ride and you can purchase your tickets at the Gare that day (look at the SNCF schedule for train times) to one of three directions: Montereau-Fault-Yonne or Laroche Migennes or Montargis.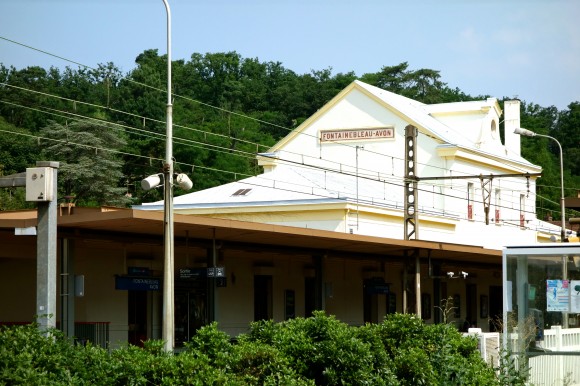 Get off at the Fontainebleau-Avon stop. There is a bus that arrives frequently to take you to town (exit Poste-Château). Here you will find the Château. It is easy.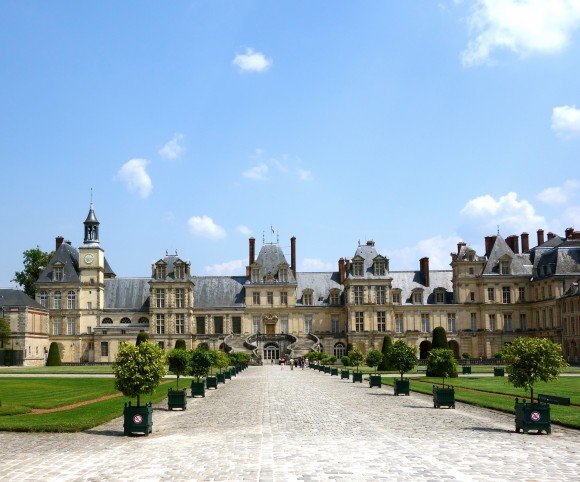 The town itself is charming.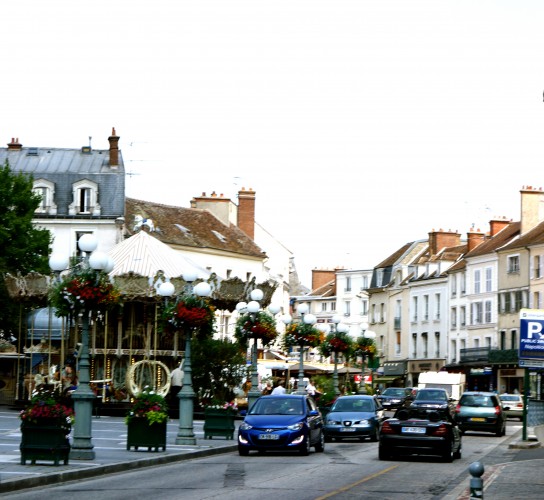 The fact that it has Paul LaMotte, an épicerie, wine and gourmet ice cream shop in the middle of the shops and cafés, is an added bonus and distraction (at least it was for me).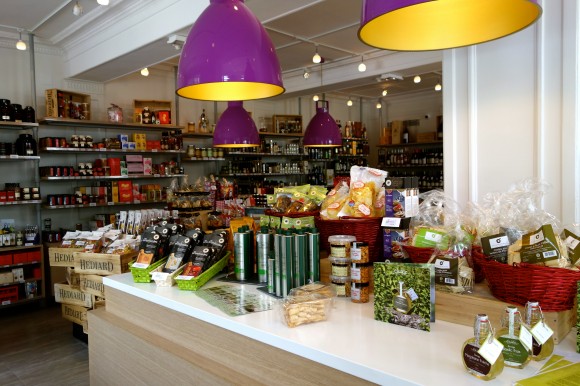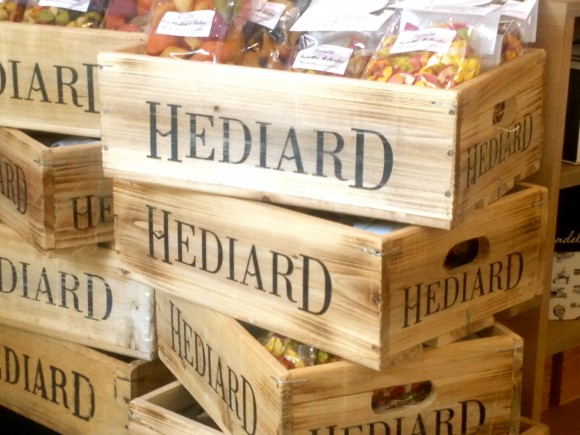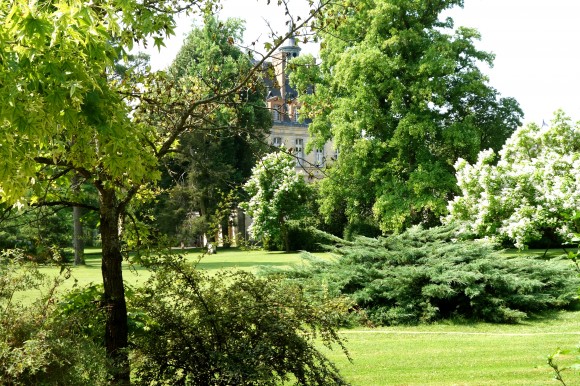 Like many of the medieval châteaux in France, the Château de Fontainebleau you see now is not the original. Only a portion of the original from 1137 survives.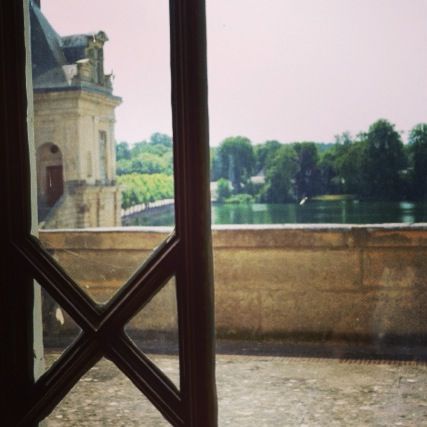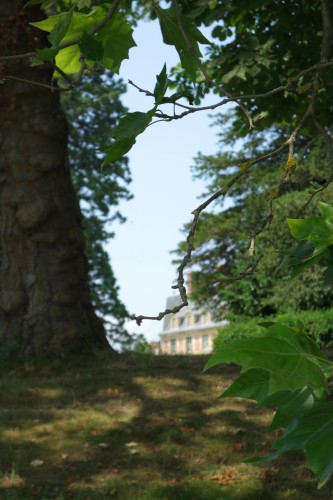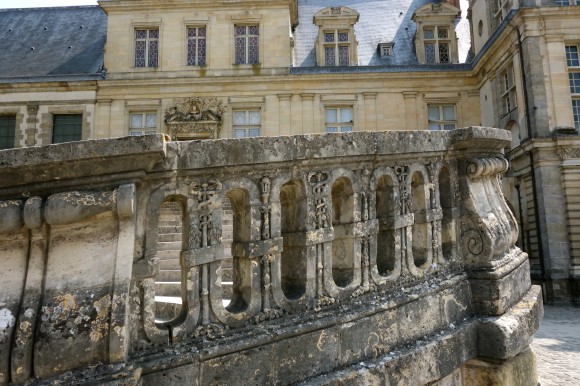 The Château was rebuilt and expanded throughout the centuries. During the French Revolution the furniture was taken but the buildings survived.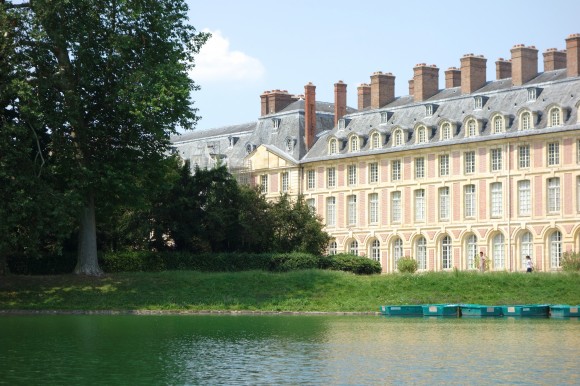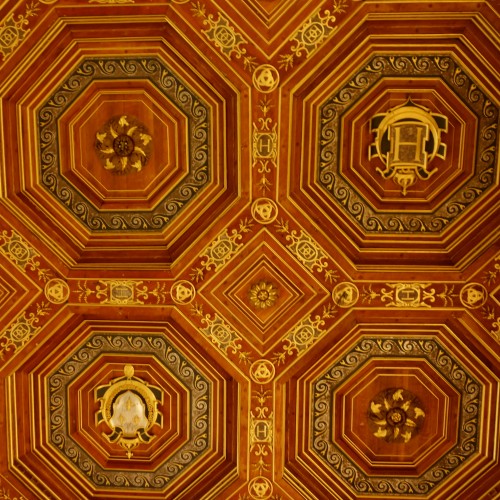 The Château houses a selection of art (paintings, furniture, ceramics) and includes four museums. My childrens' favorite was the Napoleon I Museum with its collection of arms, weapons, uniforms, paintings, crowns, and the "Throne Room."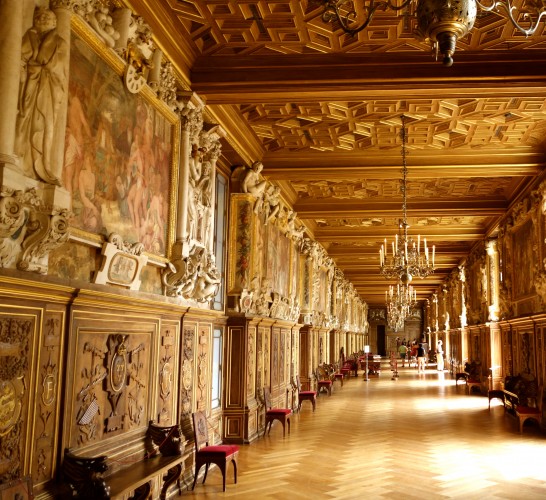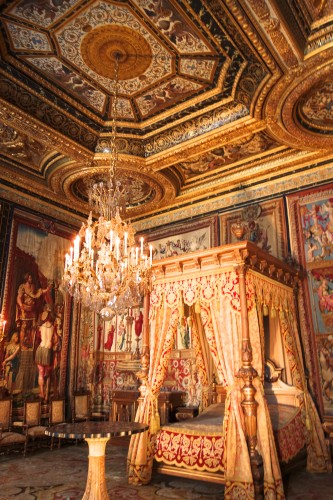 The Château is filled with wood-carved walls, ceilings and furniture. There are tapestries and wooden chandeliers everywhere.
While la Château de Versailles (see here) is filled with bright, gold and a rather impersonal opulence, Fontainebleau is a woodsy, rich, tapestry of warm, primarily dark colors (by no means less grand than Versailles, just different).
The grounds were my personal favorite: lush and inviting with deep greens and blues. Truthfully, I found it peaceful and less crowded than Versailles.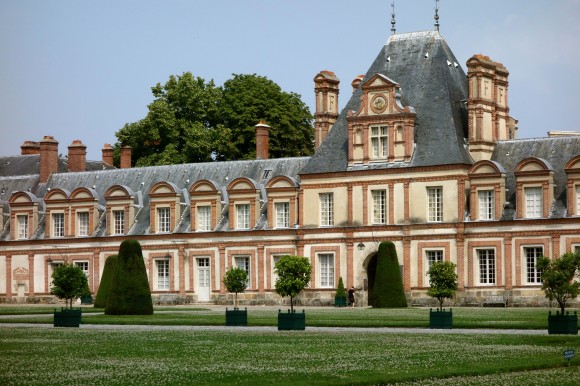 The Grand Parterre is the largest formal garden in Europe. Jardin de Diane (Diana Garden) is the smallest garden on the grounds. It is named after the goddess Diana (the huntress). It used to be the King's private garden and it was my favorite….down to the authentic stone hunting dogs in the fountain with Diana.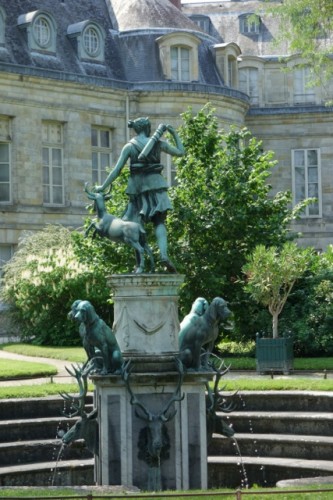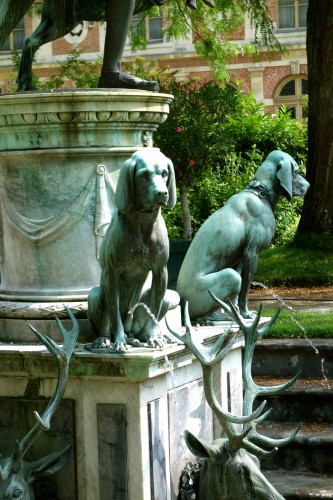 The Pavillon de l'Étang (Pavilion of the Carp Pond) sits in the middle of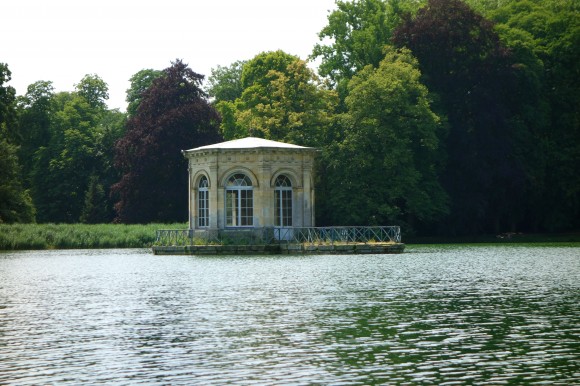 the Étang aux Carpes (the Carp Pond) where the ducks and carp compete for attention and food.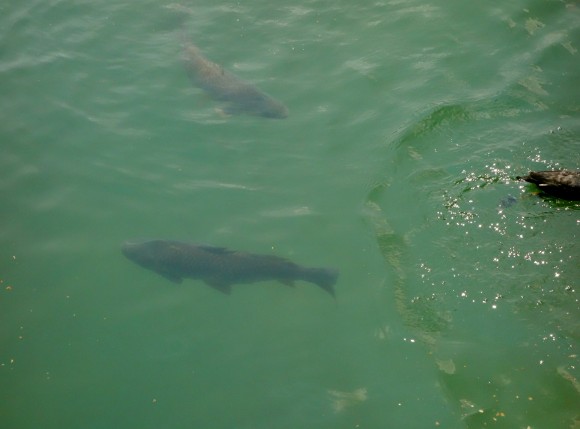 Bring a picnic.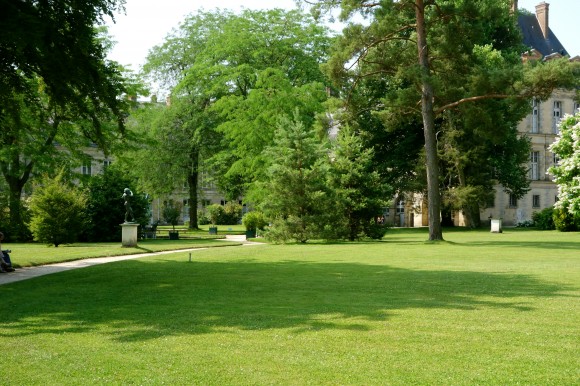 Canoe on Carp "Pond."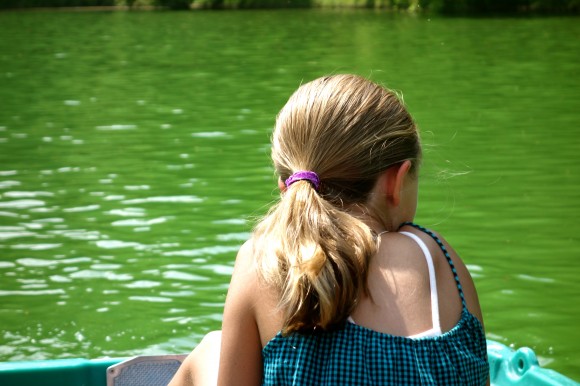 Feed the ducks.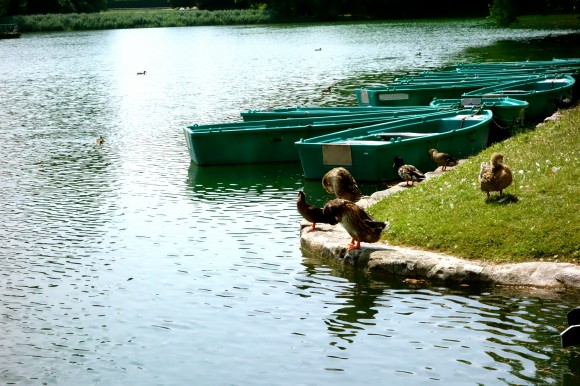 Take a ride in a horse-drawn carriage in the Park or the Grand Parterre or take a night tour under the stars. For a few weeks in the summer there are also concerts in the château. I am confident that this is a day trip you will enjoy and want to return.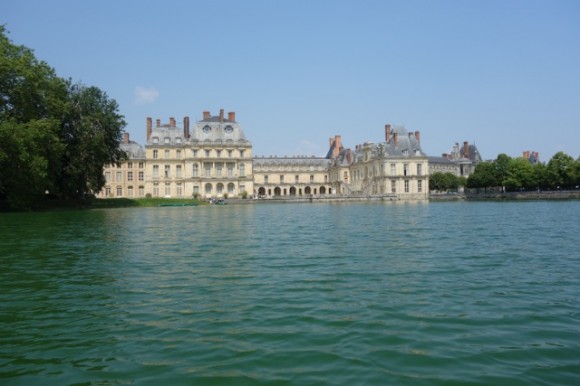 At the lake we snacked on fresh red summer fruit. I love it when strawberries are so fresh that they stain your lips red and mark the corners of your mouth when you bite into them. I suppose Lord Byron would call this "stung strawberry lips" (opposed to the "bee stung lips" he spoke of in his poetry when referring to sensual, full lips).
This week's recipe – summer strawberries with lime sugar and fresh mint -reminds me of  our visit to the Château. The red strawberries remind me of the Château's most famous inhabitants – Napoleon I and Josephine.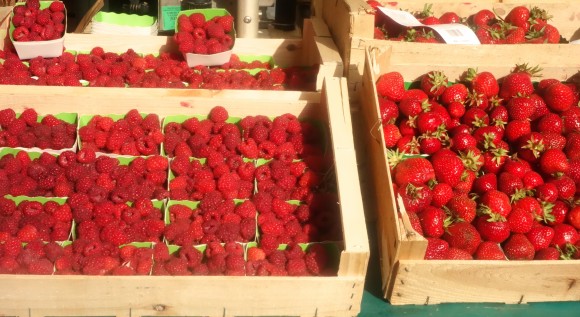 The fresh taste and color of the lime zest-infused sugar and the fresh mint leaves reminds me of the lush green gardens.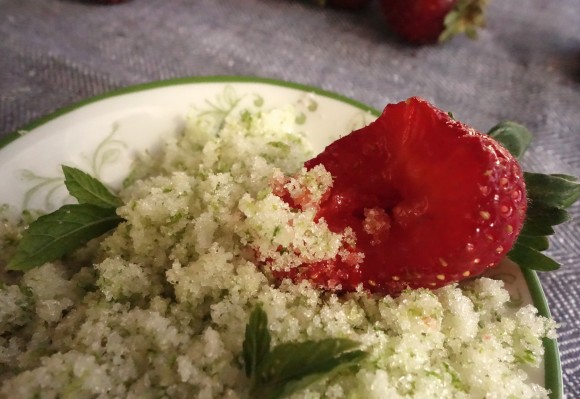 Together, the color and taste combination is perfect for a picnic at a château or to the conclusion of a simple dinner at home.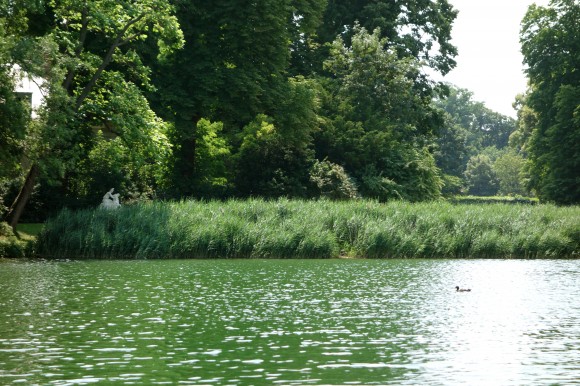 And, a little musical pairing to take your thoughts back to these photos as you prepare your strawberries. The recipe is below.
I wish you a bon week-end and my hope is that this post will give you something to bring to your dinner table tonight in more ways than one.
à table (come to the table)
LM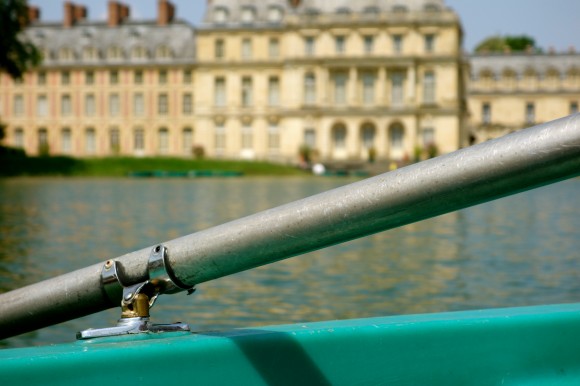 for more information, visit this site:
Château de Fontainebleau
77300 Fontainebleau
33 01 60 71 50 70
http://www.musee-chateau-fontainebleau.fr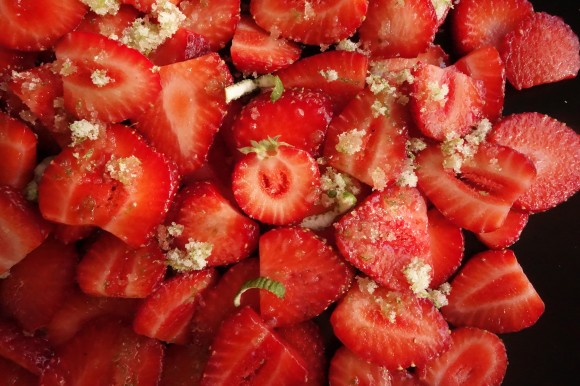 summer strawberries with lime sugar and fresh mint
serves many happy people
you need:
2 baskets beautiful, organic red, ripe strawberries, sliced
¼ cup granulated sugar
3 teaspoons fresh lime zest
¼ teaspoon fresh lime juice
fresh mint leaves (as needed)
how to:
Make Sugar.

Combine sugar, lime zest, and juice in a bowl. Use your fingers to combine the lime and sugar together (it will turn a pale green).

Strawberries.

Slice the strawberries and put the slices on a plate. Sprinkle lime sugar over berries (about 10 minutes before service). Garnish with mint leaves in a tasteful way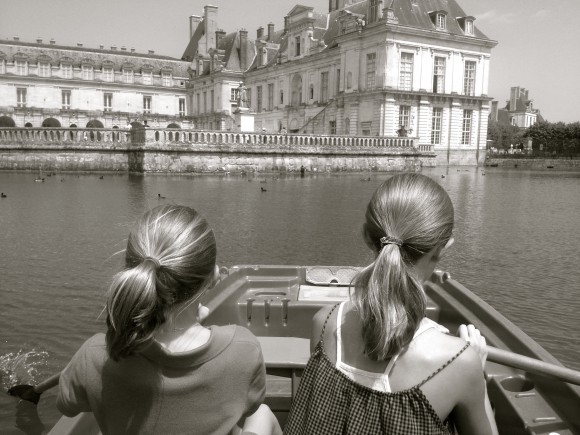 Tags: Château de Fontainebleau, desserts, easy desserts, mint, Paris day trips, picnic, strawberries, strawberries with lime sugar