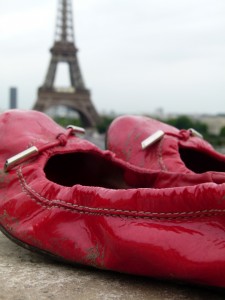 a one year anniversary and life is just peachy:
summer peach mousse with crushed almonds and rose biscuits
Paris is historical, inspirational, and romantic. For many people, it is bon goût (good taste) in all meanings of the word – gastronomically, artistically, architecturally, in fashion – to name a few. For me, my red chef shoes bring me here time and time again and the magic never dulls. One year ago I finally found an  apartment in this city which I fell in love with so many years ago. It is this anniversary which inspired this week's simple pleasure: summer peach mousse with crushed almonds and rose biscuits.
finding it
I looked at Paris apartments for years (seriously looked for the last few years). Brokers and agents (on two continents) the internet, and walking the streets…I have seen everything from large turn-key places in central Paris with panoramic views (those were few given my price range) to apartments with tilted stairs leading to the home of the "cat lady" and her many cats (which wildly jumped everywhere, including, from the stacks of magazines and books lining the hallways to the top of my head). I looked on both sides of the Seine; I expanded my search to neighborhoods that were not my first choice. Finding an apartment in Paris takes time. Once you find the place of your dreams, you must seize the opportunity or it will be gone (just like cooking, if you do not take the tart out of the oven when you smell that it is "done" your opportunity will be lost, the good smell will dissipate, and soon your tart will burn). 
I found my Paris apartment one year ago today. I knew the minute I stepped foot in this sunny spot that I finally found it. Time to take the tart out of the oven, my Paris apartment search was "done." It was worth the wait. Ironically it is in the neighborhood I had originally wanted, close to my friends, and my favorite park. It is modest in size and the kitchen is smaller than most American closets. It is said that Maria Callas walked her dog on my street. I do not know about that, I have only walked a floor lamp (and a vacuum, other household items  and loads of groceries). More on that for another time.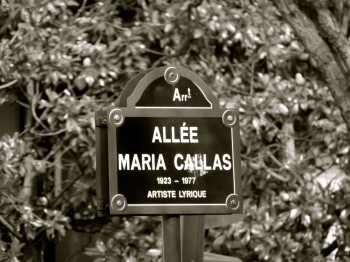 Once you find that special piece of stone in Paris, an entirely "foreign" process unravels and the learning curve is quick and steep. The offer, counteroffer, and acceptance process (all written in French) happened before my plane landed in Los Angeles. I then was on the fast train (fast in some respects, very French in others) of the notaire process, reading through lengthy French legal documents, and learning French banking laws. This only to be followed by figuring out how to ship furniture overseas, gutting and remodeling the apartment, obtaining insurance, finding contractors, painters, and where to find appliances and the best price on sheets, setting up utilities, the internet, sleeping on the floor, working in cafés because my place had electrical wires, dust, and workers everywhere and I had deadlines… it has all been quite an interesting, learning experience. At times the implementation of my dream seemed an overwhelming task to undertake on my own. Doing it part-time, back and forth overseas, has only added to the adventure. The year has gone by quicker than you can say "bon appétit."  It has been worth it.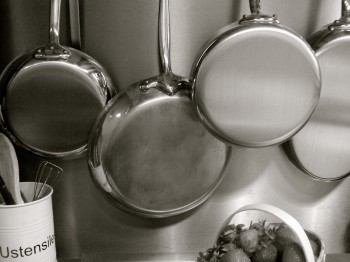 living it
My taste and inspiration for everything culinary (as well as life in general) always leads me to France. Paris intuitively felt like home to me far before I owned property here. Naturally, I am often asked: "If you love France so much why don't you just move there full- time?" The short answer is this: I promised two people, whom I love more than anything else, that I would not move to France without them. They have to stay in Los Angeles and so when they are with me, I am in Los Angeles, too, sans regret. In that respect, my dream of moving to Paris and pursuing my culinary career there full-time is "deferred", some would say, until my youngest graduates from high school. 
I write of food and life interchangeably because the kitchen is a microcosm of life, just a smaller defined physical space. There are successes. There are accidents. You can get burned. You have to make adjustments (i.e.,  your seasoning and your heat) along the way and you have to navigate around, or adapt to things, over which you have minimal control or no control at all (i.e., the weather, the altitude, the ingredients and equipment you have on hand).
Working in other people's kitchens has taught me to expect the unexpected: non-functioning ovens; no space in the refrigerator; cats and dogs or children underfoot; fighting hosts.  Of course, there are also the foreseen mishaps: servers that are sick or stuck in traffic; something was frozen in the middle because the refrigerator was too cold; a sudden wind blew the dessert off the stands; there were more than guests than anticipated; the CO2 cartridges were lost; undisclosed food allergies discovered; plated food dropped on its way to the table, et cetera. I could blog for years about dinners and catering jobs where my plan was not executed exactly as planned. However, in the end it always turned out well (and sometimes better than imagined). 
Kitchen lessons are good lessons for our lives. While it is good to have a "recipe," accepting that its execution may not go in a way you had hoped or intended is key.  In fact, we have all benefitted from some famous kitchen "accidents:" tarte Tatin, crêpes suzette, and even Toll House chocolate chip cookies. None of these were plan "A."
Although I am not living in Paris full-time as I had hoped, I see no dream-deferred here. To me, it has been realized, more and more every day, and in ways I had not imagined or planned. So today I celebrate this one year anniversary with optimism and immeasurable gratitude. As my daughters would say, life is just "peachy," Mom.  They are right and with that "peachy keen" sentiment it seems only fitting to share with you a summer peach recipe that will add a little sweetness and levity to whatever kind of day you are having and on whatever continent you may be.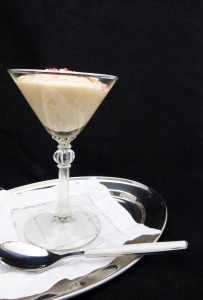 ingredient and production notes
The quality of this mousse depends upon the peaches you use. If you use fresh, ripe, sweet peaches, your mousse will be delicious. If you use anything less than that, your mousse will be flavorless because very little sugar is added to this recipe.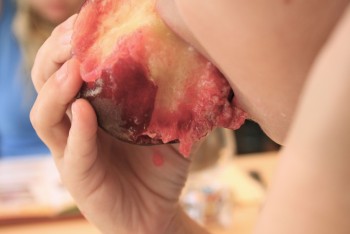 When selecting peaches, choose peaches that are soft, but not too soft, and certainly not bruised or damaged. The color should be … exactly as it is in the picture above.  If your peaches are ripe, you will easily be able to push the flesh through a strainer with your hand without effort. Do not use frozen peaches because they are often preserved with ascorbic acid or citrus acid and it will affect the taste and sometimes the color (turning your mousse a dull yellow). If you visit the Santa Monica Farmer's Market on Wednesday morning, look for "Fitz" of Fitzgerald Premium Stone Fruit. I find his stone fruit to be the most consistently flavorful. Fitz's stand is across from McGrath Family Farm's stand and near the coffee stand. 
I leave you now to walk to dinner and watch the setting sun fight with the rain clouds for control of the evening Paris sky.  It is a beautiful day.
Mangez bien (eat well) 
Vivez bien (live well) 
et un très bon appétit ! 
LM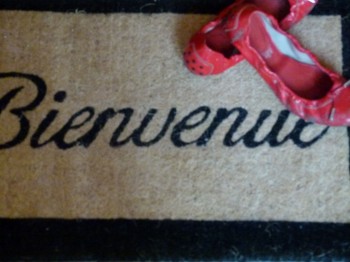 Tags: anniversary, buying Paris apartment, dessert, France, kitchen, Paris (Paris), peach mousse, rose biscuits, simple pleasures, summer