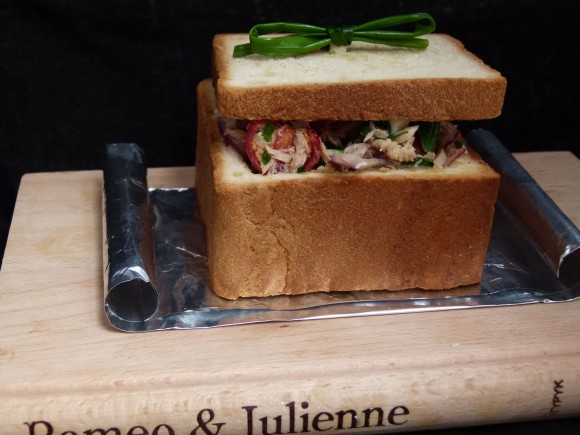 pan bagnat au cadeau
makes 4
what you need:
sandwich
1 loaf quality pain de mie (or sandwich or olive bread)
12 ounces (320 gr) canned tuna packed in olive oil, drained, oil reserved
20 beautiful, ripe cherry tomatoes, halved
¾ cup rough chopped fresh sweet basil
1 small red onion, thinly sliced
2 hard-boiled eggs, diced
4 garlic cloves, thinly sliced
4 teaspoons minced chives
anchovy filets (optional)
dressing
6 tablespoons quality olive oil (if needed)
2 teaspoons sel de Guérande (or sea salt)
2 tablespoons red wine vinegar
2 teaspoons dijon mustard
pinch piment d'espelette
aluminum foil (as needed)
kitchen twine (as needed)
how to:
Make Bread Boxes.

Cut a 3" slice of the pain de mie (this will be the gift box). Cut another ¾"-1" slice (this will be the gift box lid). Repeat three more times. Take the 4 large slices and cut ½" along the interior edge. Use scissors or a short knife, carefully remove remove the interior of the slice but leave ½-1" of bread on the bottom for the bottom of the gift box. Set aside.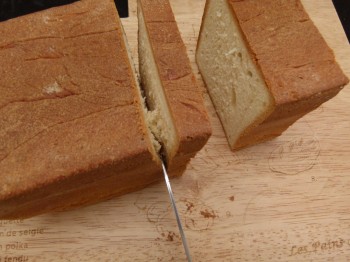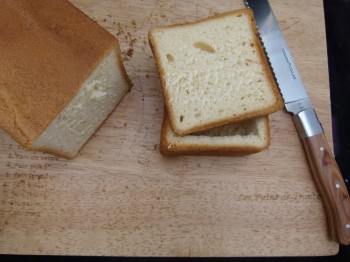 Boil Eggs.

Place the eggs in a saucepan filled with cold water. Place over medium-high heat. Bring to a boil. Once a boil is reached, turn the heat off and place a lid on the saucepan. Let it set for 10 minutes. Carefully remove the eggs from and then drain. Let the eggs cool and reserve.
Make Dressing.

Drain the oil from the tuna. Use 6 tablespoons of the drained oil (if there is not even, supplement with additional olive oil). Place in a bowl separate from the tuna. Add the vinegar, salt, piment, and mustard to the oil. Whisk well to achieve an emulsion.
Bathe Bread.

Use a brush or spoon (or your fingers) to add dressing along the interior sides of the gift box as well as on one side of the lid. Do not add too much dressing because the slices are thin.
Mix/Dress Salad.

Once cool, dice the eggs, and add to the tuna. Add the basil, chives, tomatoes, garlic, onions, and anchovies. Add the remaining dressing to the ingredients and gently mix with your hands to incorporate. Spread the salad evenly amongst the 4 gift boxes. Place the lid on top. Wrap the sandwich boxes in aluminum foil.
Serve.

The sandwiches will last a few hours and taste even better after the bread has absorbed the dressing and taken on the flavors of the salad.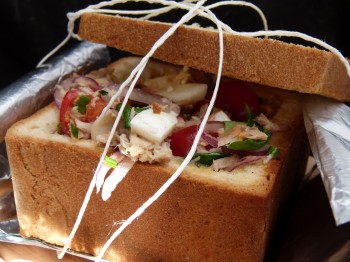 Tags: anchovy fillets, appetizer, bread, cherry tomatoes, eggs, french cooking recipes, pan bagnat, pan bagnat au cadeau, piment d'espelette, sandwich, simple pleasures, tuna