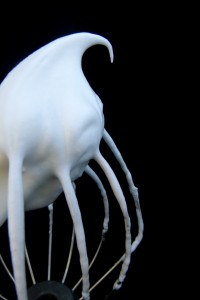 soufflés
Soufflés.   Impressive to guests.   Intimidating to cooks.   This recipe will keep the impressive factor and eliminate the intimidation factor.
Sweet or savory, soufflés consist of three parts:


Developing the

flavor

(Essentially, what is the soufflé supposed to taste like?  Here, apples and cheese);
Making the

structure

(This is the foundation for the soufflé, what gives the soufflé its strength.  Here, it is a classic spice-infused béchamel bound with egg yolks); and
Creating a

lift

(This is what makes it rise.  In soufflés the rise is due to the air trapped in the whisked egg whites that turns to steam and expands with oven heat).
The first two steps can be done ahead of time and stored in the refrigerator for up to two days.   When you are ready to make it, let it come to room temperature, whisk the eggs, fold into the base and bake.
This soufflé recipe is perfect for Fall and it is versatile as it can be served as a side-dish or a dessert (after all, it really is apple pie just re-configured).  As written, this recipe is also user-friendly because you have less chance of a fallen soufflé  (the sugar in the egg whites acts as a stabilizer and the lower oven temperature allows the soufflé to cook in the middle, rather than be molten).

The recipe calls for 4 or 5 year aged Gouda which is delicious with apples.  Aged Gouda has a rich flavor with butterscotch/caramel overtones and small salty pieces in it (which occur naturally in cheese the longer it is aged).    Some popular aged Goudas are Beemster, Rembrandt and Saenkanter.  Aged Gouda is sold in cheese shops (some grocery stores are beginning to carry it such as Whole Foods).  If you cannot find aged Gouda, you can use another hard, grating cheeses such as Gruyère, Cheddar, Comté, or Mimolette.  Make sure you finely grate it and it is incorporated in the base while it is warm as the oven heat is not hot enough to melt largely grated hard cheese.
As for the apples, you can use a variety of different apples or a combination of a few.   My favorites to use  are Braeburn, Cortland, Crispin (Mutsu), Fuji, and Pink Lady.   Once I was asked:  "Can I use store-bought apple sauce instead?"   A hush fell over the room.   My response: "… I am going to pretend I did not hear that."   I was joking of course and the answer is that you can use store-bought applesauce although the result will be average at best.
If you use store-bought apple sauce the taste will not be the same because you do not know the quality of apples used and most of the time apple sauce has water added to it.   In addition to a loss of flavor, you lose control of texture (i.e., you can purée the apple mixture to your liking – if you want some apple chunks in the soufflé – you can purée the apples less).  Lastly,  store-bought apple sauce contains a lot moisture and thus, the recipe ratio can thrown off.  Although you can minimize this by cooking some of the moisture out by placing the sauce in a sauté pan and cooking it until it is drier consistency, it  is not the same.
I think you will find that the little extra effort of puréeing your own apples and using a quality cheese will result in a delicious treat.  Whatever you do, I hope you try this recipe and create something wonderful.  As always, je vous souhaite un bon appétit !
LM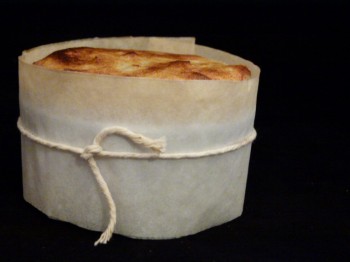 apple and aged Gouda soufflé
stats:
Yield:  14 small ramekins (2 1/4 inches) or 8  (3 inch) ramekins
Serves:  8 (approximately 328 calories per serving)
base
1  1/2  cups apple juice  (reduced to 3/4 cup (6 oz))
1 pound apples (yield), cored, peeled and diced
2 tablespoons unsalted butter
1/2 teaspoon ground cinnamon
1 tablespoon granulated sugar
3/4 cup two percent milk
1/2  cup light brown sugar
1/4 teaspoon freshly ground nutmeg
1/8 teaspoon ground black pepper
4 tablespoons unsalted butter
1/2 cup (2 ounces) all purpose flour
4 egg yolks
1/4 cup Gruyère, grated
5 ounces finely grated Gouda Cheese, aged 5 (or 4) years, wax rind removed
1 teaspoon kosher salt
soufflé
6 egg whites
1/4 cup granulated sugar
dishes
granulated sugar (as needed)
unsalted butter (as needed)
how to:
Prepare Soufflé Dishes

.  Butter soufflé dishes and sprinkle with granulated sugar.  Shake off the excess.  If you want the soufflé to have a straight rise, line the inside of the soufflé dish with a buttered and sugared paper which comes two inches above the top of the soufflé dish.  You can put the paper on the outside but  the edges will not be as straight (which I think is actually nicer for savory soufflés).
(1) Make Flavor Base
Reduce Apple Juice

.  Place  1  1/2  cups of apple juice in a sauce pan over medium-high heat.  Cook until juice is reduced to half  ( 3/4  cup).   Set aside.
Prepare Apples

.  Wash, peel, core, and dice apples.  Place a large sauté pan over medium-high heat.  Once pan is warm, add 2 tablespoons butter.  When butter has melted, add cinnamon and sugar.   Add apples and toss in cinnamon-sugar.  Add a pinch of  kosher salt.  Cook apples until tender (can easily insert a fork).   Add apple juice reduction.   Simmer for 5 minutes.  Remove from heat.
Purée

.  Pour apples and juice into deep bowl or a blender.  Use an immersion blender (or the blender) to purée apples and juice until smooth, leaving a few small apple chunks to add texture.   Set aside.
(2)Make Soufflé Base
Scald Milk

. In a sauce pan over high heat, scald the milk, pepper, nutmeg, and brown sugar.  Set aside.
Make Roux

. Melt 4 tablespoons butter in sauté pan.  Once melted, whisk in flour.  Continue to cook (and whisk) for about 2-3 minutes, until flour taste is gone.
Add Milk (Make A Béchamel)

.  Whisk scalded milk mixture into roux. Remove from heat.
Add Yolks.

Off the heat (or you will have scrambled eggs), add yolks into mixture one at a time.
Add Flavor

.  Pour the béchamel  into the apple purée.  Add the grated cheese.  Stir to incorporate.  Adjust seasoning (taste before you add salt).   Your soufflé base is done.  You can store it in an air-tight container in the refrigerator for up to two days.  However, before you finish the recipe, let it come to room temperature or warm it over a bain marie.


Make It Rise  (leavening power)
(3) Make It Rise (leavening power)

Whisk Until Foamy

.  Using an electric mixer with the whisk attachment, beat egg whites on high speed.
Add Sugar.

When whites begin to foam rain in sugar (slowly pour it) into the egg whites and continue to whisk until the whites hold firm peaks.  If your whites look a little lumpy instead of "peaky" you over-mixed and the whites are breaking down.  You can start-over with fresh eggs, or add another egg white to the broken whites.
Add Egg Whites To Base

.  Stir 1/3 of the egg whites into apple base.  Fold in the remaining whites using a large spoon or spatula.
Bake

.  Spoon mixture into prepared soufflé dish(es).  Bake in an oven preheated to

375 degrees Fahrenheit

for about 35-40 minutes until puffed and golden brown and the center is set.
Serve immediately.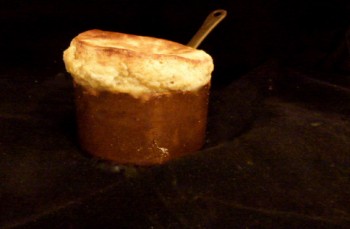 final thoughts on soufflés and Plan B
Why do soufflés fall?  Soufflés generally fall because the egg whites are either under-whisked or over-whisked, the oven temperature is too low, and/or  the oven door was opened or the soufflés were otherwise disturbed and not fully set.   All of these can be prevented.
What if the soufflé falls?  If your soufflé falls, generally it will not re-rise even if returned to the oven immediately.  If serving this as a dessert, you can place a ice cream quenelle on the top.  Or remove the fallen soufflé from the soufflé dish and serve it in a round shape and call it a "timbale" or serve in a small side dish.   Alternatively, make a twice-baked soufflé:  hollow out a peeled apple, rub the apple with lemon juice, stuff the hollowed-out apple with the fallen (and cooled) soufflé and bake it in the oven at 350 degrees Fahrenheit  until the apple is tender (this is also a great way to use the soufflé left-overs, assuming you have any.)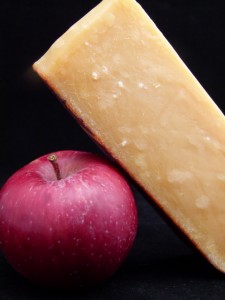 where to buy
Aged Gouda can be found on the internet and at some grocery stores.  In Los Angeles, you can find aged Gouda at:
The Cheese Store of Beverly Hills
419 North Beverly Drive
Beverly Hills
310.278.2855
www.cheesestorebh.com
Tags: aged Gouda, apples, cheese, french cooking recipes, savory souffle, simple pleasures, souffle, twice-baked souffle