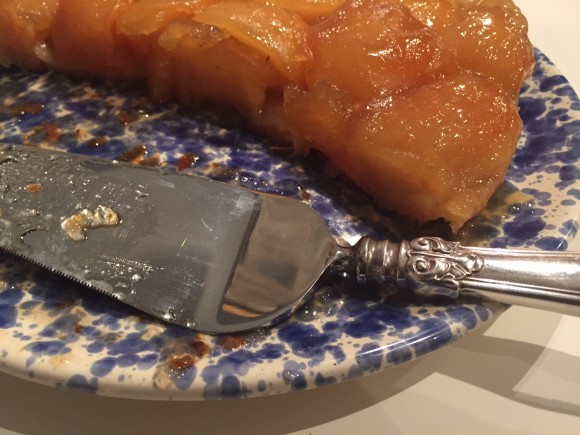 Tarte Tatin
You can substitute the apples for another fresh fruit such as apricots, peaches, nectarines, rhubarb, or pears. You can make savory renditions as well. Pan-roasted cherry and basil tomato tart (with or without burrata or mozzarella cheese), cauliflower with almonds, or summer squash tart are a few of my favorites. For tomato or zucchini tarts, eliminate the sugar and butter, and use a little olive oil in the pan instead. For cauliflower, you can caramelize it as you would apples.
makes 1 10″ Tart 
ingredients:
7-8 apples (Rome, Pomme Reinette, Caville, Gala), peeled, cored, and halved
fresh lemon juice
3 tablespoons unsalted butter
1 cup granulated sugar
pinch of kosher salt
1 pie dough, pâte sucrée, or puff pastry 
 instructions:
Preheat Oven.

Preheat oven

to 400 degrees Fahrenheit.
Make Pastry Dough

.

Make enough pie dough, pâte sucrée or puff pastry for one 10 inch tart. Chill until ready for use. If using frozen puff pastry, defrost in the refrigerator until use.
Prepare Apples.

 

Peel apples. Remove core and seeds. Squeeze lemon juice on the peeled apples to prevent browning. If apples are large, cut into quarters.
Cook Apples

.

Melt butter in an oven-proof sauté pan over medium heat. Pour sugar over the melted butter. Dissolve. Add apples. The apples will shrink when cooked, so at this stage they will be laying on their sides. Continue to cook until the apples are soft and the butter-sugar mixture is thick and bubbly. Use a spoon to baste the butter-sugar mixture over the apples. Be patient. It takes about 30 minutes (depending upon size of the apples) to cook them. Turn off flame.
Cover with Dough.

Roll out the pastry dough slightly with a rolling pin. Cut dough into a circle to cover the pan. Arrange the apples in pan with flat sides facing up (or if cut, arrange them in a decorative way). Cover the apples with the pastry dough. Tuck the pastry inside the rim of the sauté pan (do not let it hang over the edge of the pan).
Caramelize (Bake)

.

Place the pan in the oven. Bake until the pastry dough is brown about 20 minutes. CAREFULLY remove the pan from the oven using to use a potholder or towel. Let the tart slightly cool in the pan for about 10 minutes so the carmel can settle.
Invert.

Place a plate over the pan (with the bottom facing up) and invert the tart gently onto the plate. The apples should be a deep caramel color. Remember to do this carefully and use a towel as the pan handle may still be hot.
Serve

. The tart is best enjoyed warm and generally served with real vanilla ice cream. The tart tastes best the day it is prepared.