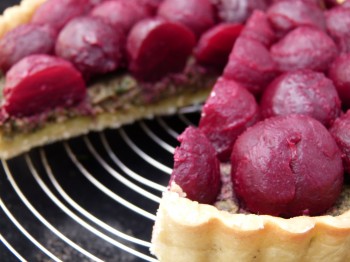 are you sure this is not dessert ?
savory beet tart with pecan and beet greens pesto and burrata
Children are not the only ones who like to play with food and this week's simple pleasure is just that: a healthy play on a dessert. Although it resembles a fruit tart with ice cream, we eliminate the sweet pastry dough, the pastry crème, fruit, and ice cream and replace them with a no-sugar crust, pesto filling (made with pecans and the fresh beet greens), roasted beets, and a side of cheese. Trop Miam ! (so yummy).  This unique savory tart can be made in advance and assembled the day you want to serve it.  It can be a starter or served with a salad as meal. If you do not want to make a tart, I also tell you how to make tartine (sandwich) out of the ingredients. Unique, healthy, and versatile and that is why this savory beet tart is this week's simple pleasure.
Too often we throw away healthy, delicious parts of food because we do not think about eating them or, if we do, we do not know what exactly to do with them. This week someone gave me beautiful, hand-picked red beets and I wanted to show them what you can do with the beets beyond just slicing or dicing the bulbs and putting them in a green or lentil salad or a risotto (although those options are good too).
Beets are perfect for our faux dessert because they are naturally sweet.  While high in sucrose, beets are also one of the vegetables highest in antioxidants. Using both the red bulbs and the beet greens makes this red beet tart a double dose of healthy, deliciousness because it is generally accepted that with respect to vegetables and fruits, the deeper the color, the healthier they are for you.
Beets are generally found throughout the year and can be prepared many different ways including boiled, roasted, steamed, braised, and deep-fried. They are delicious raw.  Beets come in a variety of colors including white, red, golden/orange and pink ("candy" or Christmas beets have pink and white stripes on the inside).  Beets can be round or cylindrical. Beet juice is a natural coloring agent (for baking or pickling) and a good sweetener if you want to move away from using processed sugar. Beet greens are wonderful to use in soups, salads, or pestos (as here).  They are not sweet like the beet bulbs.
When you buy beets look for beets that are medium to small in size as they tend to be sweeter. Always buy beets with the greens still attached (as you would any vegetable) because the greens (or "tops") are always the first thing to decline on a picked vegetable and vendors will cut them off as the vegetable ages. If you do not use the beets right away, store the greens separate from the bulbs.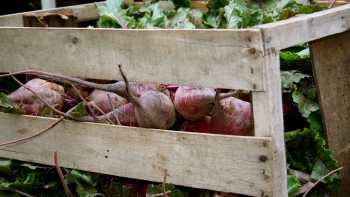 Burrata is what I call an embellished kitchen cheese. A kitchen cheese is fresh cheese with a high moisture content that can be made in your own kitchen if you have the ingredients.  Kitchen cheeses include mozzarella, ricotta, fromage blanc, queso fresco, and feta.  Burrata is a mozzarella cheese that is stuffed with cream-soaked, unspun mozzarella curds, giving it the creamy interior for which it was named ("burrata" comes from the Italian word "burro" for butter). Made primarily from cow's milk, a serving of burrata is about 40 -50 calories less than a serving of goat cheese and half the calories of most cheeses. Burrata is available in the supermarket.  The domestic, industrially-made ones are less expensive than the artisan ones imported from Italy.  Use burrata in salads, pastas or on pizzas. Burrata, naturally soft with its creamy texture, pairs well with figs, beets, and fruit  (i.e., tomatoes, apricots, peaches, strawberries). Whatever you do with it do it quickly as it only lasts a few days.
Pâte brisée (broken dough) is the standard dough used for savory tarts and quiches.  It is not hard to make and tastes best if freshly made. However, if you are pressed for time you can use a quality frozen dough or pie crust, or even puff pastry.  Defrost the dough in the refrigerator and then proceed with the recipe.
Roasting the beets is simple as the oven does all of the work.  I was asked recently in class, about the vacuum-packed roasted beets which can be purchased in the grocery store. Admittedly, it is a time-saver and they are better than canned beets, but you will not have the beet greens and in my opinion, they do not taste as good as when you hand-select the beets and roast them yourself.
Lastly, I know that some of you are going to think that I have gone mad suggesting that you use a melon baller to make inch-size balls from beet bulbs.  I understand.  Alternatively, you can use the same ingredients and make a quick sandwich: (1) slice a quality wheat bread; (2) spread a dollop of pesto on the bread slice; (3) slice the beets and lay a few slices on top of the pesto; and  (4) add a slice of burrata on top. Garnish with a drizzle of quality olive oil. à table !
Je vous souhaite un bon appétit !
LM
savory beet tart with pecan and beet greens pesto and burrata
stats
yield:   1 eight inch tart (serves 8-10)
what you need:
tart shell
2  1/2 cups all purpose flour, unbleached
1  1/4  teaspoon kosher salt
2 eggs
9  tablespoons butter, unsalted (cold and cubed)
1 tablespoon ice cold water (as needed)
filling
2-3 medium size beets, roasted
pesto
1 1/2 cup crushed pecans (or hazelnuts), roasted
2 cups beautiful beet tops, cut into strips
1/4 cup grapeseed oil
1/8 teaspoon ground cumin
1/2 teaspoon fresh lemon juice
1 tablespoon minced Italian parsley
1/2 teaspoon kosher salt (or as needed)
freshly ground black pepper  (as needed)
8-10 ounces of burrata cheese (1 ounce per serving)
how to:
tart shell
Dry Ingredients.

Add salt and flour to a food processor.  Pulse just to incorporate.
Add Eggs.

Add eggs to food processor and pulse only to combine.
Add Butter.

Add chilled butter chunks, one at a time, and pulse until incorporated (should turn into pea-size chunks).
Add Water

.  Drizzle in cold water until dough just comes together (do not over process).
Form Dough And Chill.

Remove dough from food processor and pat into a disc and wrap in plastic.  Let dough sit in the refrigerator for at least 30 minutes.
Shape

. Remove dough from plastic and roll out on a lightly floured surface (or between two pieces of parchment paper).  It should be about 1/8 -1/4 inches thick. Using your rolling pin, drape the dough over the pin and use the pin to gently roll the dough over the tart pan.  Press the dough into the shape of the tart pan and run the pin back over the edges of the tart pan to cut the edges.
Dock.

Use a fork to pierce holes in the bottom of the tart shell.
Blind Bake.

Line the tart shell with aluminum foil and fill with pie weights or dried beans.   Place on a baking sheet lined with parchment paper.   Bake in an oven preheated to 350 degrees Fahrenheit.  Once the dough is set, remove aluminum foil and weights.
Fully Bake

.  Return  empty tart shell to the oven.   Continue to bake at 350 degrees Fahrenheit until the crust is golden brown (approximately 5-7 minutes). Remove from the oven and let the shell cool.
filling
Roast Beets.

Trim the greens and roots off of the beets.  Reserve the greens but remove the stems and discard. Wrap beets bulbs in aluminum foil and place them on a baking sheet lined with parchment paper or aluminum foil.  Bake in the oven   (already hot from baking the tart shell) until a fork can easily be inserted. Once beet bulbs are cool enough to handle, rub off the skins (they will easily come off).
Shape.

Using a 1 inch melon baller (or smaller), insert the metal head into the beet bulb and use a scooping motion with your wrist to form the balls. Set the beet balls aside.
Pesto.

Place the beet greens, lemon juice, salt, cumin,  parsley and nuts into a food processor.  Pulse to incorporate the ingredients.  Slowly pour the oil into the food processor while pulsing until you achieve the consistency you want. Adjust the seasoning as needed.
Assemble.

Pour the pesto into the tart shell. Use an offset spatula to evenly spread the pesto.  Add the beet balls on top of the pesto
Serve.

Serve assembled tart at room temperature with a scoop of burrata.  The tart is best is eaten the same day it is assembled, but it will last in the the refrigerator if covered for a few days.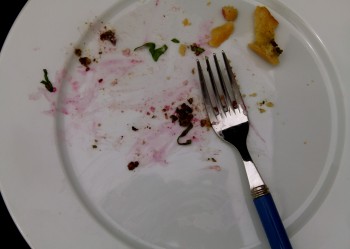 Tags: beet, beet greens, burrata, savory tart