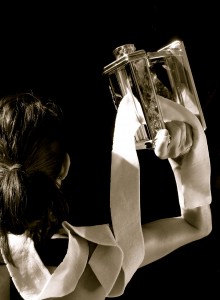 Mother's Day, 2011
classic tomato sauce and a very personal
recipe from a chef to her daughters:
living women eat pasta, crêpes, and bread
The inspiration for this week's "simple pleasure" is Mother's Day and my own two daughters. The recipe is not a brunch recipe but a "mother" sauce: classic tomato sauce. Tomato sauce is one of the five foundational sauces in French cuisine from which several "daughter" or "small" sauces are created. It is the perfect companion for pasta, bread, meat, calamari, vegetables (i.e., eggplant, mushrooms and squash), and even eggs. The sauce is simple to make any time of year.  It is one of my daughters' favorite sauces and, in general, a crowd pleaser. The recipe is in a companion post for your printing convenience. The inspiration for the post is explained below.
Je vous souhaite un bon appétit and a very Happy Mother's Day to all mothers.
LM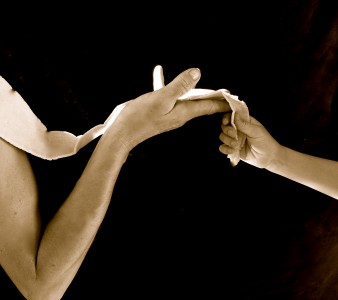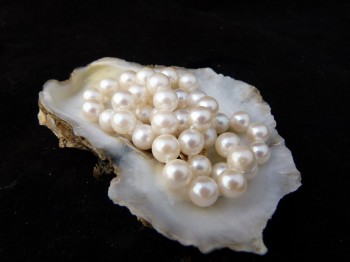 to my daughters:
living women eat pasta, crêpes, and bread
I have a special book which houses my most priceless treasures and it has nothing to do with cooking or France (unbelievable but true). This hard-bound, gold-etched book bound with delicate ribbon contains my birthday and Mother's Day gifts over the years from my children: poems they have memorized from ages 2 onward, poems they have found and cut-out, and original poems and cards they have written for me. I have been informed that the contributions for Mother's Day 2011 have already been written. I am excited beyond belief. One day the book will belong to them.
Inside the front cover of this book is a quote from one of my favorite people, Eleanor Roosevelt.  It is:
"You gain strength, courage, and confidence by every experience
in which you really stop to look fear in the face.
You are able to say to yourself, 'I lived through this horror.
I can take the next thing that comes along.' . .
you must do the thing you think you cannot do."
I believe she is referring to a statement by John Dryden.  In any event, recently it was "Women's History Month" and I sat in a conference where on the wall there were drawings of several women deemed to have positively contributed to history. Eleanor Roosevelt was one of the women. To me, I have always viewed her as a woman of strength.
The drawing was of her in her later years.  The lines on her face were pronounced. When I looked at the picture I thought of the above quote. At that very moment a man in the group commented on the drawing and as he laughed he said that he did not think she [Eleanor Roosevelt] would be very happy about the picture. Two things came to mind: (1) how interesting that people can look at the same thing at the same time and have completely different perceptions of it; and (2) how his comment marginalized this woman, focusing people's attention not on her achievements, but on the lines on her face and presenting them as physical flaws that she presumably would be ashamed of (although I doubt that she would have been).
The comment stayed with me because I thought of how comments like this, innocent as they may be intended, influence and shape the environment in which my daughters, and other girls, grow and live. I don't hear comments about how the President fills his suit or who designed it but how often do we focus on the First Lady's clothing or how she looked? If the adults in our childrens' lives minimize or even appear to evaluate women (men, too) based upon their physical appearance, if we see "imperfections" in the appearances of others, so too, will our children. Our securities and insecurities and our attitudes, spoken and unspoken, about our bodies and the appearances of others, impact their attitudes, habits (including eating habits) and shape their future.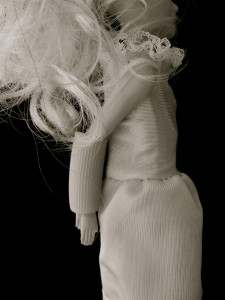 I hope for a day that women's contributions to this world will not have to be brought to our consciousness by the dedication of a particular month. I hope for a day that my daughters' contributions in this world will not be pre-determined or clouded by their gender, the size of their jeans, the lines on their face, or the length of their hair. Until that time, on this Mother's Day I offer gratitude to the women in my life who never limited my value or defined my abilities based upon my physical appearance whether seen by others as attributes or shortcomings.  For my two daughters I offer the following personal recipe (as inarticulate and preachy as it may be) for your day-to-day lives. The ingredients are you:
If you like pasta, bread, and crêpes, you should eat them.
When it comes to food, try everything and deny yourself nothing. However, remember that excess, in anything, is vulgar, never in good taste and never tastes good.
Take time to sit and enjoy special treats with those you love.
A healthy body is the only thing that is relevant.  A healthy body includes a healthy spirit, heart, and mind as well as your physical body.  If you neglect one part, all parts will be compromised.
Every

person is beautiful. Beauty is not limited to a person's exterior.
Judge no one. Focus on improving yourself.
Always treat your body as you should treat others, with respect and dignity.
Never comment negatively on your physical appearance or the physical appearance of anyone else.  If you have a negative thought immediately think of something positive. There is always something.
Look at yourself in the mirror and genuinely appreciate what you see.
There is no such thing as physical imperfection only different attributes which will attract some people to you and not others. It is a matter of personal taste, not a commentary on you.
Comparing yourself to others is a waste of your time.  Does an eggplant compare itself to a cucumber?  I don't know (actually) but an eggplant is an eggplant and not supposed to look like or taste like a cucumber. Similarly, you are you.  You are not supposed to look, behave or think like someone else. Differences are good.  Respect and embrace them in yourself and in others.
A "but[t]" is only bad if used in a grammatically incorrect way. Butts are good and necessary for long car rides.
Own your genes. You are a part of history: Julia, you have your mother's arms (never mind that your schoolmate told you your arms were "skinny" whatever that means). Ava, you have your father's lips. You both have your great-grandfather's height. Carry these legacies on with you proudly as gifts from us to you.
Embrace your past and look forward to your future. Look at the lines on your hands and think of all the things your hands have held, the people they have touched, the times they have clapped with joy. Look at the blisters on your feet and imagine the area you have covered, the moments when your cartwheels put those feet in the air, the times your loved ones buried them in the sand. Imagine the new places that your feet will take you. Look at your lips they are neither too big or too small. Allow only constructive words to flow from them and healthy and delicious food to pass over them. Your lips will give you your first kiss and you will

never

forget it.  Your nose is just the perfect size for itching (which will be often because I am always thinking of you) and it will tell you when to take your food out of the oven. The marks, freckles, or moles on your skin belong only to you. How special.
Plant a garden and let your hands and feet touch the earth.
There is an effect for every cause. Strive to be a positive cause.
Only surround yourself with people whom encourage, inspire and love you for everything that you are and are not.
There is no such thing as a bad day, a wrong turn, or a kitchen disaster. Some days and meals go has we planned, some do not.  Unexpected events or turns are your opportunity to learn something new and an opportunity to exercise your creativity.
Happiness comes from inner peace which comes only from God. Carry that with you throughout your life and you will always be "home" and you will always feel secure.
Negative comments on your physical appearance by someone else have nothing to do with you. Generally, that person is struggling with their own issues and insecurities (usually about the very thing they criticize you for). Recognize that for what it is, give their words no significance, and hope that they will find peace.
If you are secure with yourself, you will not be hurt by insensitive comments of others.  As Eleanor Roosevelt herself said: "

no one can make you feel inferior without your consent

"

.
If at times I ever fail to follow my own recipe, please remind me.
Un bon appétit , mes filles.  Je  vous aime beaucoup.
mom
Tags: mother's day, pasta, tomato sauce