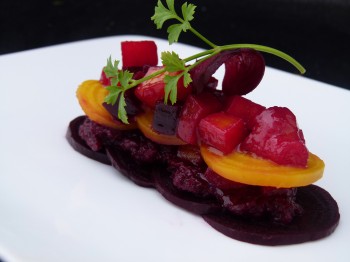 beet Napoleon
makes 4-6
what you need:
6 red beets (to roast)
6 golden beets (to roast)
1 candy beet (to
blanche)
use the 13 beets as follows:
purée
4 ounces roasted red beets
1-2 teaspoon beet juice
1 teaspoon olive oil
kosher salt (to taste)
½ teaspoon fresh lemon juice
diced beet melange
2 golden beets, diced
2 red beets, diced
1 tablespoon olive oil
1 teaspoon red wine (fig) vinegar
½ teaspoon sel de Guérande (or sea salt)
sliced beets
1-2 roasted red beets, thinly sliced
1-2 roasted golden beets, thinly sliced
cru (raw)
1 candy beet, washed, trimmed and thinly sliced
1 cup water¼ cup granulated sugar
how to:
Roast.

Clean beets well with a vegetable brush. Remove beet tops (reserve for something else). Wrap the 12 beet bulbs with aluminum foil. Place all 12 bulbs on a baking sheet lined with parchment paper. Roast in an oven preheated to

350 degrees Fahrenheit

until a fork can easily be inserted into the bulbs.
Peel.

Once beets are cool enough to touch, remove the foil and peel the skins (they should easily come off). Keep the golden beets separate from the red beets.
Slice.

Using a mandoline or a chef's knife, thinly slice 2 red beets and 2 golden beets. Set aside. These will be your "puff pastry" layers.
Dice.

Dice 2 red beets and 2 golden beets. Place in a bowl. Add olive oil, vinegar, and salt. Combine. Set aside until ready to use.
Purée.

Chop 2-3 red beets and place in a small food processor or a stainless steel cylinder. Add oil and juice. Purée in a food processor or with an immersion blender until smooth. If too thick, add a little more olive oil to thin. Set aside.
Blanche.

Place the water and sugar in a saucepan over a medium-high heat. Bring to a bowl. Thinly slice a raw candy beet (or red beet) using a chef's knife or mandoline. Blanche in water for 1-2 minutes. Remove and place on a plate lined with a paper towel.
Assemble.

Place 4-5 red beet slices on a plate. Use a spoon to spread a layer of purée on top. Add a layer of 4-5 sliced golden beets. Spoon a layer of diced beet mixture on top. Add a blanched beet slice as a garnish. Repeat the process for the remaining Napoleons until the ingredients are used.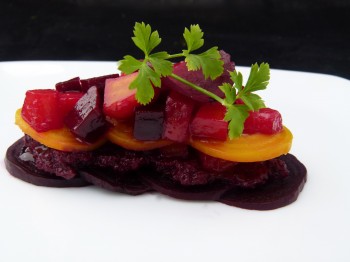 Tags: beets, golden beets, red beets, roasted beets, savory Napoleon, vegetarian