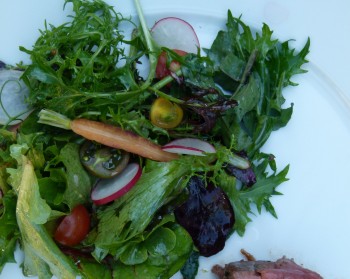 green salad with mustard frill, watercress and pea tendrils
serves 4-6
what you need:
1 handful red mustard frill
1 handful green mustard frill2 handfuls mesclun
½ cup watercress, stems removed
1 handful trimmed pea tendrils
1 tablespoon minced Italian parsley
6 baby carrots, trimmed and sliced
3-4 Tokyo turnips, trimmed and sliced
6 radishes, trimmed and sliced
10-12 cherry heirloom tomatoes, halved
1 ½ tablespoons red wine vinegar
6 tablespoons olive oil
1 teaspoon dijon mustard
1 teaspoon minced shallot
1 teaspoon brown mustard seeds
½ teaspoon fleur de sel (and to taste)
1-2 pinch ground cumin
how to:
salad
Combine Greens

. Wash greens and dry well. Toss parsley with greens. Add sliced and trimmed vegetables and tomatoes. Combine.
dressing
Acid in Bow

l. Place red wine vinegar and mustard in a bowl.
Add Oil.

Whisk in oil. Add shallots, mustard seeds, and cumin.
Adjust Seasoning

. Add fleur de sel to taste.
Dress Salad

. Pour salad dressing on the side of the inside of the bowl and slowly incorporate the dressing into the salad with your hand. You might not use all of the dressing (depending upon the size of your "handfuls" of greens).
Tags: green salad, homemade dressing, mustard frill, pea tendrils, salad, vegetarian, watercress