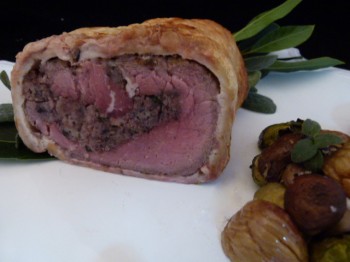 Bœuf de Noël
Every year a number of home-cooks try their hand at creating the French classic Bûche de Noël (also known as the Yule log or Christmas log).  The Bûche de Noël signifies the European tradition of placing a Yule log on the fire during the Christmas holidays.  The Bûche de Noël, an edible rendition of a yule log, is a génoise sheet cake covered with buttercream.   The cake is then rolled,  creating a swirling pattern of cake and buttercream visible from the sides.  The rolled cake is covered with frosting, scored to create tree bark appearance, and decorated with marzipan mushrooms and sometimes marzipan holly leaves.   This week's simple pleasure takes the theme and techniques of a Bûche de Noël and applies them to the savory side.  Instead of a dessert, we are making the main course.
Bœuf de Noël (not a French tradition but my own play on words) is a beef tenderloin, butterflied to a thickness of one inch, covered with a delicate chestnut and fresh herb stuffing, rolled, and then enclosed and roasted in puff pastry dough.  You can dress up the dish by adding foie gras or wild boar sausage to the stuffing.  Truffles can be also added (either to the stuffing, the sauce, or sliced and sautéed and served with the mushrooms);   however, the recipe is written with just the basic ingredients (but if you have these specialty items on hand, use them!)  The idea is similar to France's rôti de boeuf en croûte (roasted beef in pastry) or England's Beef Wellington (a popular dish in the 1960's), except this recipe uses the French preparation technique of roulade (basically stuffing and rolling a food) as well as the en croûte method (to enclose a food in dough) and it resembles the Bûche de Noël in spirit.
In addition to the woodsy flavors (sage, thyme, chestnuts), this main course looks like a yule log.  The puff pastry is scored to create the appearance of bark.  You can also add "tree limbs" by rolling smaller bits of puff pastry and attaching them to the "trunk" (let your imagination be your guide for this).  When you slice into the tenderloin, there is not only the pastry puff layers (the "bark"), but the swirling patten of the stuffing and the meat, resembling the tree's rings.  Instead of marzipan mushrooms, sautéed whole small brown mushrooms (combined with wild mushrooms if you like) are served on the side to complete the yule log.  A thyme-port reduction sauce is a perfect compliment to the stuffing, meat, and the pastry.
While the dish may sound a little complicated, it is not.  Cut.  Stuff.  Roll.  Roast.  This is a great dish for a holiday dinner because it is special enough that your guests will not see it every day yet it is simple for the host because the majority of it can be ahead of time.  On the day of your dinner, all you have to do is roast the meat and prepare the sauce while the meat is in the oven and then resting.  You can make this dish with a less expensive cut of meat (such as a flank steak); however,  the tenderloin is the better choice because the delicate, tender cut pairs best with the puff pastry, the smooth sauce, and the fine-textured stuffing.  Turkey breast also works, but  I imagine most people are tired of turkey after Thanksgiving.
A couple of ingredient and production notes.  While I usually advocate making everything from scratch, you only need one sheet of puff pastry for this recipe so if you do not have it on hand, it can be purchased  in the freezer section of your grocery store or speciality food store.  There are actually some decent puff pastry doughs out there (although there are some bad ones too). Buy a quality puff pastry, defrost it in the refrigerator, and make sure that it is not too thick (roll it with a rolling pin if it is).  Also, make sure the pastry dough is cold but pliable when you wrap it around the meat.  Once you have wrapped the meat, return the entire thing to the refrigerator for about 15 minutes (although you can do this the day before and put it in the refrigerator overnight).
You want to make sure the meat is cooked correctly and that the puff pastry is golden brown and and not doughy or soggy.  The latter I find to be the biggest trouble spot.   According to Harold McGee, about 75% of a meat's weight is water and as meat cooks, the meat firms up, squeezing out the  moisture.   This water (the juice) has to go somewhere so even a barrier between the pastry and the meat (i.e., prosciutto or pâté) will not eliminate the moisture factor.   I find that the best way to deal with this is to minimize it: (1) use a thin layer of quality pastry dough and do not overlap it; (2) score the dough to allow heat to penetrate the pastry dough, (3) bake the log on a wire rack to allow the oven heat to surround the log (I also make some fork piercings in the bottom of the dough as an escape route for cummulative moisture);  and (4) start the oven off at a high temperature, even though you have already browned it in a skillet, which will allow pastry to rise better and turn some moisture into steam.    Also, if the meat is not too big (if you roast only 1 pound instead of 2), you can turn it on its side  when it cools so any draining juice will not sit on the bottom of the puff pastry.
Lastly, the meat should be taken out of the oven when it registers 130 degrees Fahrenheit on a meat thermometer.  This will give you medium/medium-rare meat that is still pink in the middle which is what you want.   Normally, I would suggest taking it out at a much lower temperature but the enclosing the meat in pastry artificially raises the temperature of the meat (and also prevents it from cooking as it would without the pastry around it).
Serve this dish with simple roast winter vegetables (see companion post) or a creamy winter soup.  Below I have included the recipe for the thyme-port sauce as well as sautéed mushrooms to go with the Bœuf de Noël.
Whether you make a Bûche de Noël or a Bœuf de Noël (or both),  je vous souhaite un bon appétit et je vous souhaite un très Joyeux Noël  du fond de mon coeur (and I wish you a very Merry Christmas from the bottom of my heart).
LM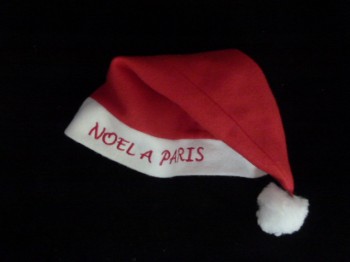 Bœuf de Noël
Serves:  12
what you need:
tenderloin
2 pounds beef tenderloin, center-cut, trimmed
kosher salt (as needed)
freshly ground black pepper (as needed)
1 sheet quality puff pastry, chilled
1 egg, mixed with 1 tablespoon water
stuffing
1/2 cup French bread crumbs, finely ground
4 tablespoons whole milk
2 teaspoons Italian parsley, minced
6 tablespoons shallots, brunoise dice
2 teaspoons fresh sage, minced
1 teaspoon fresh thyme leaves
1 cup  finely chopped chestnuts, boiled (or steamed), shells and skins removed
1 teaspoon kosher salt
4 tablespoons unsalted butter, melted
1 teaspoon Quatre épices*
2 pinches ground allspice
1/2 cup wild boar sausage, casings removed and finely chopped or terrine de foie gras, finely chopped (optional)
sauce
1 tablespoon unsalted butter
2 tablespoons shallots, brunoise dice
5 fresh thyme sprigs
1/4 cup port
1 cup of quality veal (or beef) stock
1 fresh bay leaf
unsalted cold, cubed butter (as needed)
kosher salt (to taste)
freshly ground black pepper (to taste)
fresh lemon juice (as needed)
*Quatre épices is a combination of ground cloves, nutmeg, black pepper and cinnamon.  It can be found in spice stores, some grocery stores as well as online.  If you do not have time to get it, substitute an additional 1/2 teaspoon ground cinnamon, 1/4 teaspoon ground cloves, 1/4 teaspoon ground nutmeg, and 1 click of a pepper mill (set to fine grind).
mushrooms
1 tablespoon unsalted butter (or rendered duck fat)
3 dozen small brown mushrooms (and/or sliced shiitake mushrooms, optional)
kosher salt (as needed)
Armagnac (as needed)
how to:
Cut And Season Meat.

Place tenderloin on the counter lengthwise (facing away from you).  Make an incision in the right-hand side of the meat about 3 o'clock and continue to cut with your right-hand while you  roll the bulk of the meat away from you with your left hand,  Continue to cut so the tenderloin is one inch in thickness and rectangular like a book.   Season tenderloin liberally with salt and pepper.   Roll back up and set aside in the refrigerator (for best results, season 2-3 days before service).
make stuffing
Boil Chestnuts

. If you are using fresh chestnuts, score the shells and place chestnuts in a saucepan of boiling water.  Boil for about 20-30 minutes.    Remove 2-3 chestnuts at a time from the saucepan and remove shells and skins.  Set chestnuts aside.  Finely chop with a chef's knife or pulse in a food processor.  Do not over-pulse or you will have a paste.
Make Panade

.  Place breadcrumbs in a bowl with milk.  Set aside.
Sweat Shallots/Herbs

.  In a saucepan over medium heat, melt the butter.   Add shallots and cook until translucent.  Add, thyme, sage, and spices.   Stir to combine.  Set aside.
Combine To Make Dressing

.  Combine panade, buttered herbs/shallot mixture, and  chestnuts.
stuff and wrap meat
Stuff Meat And Tie

.  Roll out the tenderloin like a book and cover the top with the stuffing.  Press the stuffing down so it sticks to the meat.  Carefully re-roll the meat.  Tie closed with kitchen twine.
Sear Meat.

In a cast iron skillet over high heat, melt butter.    Add tenderloin to pan and brown on all sides.  Remove from the stove and let the meat cool.
Add Puff Pastry

. Once cool, remove kitchen twine from the meat.  Wrap cold puff pastry around the outside of the meat.  It should come about 1/4 inch over the sides (the eyes) of the meat.   Place the pastry seam underneath.  Do not overlap.  Using a knife, score the puff pastry on the sides and on top.   You can also roll extra pieces of puff pastry and attach them to the pastry surrounding the meat to form "limbs or branches."  Cover wrapped meat loosely with plastic wrap and place in the refrigerator for 10-15 minutes.  This can be done in advance (the day before but if you do, wrap well so the pastry does not try out).
roast meat
Egg Wash

.  Remove the meat from the refrigerator and lightly brush the puff pastry on all sides with egg wash.
Roast Meat

.   Place the meat on a wire rack in a roasting pan or on a rimmed baking sheet.  Roast meat uncovered in an oven preheated to  425 degrees Fahrenheit for 10 minutes.  Reduce heat to  350 degrees Fahrenheit.   Roast until the meat reaches an internal temperature of 130 degrees Fahrenheit and pastry is gold brown (total time is about 30 minutes but go on the temperature and the appearance).
Give It A Rest

. Remove the meat from oven and let it rest about 20 minutes (cover with foil to keep it warm).  While meat is resting, make your sauce
Serve

.  To serve, use a serrated knife to cut the log.  Make the portions about 3/4 " to 1" thick.  Place mushrooms on the side.  Drizzle port sauce on the side of the meat and over the mushrooms.
sauce with mushrooms
Sauté Mushrooms

.    Melt one tablespoon of butter (or duck fat) in a hot sauté pan.  Add mushrooms and a linch of salt.  Continue to sauté until brown (but do not cook all of the moisture out of them you do not want them wrinkly).
Flambé

.  Remove pan from heat and add Armagnac.  Continue to cook until all of the Armagnac has evaporated.  Remove mushrooms from the pan and set aside.  Keep warm.
Sauté

.  Place a saucepan over a medium-high flame.  Melt butter.  Add shallots and thyme.
Deglaze

.  When shallots are translucent, add port.
Add Stock

.  Add stock and bay leaf.   Simmer for 15 minutes until you reach a sauce consistency.
Strain

.  Using a chinois, strain sauce  into a clean saucepan.
Adjust Consistency And Seasoning

.  If too thick, add more stock or water.  If too thin, reduce further by cooking it longer.   Add salt and pepper to taste.
Mount With Butter/Correct With Lemon Juice

.  Remove from heat.  Toss cold butter cubes into saucepan and swirl butter in the sauce.  The sauce should look velvety smooth.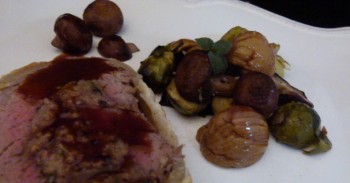 Tags: beef tenderloin, Boeuf de Noël, Bûche de Noël, chestnut stuffing, chestnuts, christmas log, french cooking recipes, holiday recipes, port sauce, port thyme sauce, yule log