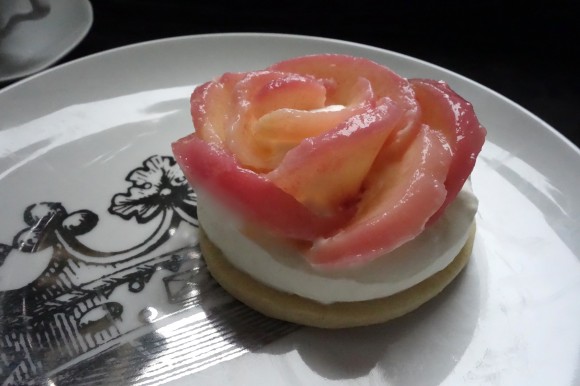 cardamom sablés with
fresh summer peaches and rose cream
You can enjoy this dessert deconstructed as well. For example, the peaches and cream can be placed in a bowl and you can add the sable on the top or on the side. Alternatively, enjoy the sables with a cup of tea (rose tea if you have it). The cream is lightly flavored with rose syrup (I use Monin) if you want a more pronounced rose flavor, add a little more (but not too much).
makes 10
sablés
4 oz (113 g) unsalted butter, room temperature
5 1/2 (164 g) all-purpose flour (type 55)
2 oz (57 g) powdered sugar
3/4 teaspoon freshly ground white cardamom
fruit
3 flavorful white peaches
water (as needed)
rose cream
2 cups heavy whipping cream
2 teaspoons rose syrup (or a few drops of rosewater)
4 tablespoons granulated sugar
Sablés.

Pre-heat oven to 350 degrees Fahrenheit. Place the butter, flour, sugar, and cardamom in a bowl. Mix with your hands until well combined (or if you use stand alone mixer, use a paddle attachment).Shape dough into a disk and wrap in plastic wrap. Refrigerate for 30 minutes.Using a rolling pin, roll dough to an even 1/4." Cut into desired shape (I use a 2" biscuit cutter). Place sablés on a baking sheet lined with parchment paper. Bake until set around the edges (about 10 minutes) but without color. Cool. Set aside. The sables can be stored in an airtight container or frozen for later use.  
Whip Cream.

Use a mixer fit with a whisk attachment to mix the cream and rose syrup on medium speed. Once it begins to thicken pour in the sugar.  Whisk on high speed until stuff peaks form. Place cream in the refrigerator to keep cold.
Blanch Peaches.

Bring a saucepan of water to a boil. Cut an "X" in the skin of the peaches on the bottom. Add peaches to boiling water for 1-2 minutes. Remove peaches with a slotted spoon. Place in an ice bath. Once cool, gently peel. Discard skins. Cut peaches into thin wedges discarding the pit.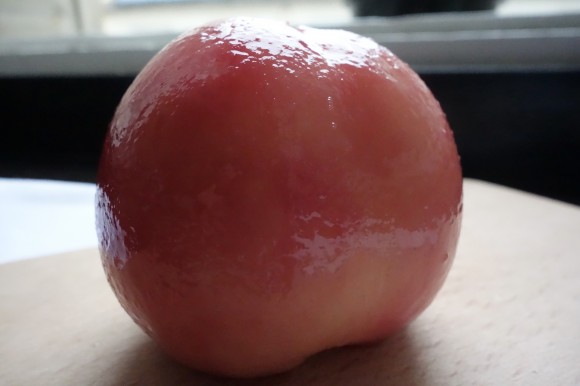 Assemble

. Place one sable on a flat surface. Add a dollop of whipped cream. Add peach slices on top of cream in a beautiful way (you can use your biscuit cutter as a form until you have added all peaches). Serve immediately.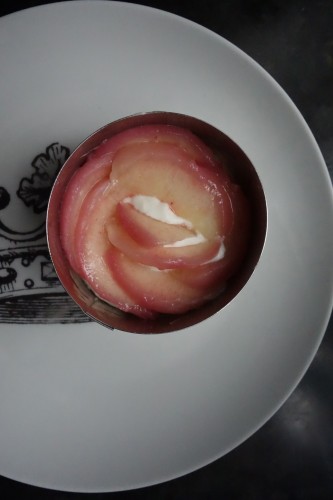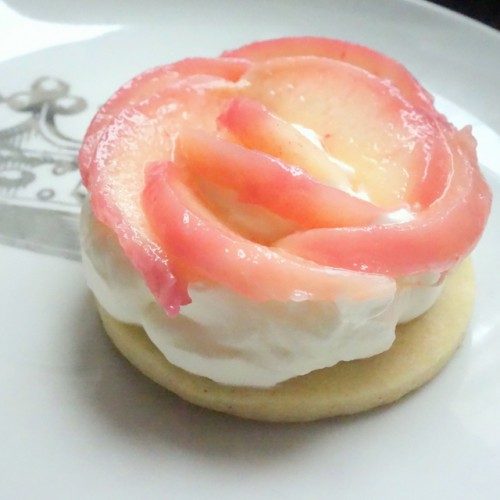 Tags: cardamom, cream, desserts, easy desserts, fruit desserts, healthy desserts, peaches, rose, rose syrup, sables