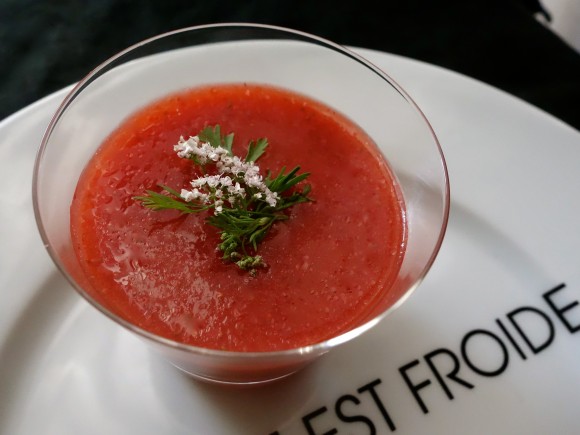 "It's A Life"
Strawberry Gazpacho 
Julia Child said that, "You'll never know everything about anything, especially something you love." I believe that she was correct. 
With that thought in mind I left my comfort zone of classes or cooking privately in people's homes or their offices, to work in a Parisian kitchen. It is not unusual for cooks to do this because seeing the way other people do things is often an inspirational springboard for your creativity and there is always so much to learn. And then there is the fact that it is fun (well, if you like this type of thing…working throughout the day and night and coming hone after midnight smelling of food.. it is not something that is attractive to the majority of people). "It's a life."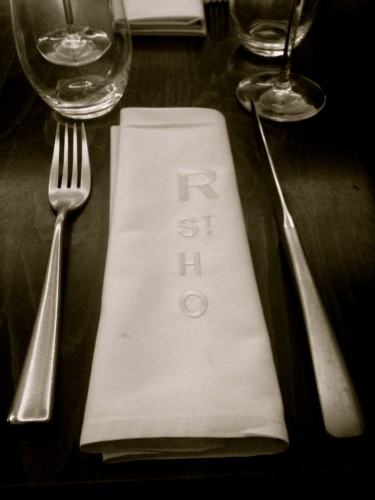 When the opportunity came up for me to spend some time in the kitchens at one of my personal favorites in Paris – La Régalade – I took it (you can read more about the restaurant itself here).. I passed time in 2 of the locations in Paris and briefly one in Saint Tropez.
I have worked in restaurants before (although it has been some time) and they are all structured basically the same way. The major difference was the rapid-fire French; somehow the words and expressions that I know and can read or write sound so different when spoken quickly in the heat of a tiny kitchen without the American accent. Sigh. The attention to detail, absolute cleanliness, and utter devotion to the craft is what I expected from a high quality Parisian restaurant (or any quality restaurant, really). The tightness of the space did not come as a surprise either, but I was amazed that several of us worked around one another so efficiently and without crashing into one another or catching our hair on fire. A well-organized kitchen is like a dance, and in the dinner rush, it is exactly like that. I loved it. The experience was a good one in which I was grateful to have had it. Thank you to chef Doucet, chef Bordier, and all of the staff. 
I write to you on the plane to Los Angeles where I will pass the night only to pick up my children and bring them back with me to France. Happy day but admittedly a bit crazy. However, it is making the most of the time you have and when you are a working parent, that attempt for balance is always a struggle. "It's a life."
I have heard that phrase "it's a life" three times in three different circumstances from three different Parisians recently. It has stuck with me because the phrase was said in the context of striking a balance between acceptance of circumstances beyond your control and makes the most of what you have and the choices that you have made. Lessons for life are lessons for the kitchen.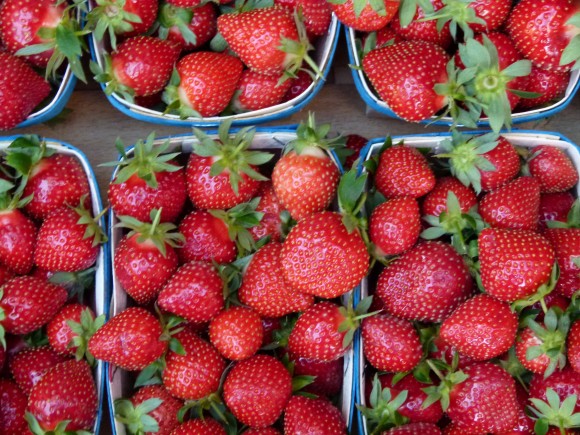 The Fourth of July is an occasion marked with grilling and picnicking. Despite the fact that strawberry season is spring, Los Angeles (and much of America) keeps plentiful supplies of strawberries on hand throughout the summer and they are a favorite for Fourth of July celebrations particularly due to their color. Strawberry gazpacho is simple to make and the perfect way to use those strawberries as well as add a red touch to your themed celebration. It is easy to put in a thermos for your picnic and served cold so it pairs well with your grilling.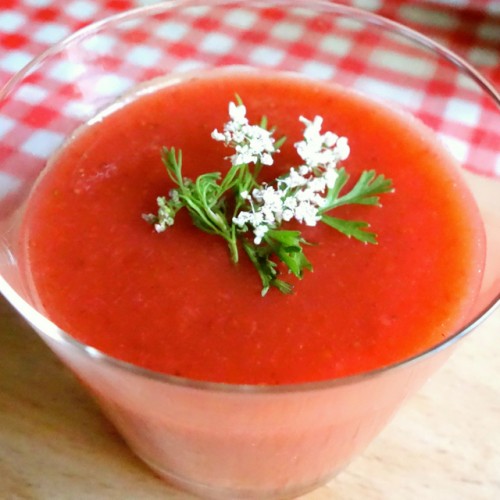 As in life, the key to a good strawberry gazpacho is balance between the sweet and the acid so taste it as you make it and adjust the seasoning accordingly.
I wish all of you a very Happy Fourth of July and un très bon appétit.
LM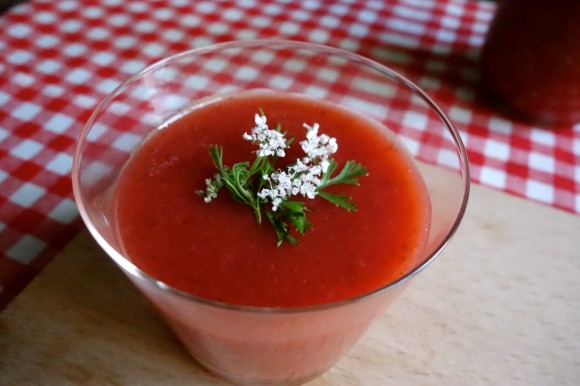 strawberry gazpacho
The key to a good strawberry gazpacho is a proper balance between the tartness of the vinegar and lime juice with the sweetness of the strawberries Add the vinegar in teaspoons and adjust the seasoning to taste. For an added bonus, add a dollop of lightly sweetened whipped cream to the bottom of each cup and pour the gazpacho over.
serves 6-8 
1 1/2 pounds (700 g) fresh, trimmed strawberries
granulated sugar, as needed
9 ounces (260 g) peeled, deseeded cucumber, diced
3 small fresh chopped spring onion, (1 ounce /35 g)
1 tomato, concassé
gros sel de Guérande (or sea salt), as needed
3 teaspoons Xérès vinegar (or Spanish vinegar)
juice from 2 limes
1-2 tablespoons quality olive oil
garnish
fresh coriander (cilantro), as needed
whipped cream (optional), as needed
Prepare Ingredients.

Place water in a sauce pan and bring to a boil. Cut an "X" in the skin on the bottom of the tomato. Blanch the for 1 to 2 minutes. Remove the tomato from the water and place in an ice bath. Once cool, remove the skin and discard. Cut the tomato in quarters. Remove the membrane and seeds. Discard. Chop the flesh. Place chopped tomato in a bowl with the diced cucumber and chopped onions. Sprinkle with salt and toss. Set aside for 30 minutes. Dice strawberries and place them in a bowl. Sprinkle with a liberal dose of granulated sugar and toss. Set aside for 30 minutes. Drain the excess water from the bowl with the cucumber, tomato, and onions. Combine with the strawberries.
Purée And Strain.

Purée with an immersion blender (or in a blender) until smooth. Strain. Add lime juice, vinegar, olive oil and season to taste with salt and pepper.
Chill.

Place in the refrigerator for at least 3 hours. Readjust seasoning to taste
Serve

. Serve cold in a small chilled cup or bowl. Add a dollop of whipped cream to the bottom if you would like. Garnish with fresh cilantro.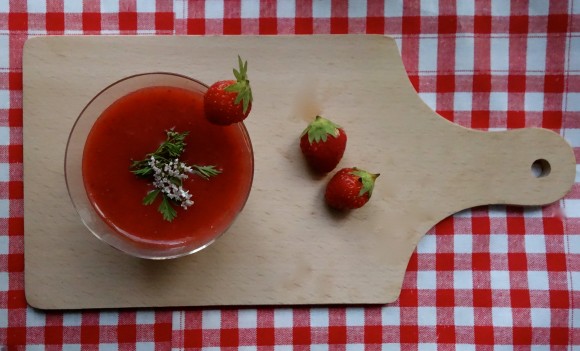 Tags: appetizer, french cooking recipes, gazpacho, healthy snacks, strawberries, vegetarian