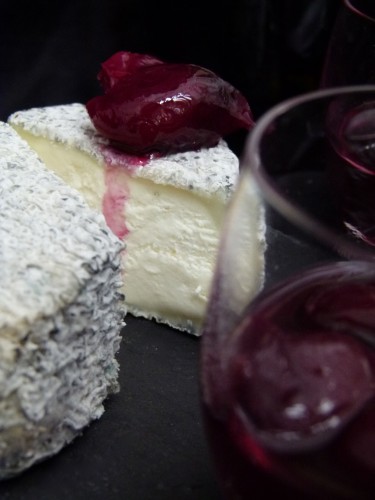 ceries aux lavande et thym
(cherries poached with lavender and thyme)
serves 6-8
what you need:
24-30 firm, ripe red cherries, stems removed (pits reserved)
2 cups water
2 tablespoons of lavender flowers (tied in cheesecloth)
4 tablespoons superfine sugar
2-3 sprigs of fresh thyme
1 piece of lemon peel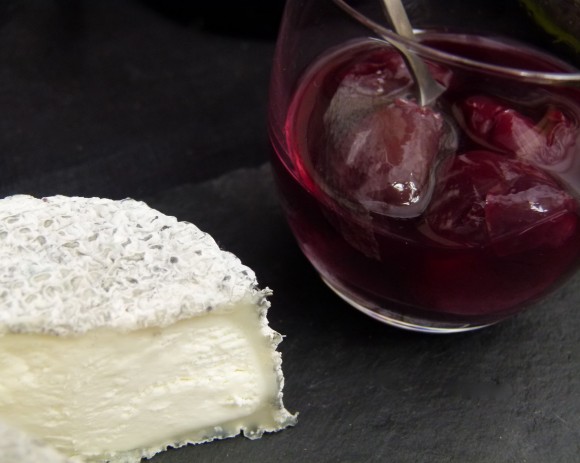 how to:
Prepare Cherries

.

Remove pits and stems from the cherries. Reserve pits.
Poaching Liquid.

Combine water, pits, lavender flower

sachet

, thyme, lemon peel, and sugar in a saucepan. Place over medium heat. Cook for about 5 minutes until the sugar has dissolved.
Poach Cherries.

Add cherries to the saucepan. Poach cherries (between

160 and 180 degrees Fahrenheit)

until cherries are slightly collapsing but still holding their shape. (Note: a simmer is when small bubbles barely break the water surface, poaching is when there are bubbles on the sides or bottom of the pan).
Strain.

Use a

slotted spoon

to remove the cherries from the saucepan. Set aside. Discard pits, thyme, lavender sachet, and lemon peel.
Reduce Liquid.

Increase the heat and reduce poaching liquid until it reaches a syrup consistency.
Add Cherries

. Return cherries to the syrup.
Serve.

Serve warm or a room temperature. Cherries can be stored in the liquid in the refrigerator for at least one week.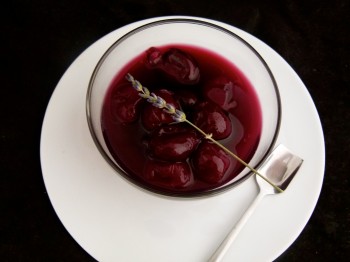 Tags: cherries, dessert, french cooking recipes, healthy dessert, lavender, poached cherries, simple pleasures. french cooking recipes, thyme