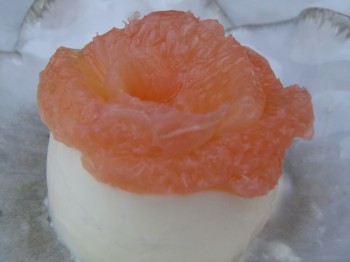 Super Bowl parties and a touchdown dessert:
chèvre and grapefruit panna cotta
In my experience, both as a guest and as a caterer, there are two truths about Super Bowl parties. The first is that the food served primarily consists of hand to mouth heavy foods that involve meat, sauces, and dips (chili is allegedly the favorite). The second is that throughout the game, the guests tend to break off into groups and the division is generally gender based. The gorgeous weather and the markets filled with citrus inspired me to bring a little lightness to your Super Bowl plates with something all party guests will enjoy, no matter the room they end up in, and so chèvre and grapefruit panna cotta, is this week's simple pleasure.
Panna cotta (in Italian "cooked cream") is easy to make and perfect for large gatherings because you can do it in advance and serve it chilled. While panna cotta can be garnished with a variety of things, including syrups, honey, fresh fruit, nuts and/or sauces, this recipe uses pink grapefruit…proof that you can do something delicious with grapefruit that extends beyond halving it for breakfast.
The active time for this recipe is 10 minutes. After blooming the gelatin, you dissolve it in heated cream. The cooked cream is then whisked into the grapefruit, honey and goat cheese combination. Pour the mixture into ramekins, place it in the refrigerator and forget about it until you are ready to serve it.
I served this dessert in my classes this week. It was an interesting week because my classes were either filled completely with men or completely filled with women. The gender breakdown reminded me of Super Bowl parties. Both genders liked the dessert equally so I thought the recipe was something good to "pass" to all of you. As a Super Bowl host at least you know you will have a touchdown dessert that will give your party a favorable finish, no matter which team wins, or in which room your guests congregate.
Je vous souhaite un bon appétit !
LM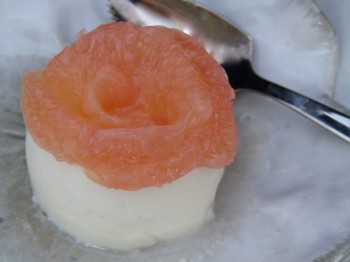 chèvre and grapefruit panna cotta
makes 6 ramekins (or eight 2" ramekins)
what you need:
3 sheets gelatin
4 ounces chèvre frais, room temperature
¼ cup grapefruit juice
2 tablespoons quality honey
1 cup low fat milk
½ vanilla bean, split and seeds removed
1 cup heavy cream
½ cup granulated sugar
2 pink grapefruits, cut into supremes
how to:
Bloom Gelatin

. Place gelatin sheets in a bowl of cold water. Let sit until gelatin softens. Drain. Squeeze gelatin to remove excess water. Set aside.
Reduce

. Place grapefruit juice in a saucepan and over medium-high heat, reduce by half. Set aside to cool.
Flavor Cheese

. In a separate bowl, whisk the chèvre, milk, honey, and reduced juice together until creamy smooth. Set aside
Scald Cream.

Place sugar, cream, and vanilla pods and the seeds in a saucepan over a medium-high flame. Bring to a boil, whisking occasionally. Once you reach a boil, remove the pan from the stove.
Dissolve Gelatin

. Add gelatin to the scalded cream. Whisk until dissolved.
Temper

. Slowly pour the cream into the cheese mixture, whisking constantly.
Chill.

Divide the mixture evenly amongst the ramekins and place in the refrigerator to set for at least 4 hours.
Serve.

Run a knife along the side of the ramekin interiors to un-mold the panna cotta. Invert the panna cotta and place in the center of a plate or bowl. Add grapefruit segments in a beautiful way on top.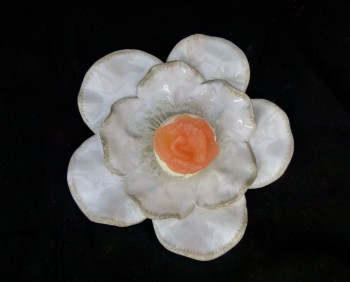 Tags: chèvre, cooked cream, dessert, fresh fruit, goat cheese, goat cheese dessert, grapefruit, honey, panna cotta, pannacotta, ramekins, simple pleasures, Super bowl