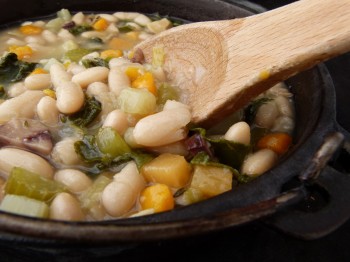 Peasant stew. Fit for a king and royally good:
my garbure
This month second graders all across America are reading as many books as they can that have been awarded the Caldecott Honor. One of my favorite Caldecott books is Stone Soup by Marcia Brown. The book is about three hungry soldiers who convince (or trick) a town of peasants to make soup from stones (and other on-hand, but hidden, ingredients). The effort culminates in a soup that the peasants declare is "fit for a king." While we are not making soup from stones, the ability to make a simple yet hearty soup with on-hand ingredients (and a few seasonal vegetables which I consider under-used but easily obtainable) is the inspiration for this week's simple pleasure, my garbure.
I love the food from the Basque region of France. Yes, "some" of it is a little heavy given the use of duck, geese and all of that foie gras and sausage; however, the food is comforting, simple, and delicious. Garbure is a country vegetable stew or soup from Bearn. It is referred to as "peasant stew" because it uses ingredients that the working class easily had available to them and, when combined, make a hearty meal.
The contents of garbure vary but usually include turnips, cabbage, potatoes, beans, and/or sausage or bacon. Traditionally, a confit goose leg is added to each bowl of soup, and the soup is poured over it. Sometimes the soup is puréed. Often garlic croutons top the soup or thin slices of bread are added to it.
The soup is served with a regional red wine and ends with faire la goudale. La goudale is when the meats and vegetables in the soup have been consumed and the remaining broth is distributed amongst the guests to which they add some red wine, toast one another, and drink the broth-wine mixture from their bowls. Nothing goes to waste.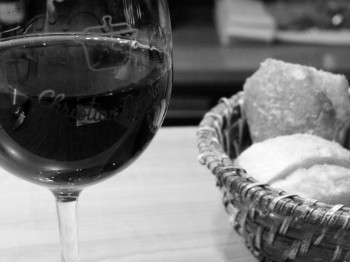 My garbure is easy to make and I modified it to make it accessible for all us not living in Bearn. This version is vegetarian and contains no confit goose leg or any meat. Rather, it takes advantage of the things in your market right now (such as cabbage, kohlrabi, turnips, and kale) and things easily on-hand (such as beans, onions, potatoes, and carrots). You can use canned beans, but fresh beans or rehydrated beans do taste better. There is no need to buy stock because you create a vegetable stock the same time you are cooking the ingredients. The kale, turnip greens, and cabbage give this otherwise white soup a burst of color and added health benefits. Instead of using meat, the chestnuts give this soup an added meaty-type depth.
Feel free to modify the quantities to your choosing. For example, if your family really likes kale, add some more. If you do not like potatoes, omit them or use less. The whole point of this soup is to use what is available to you. This garbure is a great "go to" dinner that you can make in a pinch or have on hand because the soup can be made in advance and it stores well in the freezer. However, when you reheat it, you will need to add more water to thin it out and adjust the seasoning.
Cook like a peasant. Eat like a king. La goudale is optional.
Je vous souhaite un bon appétit !
LM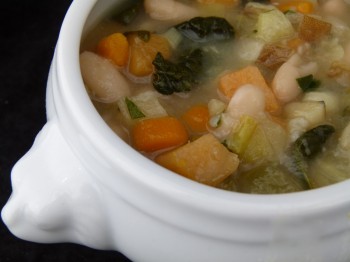 my garbure
serves 6 to 8
what you need:
1 tablespoon unsalted butter
2 garlic cloves, minced
½ cup sliced leek, white part only
1 cup diced onion
3 medium carrots, diced
1 cup diced celery
1 cup diced kohlrabi
1 cup diced Tokyo turnips (greens reserved)
¼ cup dry white wine
6 ounces diced potatoes
1 cup rehydrated or canned Cannellini beans
7 cups water (and as needed)
1 bouquet garni (fresh Italian parsley, thyme, and 1 bay leaf)
4 teaspoons kosher salt
½ teaspoon freshly ground black pepper
½ cup diced steamed or roasted chestnuts
2 handfuls shredded Tuscan kale, ribs removed
2 handfuls shredded savoy cabbage, ribs removed
1 handful shredded turnip greens
kosher salt (to taste)
freshly ground pepper (to taste)
3 cups cubed French bread, toasted with unsalted butter, salt and garlic (optional)
how to:
Croutons (optional

). Dice French bread into 1" cubes and place in a large bowl. Add 1-2 tablespoons of olive oil, sprinkle with kosher salt, and add 1-2 finely minced garlic cloves. Toss the bread in the oil, salt, and garlic. Place coated cubes on a baking sheet lined with parchment paper. Bake in an oven preheated to

350 degrees Fahrenheit

until cubes are golden brown. Set aside. Croutons can be made in advance.
Rehydrate Beans. Place beans in a large saucepan or stockpot. Cover with cold water (4 inches above the beans). Soak overnight. Rinse and drain. Alternatively, if you are in a hurry, bring the beans to a boil, remove from heat, and cover with the lid. Let beans steam for 20 minutes. Drain and proceed with recipe.
Sweat. Heat a large dutch oven or stockpot over a medium flame. Add butter and melt. Add garlic to melted butter. Once garlic is fragrant, add leeks and onions. When leeks and onions are tender (do not brown them) add carrots, celery, turnips, and kohlrabi.
Deglaze.

When vegetables are tender, add wine. Reduce au sec.
Simmer. Add potatoes, beans, water, salt, and bouquet garni. Bring to a boil and reduce the flame to low.

Simmer until the potatoes and beans are soft (but still hold their shape) and the flavors have developed (about 1-2 hours).
Add Greens. Add kale, cabbage and turnip greens. Cook for about 20 minutes until tender (but do not cook longer).
Adjust Seasoning. Add salt and pepper to taste.
Serve.

Pour soup into a large tureen or individual soup bowls while hot. Add croutons as desired.
Store. Can be stored in refrigerator (or frozen). When reheated, you will need to add more more because the potatoes and beans will absorb the water.
food for thought
"Many thanks for what you have taught us," the peasants said to the soldiers. "We shall never go hungry, now that we know how to make soup from stones."
"Oh, it it's all in knowing how," said the soldiers[.]
Stone Soup
by Marcia Brown
Tags: Basque cooking, beans, Cannellini beans, chestnuts, garbure, Marcia Borwn, peasant stew, red wine, simple pleasures, stew, stone soup, tuscan kale, vegetarian