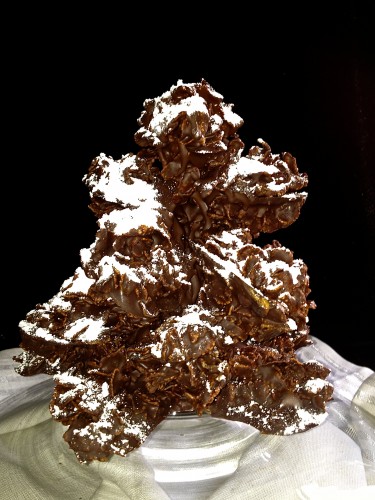 chocolate holiday tree
(sapin de Noël au chocolat)
makes one 1 tree
what you need:
1 pound bittersweet chocolate (or milk chocolate)
4 cups cereal (corn flakes or puffed rice)
~ 4 ounces bittersweet chocolate, melted (as needed)
powdered sugar (as needed)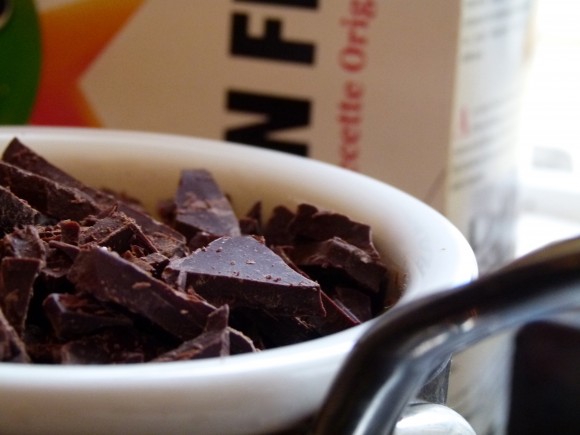 how to:
Melt Chocolate

. Chop 1 pound chocolate into small pieces and place it in a bain-marie or double boiler. Melt the chocolate. Remove from heat.
NOTE: Tempered chocolate will harden at room temperature and have a nice sheen. You can temper the chocolate by melting it and taking it to a temperature of 115 degrees Fahrenheit on a candy thermometer. Then adding room temperature chocolate to melted chocolate until chocolate temperature is between 90 and 95 degrees Fahrenheit. Maintain that temperature.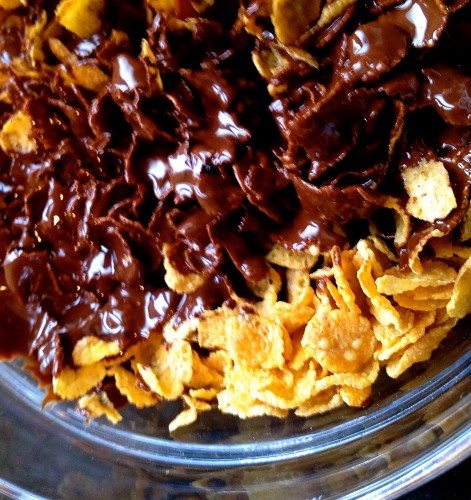 Combine Cereal & Chocolate

. Pour the cereal in a large bowl. Add melted chocolate and use a spatula to combine well (make sure all of the cereal is covered with chocolate).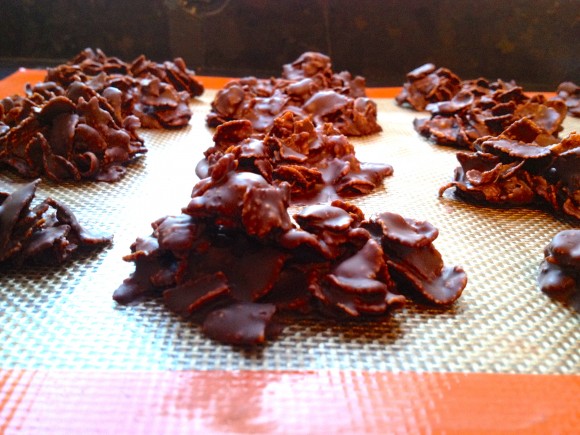 Form & Set.

Use a large a large spoon to place a scoop of the chocolate mixture on a baking sheet lined with silplat (making them about 1 inch in width and about 3 inches in length).

Make 25.

Place the baking sheet in the refrigerator for 30 minutes to harden the chocolate. Remove.
Melt Remaining Chocolate.

Melt the remaining chocolate in a bain-marie. Turn off the flame and set the chocolate warm. This will be your "chocolate glue" for assembling your tree.
Make Branches.

Reserve 5 of the hardened scoops. With the remaining 20, place a smear of

melted chocolate on the flat side of 10 of them

. Take the remaining 10 halves and stick the flat sides to the other 10 flat sides with the melted chocolate. You now have 10 branches. Place the branches on a plate or a rimmed baking sheet and place it in the refrigerator to harden.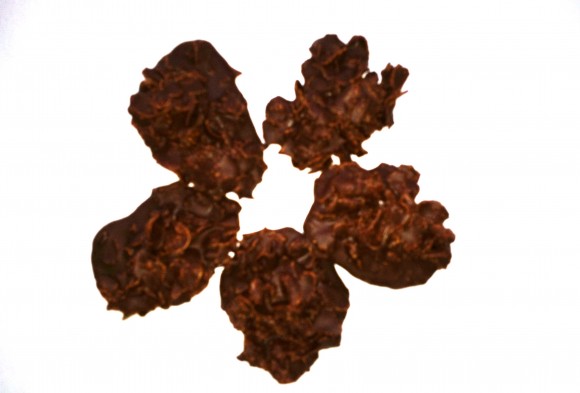 Assemble Tree.

The tree will have 5 layers all bound together with melted chocolate. Before adding a new layer, return the tree to the refrigerator to chill and bind.
Layer 1 (Base):

Place 5 halves face down in a star pattern on a rimmed sheet lined with parchment paper (or a plate). Pour melted chocolate on the inside of the 5 halves to hold them together.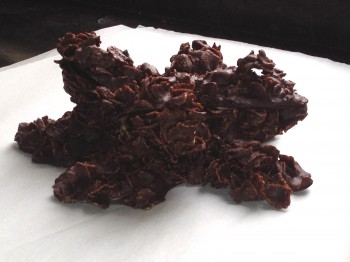 Layer 2:

Add 4 branches on top of the base in an alternating pattern. Secure each branch to the base with melted chocolate and pour melted chocolate over the four branches at the center to hold them in place. Place in the refrigerator to set.
Layer 3:

Repeat process with 3 branches. Once you add melted chocolate to the 3 branch centers, return to the refrigerator to set.
Layer 4:

Repeat process with 2 branches. Add melted chocolate. Return to the refrigerator to set.
Top Layer:

Add last branch on top. Attach with melted chocolate. Return tot he refrigerator to set.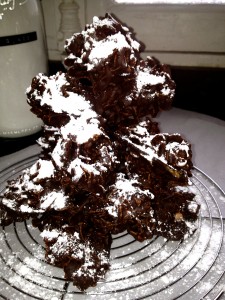 Garnish.

Top your tree with powdered sugar (or to spice it up, dust lightly with piment d'espelette for a red tree). You can decorate the tree further by adhering nuts, dried fruit, chocolate chips of different colors with any remaining melted chocolate it you would like (allow the tree to set in the refrigerator to bind).
Tags: chocolate tree, dessert, Paris (Paris), project with children, sapin de Noel, simple desserts