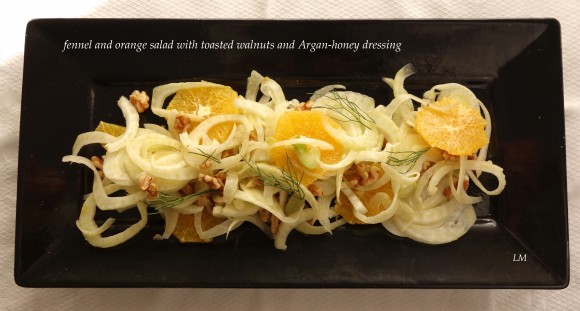 fennel and orange salad with toasted walnuts and Argan-honey dressing
serves 4-6
what you need:
2 fennel bulbs, sliced (about 8 ounces)
1-2 beautiful oranges
⅓ cup walnut pieces, toasted
2 tablespoons Argan oil (or toasted nut oil)
½ teaspoon fresh orange juice
1 tablespoon cider vinegar
1 teaspoon quality honey
gros sel de Guérande (or fleur de sel), as needed
how to:
Slice Fennel /Orange.

Trim the base of the fennel bulb and remove the stalks and fronds. Use a chef's knife to cut the fennel bulbs in half lengthwise. Place the cut sides down. Use a mandoline or chef's knife to thinly slice the bulbs. Place slices in a bowl. Use a paring knife to cut the top and bottom off of the orange and then cut off the rind. Slice the orange flesh horizontally. Reserve any juice. Place the orange slices in the bowl with the fennel slices.
Toast Nuts.

Place the walnut pieces in a pan over a medium flame. Toast until the nuts are golden brown and begin to release their oils. Remove and set aside to cool.
Make Dressing.

Place the vinegar and orange juice in a bowl. Whisk in oil and honey until well-blended. Salt to taste.
Dress Salad

. Add the dressing to the fennel and the oranges. Toss. Add the walnuts to the salad before service.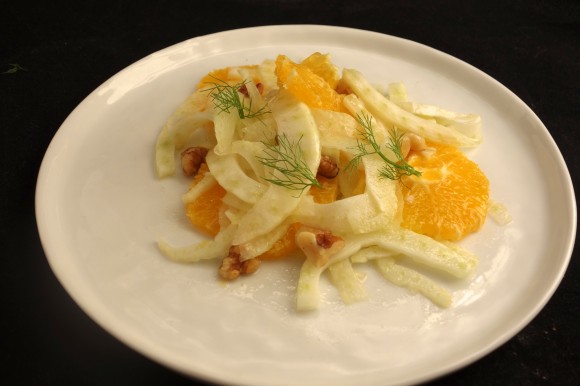 Tags: Argan oil, fennel, healthy snacks, honey, light salads, oranges, salad, vegetarian, walnuts