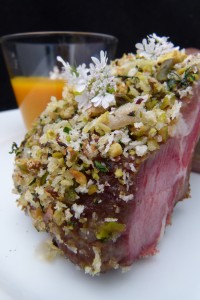 Easter dinner is served.  What will you do with all of your extra time?
Without fail, before every holiday I am asked: "Can I make something special that will not keep me in the kitchen for hours?" My answer is always the same: "Of course you can."  Creating a delicious, seasonal Easter meal is no exception.
First on the menu is roasted rack of Spring lamb with a pistachio-herb panko crust. It sounds fancy, but I assure you it is quite simple.  Season the lamb the day before with salt and pepper and place it in the refrigerator overnight.  On Easter day, let the meat come to room temperature, sear it, top it with the crust mixture, and roast it.  It takes about 30 minutes total active time. The lamb recipe is below.
To go with the lamb, we are serving a light and creamy carrot velouté but without the "velouté" (velouté is a leading sauce made with a white or blonde roux and stock).  In lieu of the classic velouté (and without animal stock and heavy cream), this recipe uses fresh oranges, Spring onions, and carrots with a hint of cumin (which goes well with the pistachio crust on the lamb).  To make it Easter-festive, we are making quenelles from goat cheese (quenelles look like "Easter eggs"). Place one quenelle of goat cheese in each soup cup.  When the hot soup is ladled into the cup, the cheese begins to melt.  The soup can be made the day before and reheated and assembled on Easter (just adjust the seasoning and the consistency). The quenelles can be shaped in advance as well and placed in the refrigerator overnight.
Third, with our lamb and carrot soup we are serving a colorful fingerling potato gratin dauphinoise with sunchokes and artichokes. Sunchokes (also known as Jerusalem artichokes or topinambours) are tubers from sunflowers.  Sunchokes will only be around for a few more weeks then they are gone until next Winter. They are slightly crunchy and can be eaten raw.  They add a great texture to the creamy potatoes and artichokes. The potatoes I like to use are colorful fingerling potatoes: including French Fingerlings with pink skin, Red Thumb potatoes with the red skins and rose flesh, and Rose Finn fingerlings which have beige skins with pink accents and creamy beige flesh.  However, you can use any potatoes you have (including Peruvian with their wonderful purple hues).  The key to making a good dauphinoise is that the potatoes are all evenly sliced.  After you wash the potatoes, leave the skins on (to take advantage of the vitamins found under the potato skin and the colorful exterior). The dish  can be prepared the day before and baked on Easter day.  It tastes best warm but not piping hot (you want to give the cheese and cream a chance to solidify a little to adhere to the potatoes).  I recommend putting it in the oven about 1 hour before you plan to serve it. The soup and gratin recipes are in separate entries to make it easier for you to print and take with you to the market.
Lastly, make a simple green salad to round out your meal (there are some green salad recipes on this site). This delicious meal is easier than finding those Easter eggs (which always seem to turn up throughout the year)!  I hope you enjoy it and you will let me know what you did with all of your "extra" time.
Je vous souhaite un bon appétit et de Joyeuses Pâques (a Happy Easter) !
LM