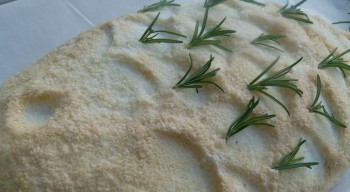 fish, floods, and Fridays:John Dory en croûte
It was an unusual Sunday for Los Angeles and as I ran in torrential rain for 3 plus hours my thoughts were of food. Fantasies prompted by the fragrant waves of the morning's food preparations: the flavorful broths in little Tokyo, braised meats and legumes throughout Olivera and the surrounding streets, citrus-toned  Intelligentsia coffee on Sunset, buttermilk-laden pancakes with maple-roasted bacon served in the coffee shops in boys' town.  Although it would have been wonderful to sit leisurely with my feet in dry, fuzzy slippers and a fluffy cappuccino accompanying a warm bowl of steel-cut oats with fresh berries, brown sugar and toasted nuts in front of me (rather then running 26.2 miles in such conditions), I was not thinking of eating, I was thinking of bathing. In particular, I was thinking of rendered duck fat and how comforting a warm bath of thick, sweet-smelling duck fat would be.  How lovely it would be to be a duck leg right now, a confit duck leg gingerly soaking in melted fat for twelve hours with bath salts of black pepper, bay leaves, star anise, and thyme. If duck fat was not available, my plan B fantasy was to be encased in salt, fortified with egg whites and baked in a hot oven, the hard salt shell protecting me from the punishing rain.  Somewhere around mile 17 or so, I passed my Church and  again I thought of food but this time of lenten abstinence and meatless Fridays. I decided at that point that this week's simple pleasure should be fish baked in salt.  Ah, to be that fish.
Baking fish in salt is a consistently popular subject for cooking classes because it is super simple, delicious, versatile, impressive to dinner guests, and wonderful for your health (fish is full of omega-3 fatty acids, good for your heart, high in protein, and low in calories and saturated fat). This recipe calls for a whole fish (clean and gut the fish but leave the head and tail on).  Mixing the salt and encasing the fish takes all of 5 minutes.  Depending upon the size of the fish, it will only take about twenty to twenty-five minutes in the oven. If you cannot find John Dory you can easily use this en croûte recipe for other round fish such as salmon, loup de mer (bar or loubine), white fish, whiting, cod (calbillaud), brill (barbou), red snapper, or sea bass (to name just a few).
I chose John Dory for this recipe because its white, firm flesh is sweet, a little buttery, and just plain delicious.  John Dory is perfect for baking in salt because it is a fish best prepared whole.
By way of background, john dory is found in the Mediterranean and the Atlantic Ocean as well as waters surrounding New Zealand and Australia.  It can be purchased in the States. In France, john dory is commonly referred to as "Saint Pierre" or Saint Peter's fish.  The name "john dory" is the result of a poor pronunciation of the fish's French nickname Jean-doré (alluding to the fish  golden color).
John dory is at most 6-7 pounds in size but it is a dramatic fish with its large head and mouth, 10 spines on its dorsal fin, and four spines on its anal fin (the fillets account for only about 40% of the fish so be warned that it is not a high-yield fish).  In addition, it has a dark spot on its side which according to legend represents Saint Peter's thumbprint the result of either: (a) the Saint tossing the fish back into the water because of the fish's moaning;  or (b) the result of Saint Peter trying to remove a coin from the fish's mouth. The circumstances concerning the coin are unclear; however, apparently the fish does moan when it is removed from the water (making the John Dory as dramatic in action as it is in appearance).  The delicious taste of the john dory combined with the Saint-related legend (and served in a salt tomb) makes it a perfect choice for meatless Fridays. Lent aside, I think this en croûte recipe will be one of your "go to" meals year round.
For those of you wondering how the Los Angeles Marathon turned out, well, it turned out wonderfully. True, I was disappointed by my time and I spent an hour in a "warming" bus under blankets and heat packs with dozens of other runners only to be released out into the unrelenting rain to walk to my car (which was not close at all).  However, en route to my car a woman and her daughter offered me a ride. They could not have been more God-sent (or patient when I could not remember where I parked my car at 4 am that morning).  Turns out the mother and her family are cherry farmers and she ironically ran the same Venice, Italy marathon I ran.  The kindness of the duo reaffirmed my long-time proclamation that farmers and teachers are my favorite people: sincere, kind, humble, occupationally motivated by reasons nothing to do with financial gain yet they have the opportunity to positively (or negatively) impact our bodies and minds now and for the rest of our lives. Well, Missy Gotelli and her daughter made my day and I want to thank them and all of those who braved the weather to pass out water, bananas, orange wedges, soggy pretzels, and skittle soup to those of us fools running in the rain. I now wait with anticipation for May and the Gotelli's summer cherries to hit the markets and for the impending Paris marathon (where I hear cheese is passed out to the runners at mile 22…French cheese in a marathon… c'est un rêve).  Until then, tomorrow is Friday and rain is in the forecast … lucky fish.  Lucky you.
Je vous souhaite un bon appetit !
LM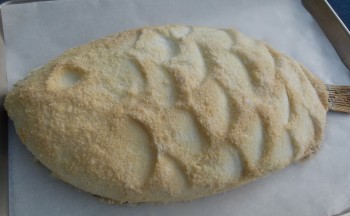 John Dory en croûte
stats
serves 4-6
what you need:
1 beautiful john dory (gutted, and cleaned, head and tail on)
8 cups kosher salt
4 egg whites
fresh rosemary (as needed)
fresh Italian parsley (as needed)
olive oil (as needed)
how to:
Draw Fish

.

Carefully cut off the dorsal and anal fins with a pair of kitchen scissors. Make an incision along the belly (the bottom of the fish) and remove the viscera (the internal organs such as the stomach and the intestines).  Rinse the fish cavity and dry the fish well (to make it stable to handle).  Leave the head and the tail intact.  The fish is now drawn.
Pack

. 

In a bowl combine the egg whites and the salt.   In a large baking dish (or a rimming baking sheet lined with parchment paper) create a bed for the fish with the prepared kosher salt.  Lay the fish on the bed of salt and cover the fish on top and the sides with the remaining salt.  Use both hands to press the salt gently but firmly against the fish to make a salt shell.  Your shell should be about 1/4 inches thick.  If you want to make any designs in the salt (for presentation purposes) do it now while the salt is slightly wet and before it is baked.  If you need more salt, mix 1 egg white with 2 more cups of kosher salt.
Bake

.  Preheat oven to 425 degrees Fahrenheit.  Place the baking dish with the fish in the oven and bake until the salt crust is golden brown.  Remove from the oven and let it rest for at least 5 minutes before service.
Serve

. At table-side, unsalt the fish by cracking the salt crust and removing it from the fish. Be careful because the fish will be hot and steam will escape.  Use a fish knife to remove the skin from the flesh and then remove the top fillet (it will easily separate from the bones). Remove the backbone from the bottom fillet.  Drizzle quality olive oil over the fillets and garnish with fresh rosemary and parsley.  Serve the fish with braised vegetables such as tomatoes, zucchini, and eggplant.
à table ! (dinner is served)



Tags: baked fish, en croûte, john dory, salt